Tom Brady Knows Better Than To Get Into Aaron Rodgers' Vaccination Fiasco: 'I'm Not Commenting'
Tampa Bay Buccaneers quarterback Tom Brady is the greatest of all time. He can get away with just about anything he wants to at this point of his career because his resume speaks for himself. Frankly, what does he have to lose? He's won it all. 
With that said, even Brady knows not to get into the mess that Aaron Rodgers created.
He was asked about it, because of course, he was, but Brady knows better than to walk into a sticky situation.
He's the master of public relations and brand building, and he proved that again.
Tom Brady is a master of brand building 
Brady and Rodgers are often compared to each other for their on-field talents, but at least in terms of outward persona, Brady is leaps and bounds ahead of the Green Bay Packers star.
Brady is a superstar quarterback, but he's also a brand. Outside of Michael Jordan and Tiger Woods, he's one of the biggest sports brands of all time. 
Brady is synonymous with winning. He's also worked hard to make himself the face of healthy living and holistic wellness. His TB12 brand is something that will make him money long after he hangs up his cleats in the NFL, if ever.
Like any good brand manager, Brady knows that the key to longevity is maintaining appearances. While there is some truth in that even bad headlines are good headlines, you attract a lot more bees with honey than you do with vinegar.
Brady has no desire to comment on the Aaron Rodgers "situation"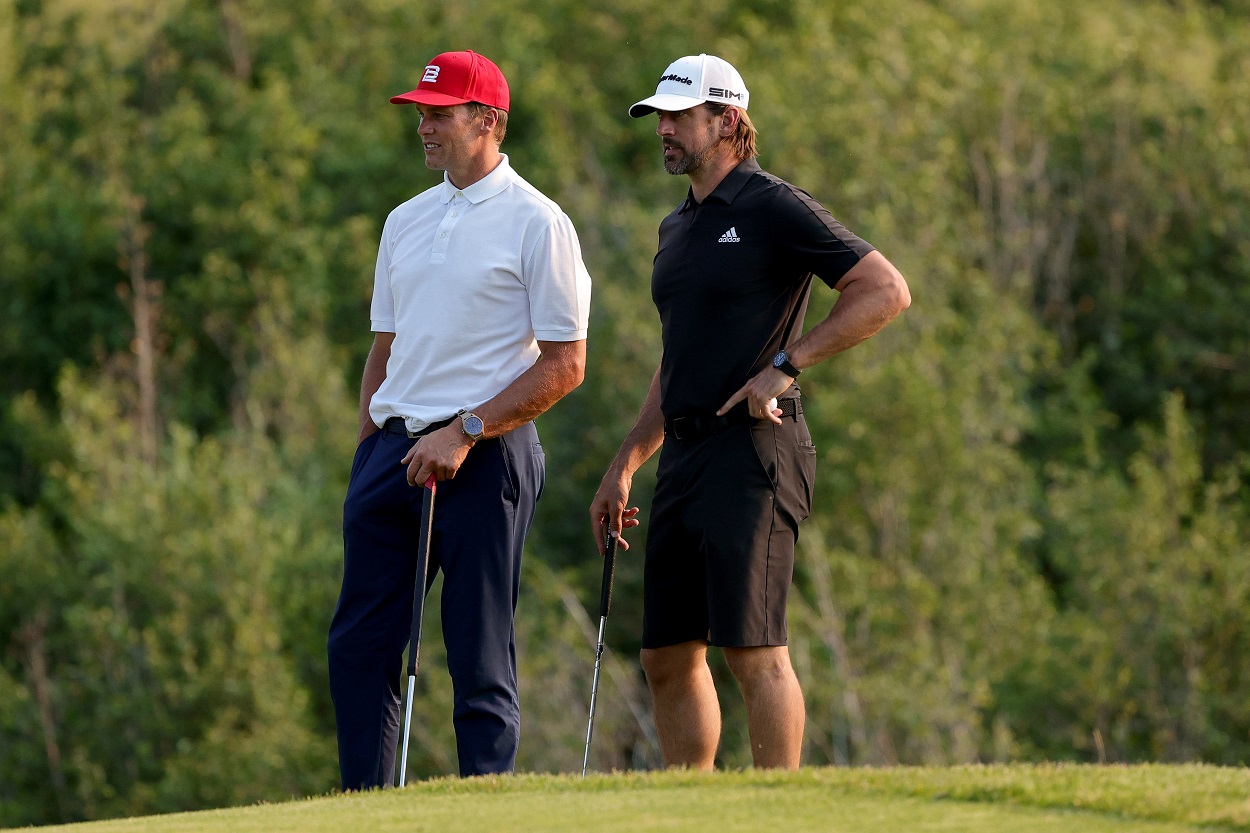 Brady was asked about Rodgers on his Let's Go! Podcast, but he smartly declined to comment.
"I'm not commenting on Aaron Rodgers' personal situation," Brady said, according to the Tampa Bay Times. "Far be it for me to tell anyone what to put in their body."
Ever the promoter, the superstar quarterback did take the opportunity to discuss TB12, but that's as far as he went with it.  
"By the way, The TB12 Method is available in paperback wherever nutritional books are sold and I'll leave it at that," Brady said.
Rodgers found himself in significant hot water recently when he tested positive for COVID-19, and in the process, it was discovered that he had been misleading in his public comments about his vaccination status.
Not only did Rodgers miss Green Bay's game against the Kansas City Chiefs, which led to a loss with Jordan Love under center, but he caused a media firestorm just a few days before that game when he went onto the "Pat McAfee Show" and unleashed a manifesto of sorts.
Rodgers claimed he didn't lie about his vaccination status. He did explain some of his reasons for not getting one of the three vaccinations approved by the NFL (Moderna, Pfizer, or Johnson & Johnson). Still, he at times sounded more like a conspiracy theorist and less like the intellectual thinker that he's built himself out to be.
Highlights, or lowlights, of the interview included Rodgers saying that he was being targeted by a "woke mob" trying to cancel him and that he received medical advice from celebrity podcaster Joe Rogan. He also quoted Martin Luther King Jr. and talked about the NFL as if the league was trying to vaccinate players only so that it could look good to the public.
Brady once again proves that he's the GOAT
Rodgers will go down as one of the best quarterbacks to ever play the game of football. He's a Super Bowl champion, a three-time MVP, and one of the most talented players to ever strap on a helmet. 
One has to wonder just how much this whole situation has hurt him, though, at least in terms of his public persona. 
Yes, Rodgers did gain some fans in the process.
He said he doesn't care about politics, but he wasn't shy to use political buzzwords like "woke mob" and "cancel culture." The fact that he tried to portray himself as some sort of freedom fighter against "wokeness" will win him public support from certain folks, just as much as it lost him fans that have another set of ideologies.
Rodgers transcended football for the time being, but not in a good way. He was a topic on late-night shows and in the political world. He was even made fun of in a "Saturday Night Live" sketch.
Meanwhile, his team went out against the Chiefs and struggled to score points in a game they would have loved to win. Rodgers was unavailable, and he acted selfishly ahead of the game. Some even think he's the reason the Packers lost.
And yes, Brady has had his fair share of moments in the spotlight. Still, negative press involving deflated footballs pales in comparison to potentially misleading a throng of adoring fans while at the same time, the world tries to combat one of the most significant public health events in our time.
People have short memories, and Rodgers will eventually shake this off as the Packers press on to a playoff run. He may even meet Brady on the field again if the Packers and Buccaneers are matched up in the playoffs.
In yet another tangible way, though, Brady displayed the gap between him and Rodgers. It's not just Super Bowl wins. 
One was smart enough to keep his mouth shut, while the other's got him into trouble. 
According to the Centers for Disease Control and Prevention (CDC), "Over 423 million doses of COVID-19 vaccine have been given in the United States from December 14, 2020, through November 1, 2021. COVID-19 vaccines are safe and effective."