Tom Brady Makes History: Ranking All 7 of His Super Bowl Appearances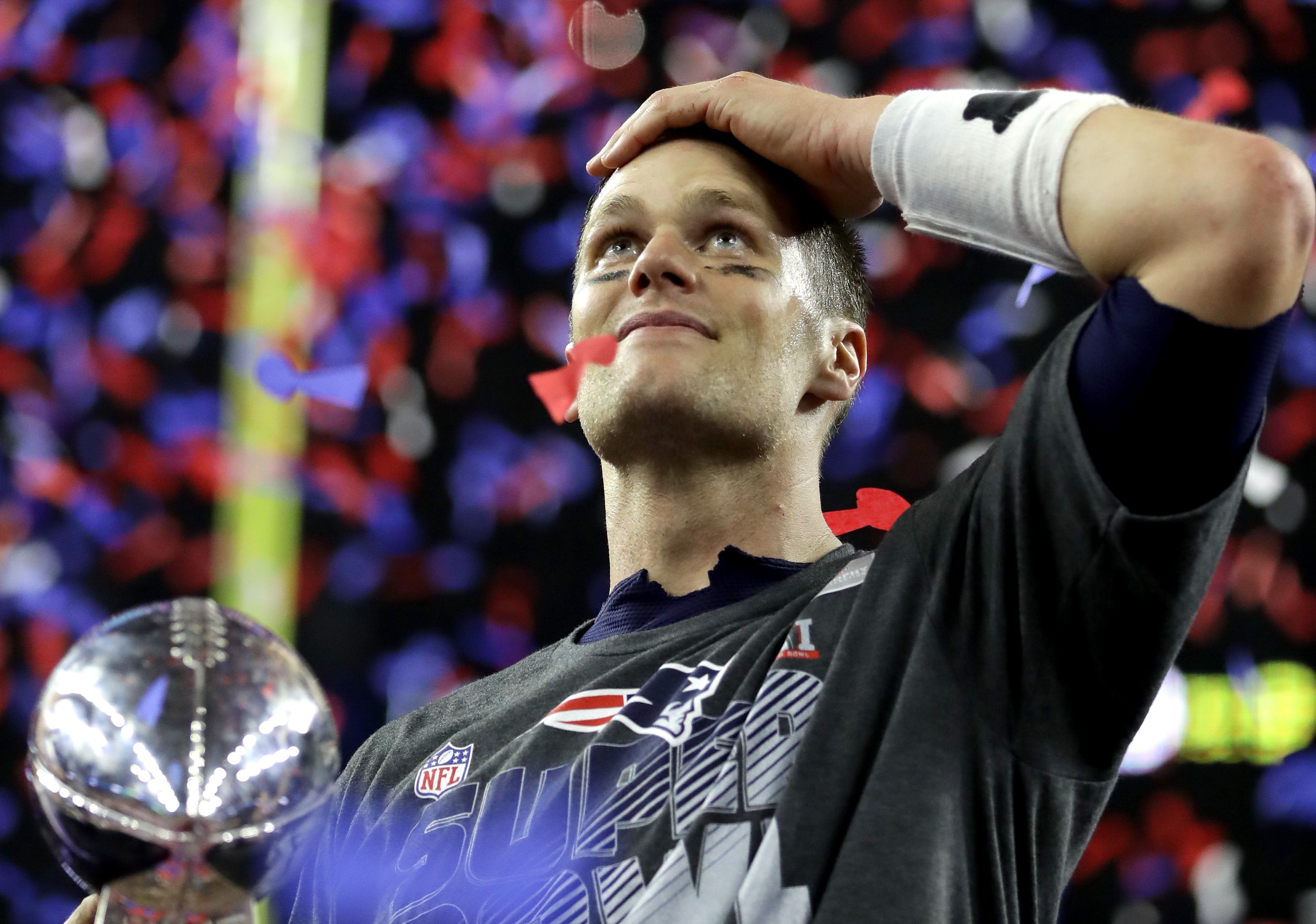 New England Patriots quarterback Tom Brady is hands down the greatest quarterback to ever play in the NFL. The 39-year-old signal caller ended all debate over his standing among his peers when he guided the Pats to yet another victory on Super Bowl Sunday, capping off his 17th professional season.
In addition to holding practically every Super Bowl and postseason quarterback record, Brady's Super Bowl 51 triumph over the Atlanta Falcons now puts him in sole possession of the records for most Super Bowl wins by a starting quarterback (5), most Super Bowl appearances (7), and most Super Bowl MVP awards (4). Moreover, with his win over the Falcons, Brady became the first quarterback in NFL history with three Super Bowl fourth-quarter comebacks and 10 game-winning drives in the postseason.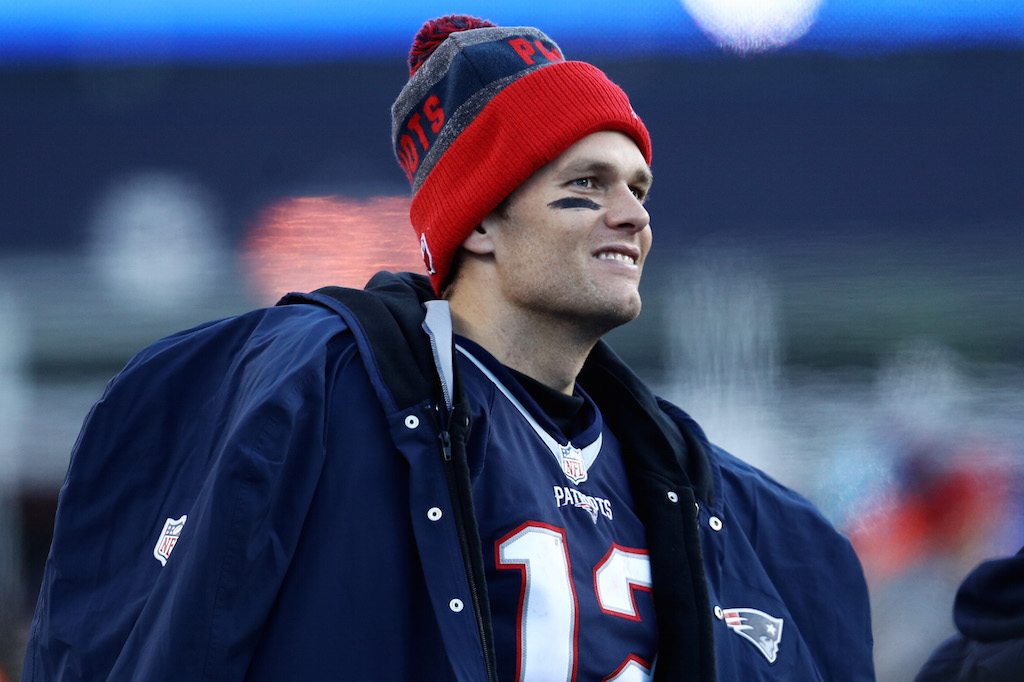 What's even more mind-blowing: The Patriots have everything in place to win at least two or three more Super Bowl titles before Brady hangs his cleats up and retires. When it comes down to it, Brady wouldn't have the legacy he has today without several standout showings on Super Bowl Sunday. Here we rank all seven of his Super Bowl appearances (from least to most impressive).
7. Super Bowl XLII – February 3, 2008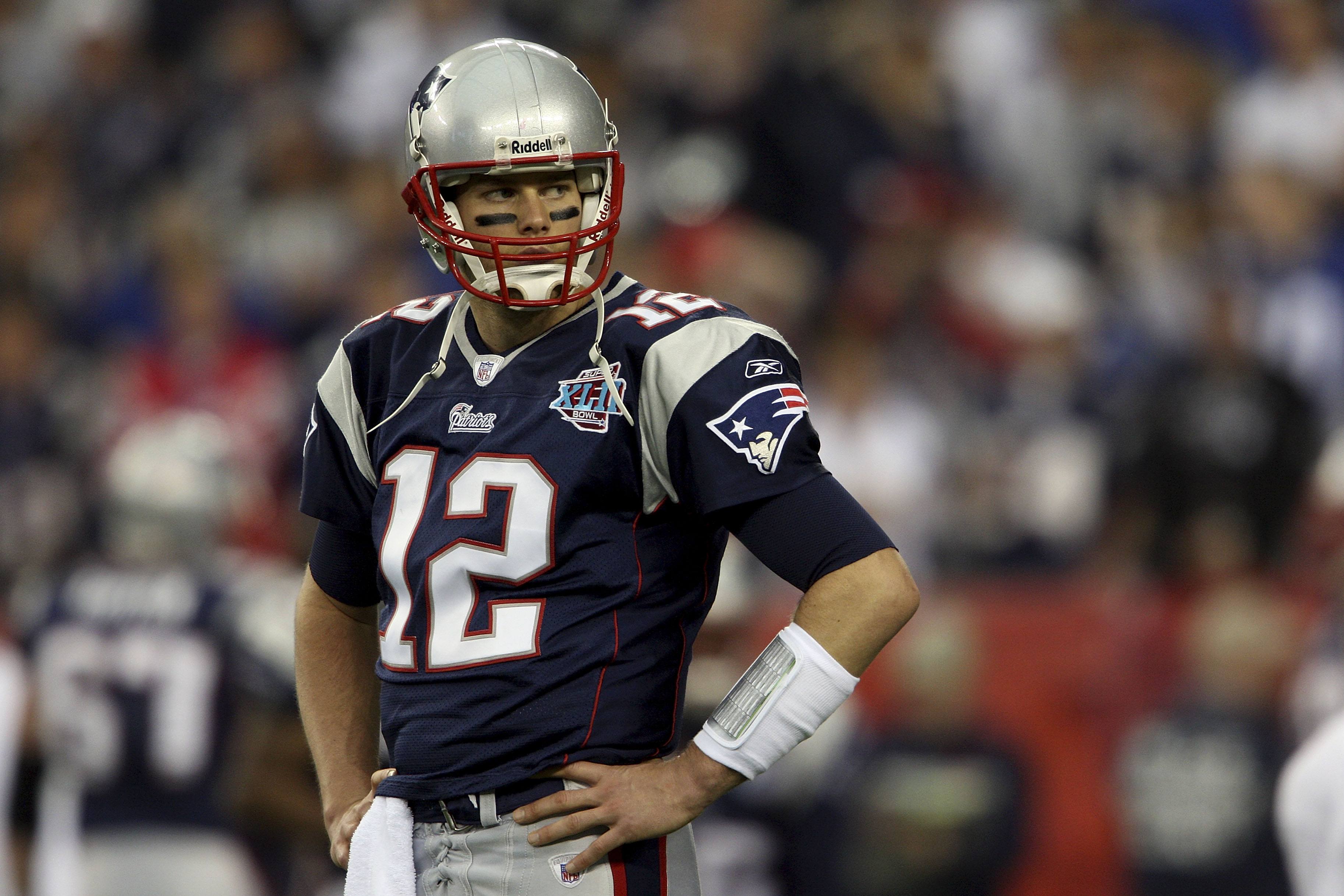 Result: New York Giants 17, New England Patriots 14
Statistics:
60.42% completion percentage (29/48)
266 passing yards
1 touchdown pass
82.5 quarterback rating
Brady's worst Super Bowl performance came in his first losing effort on Super Bowl Sunday. New England entered this game — best remembered for David Tyree's amazing fourth-quarter reception — with a chance at becoming the second team in NFL history to have an undefeated season.
However, thanks to a remarkable effort from Michael Strahan, Justin Tuck, and the rest of the Giants' defense, Brady and the Pats were just short of perfection. The Giants entered the game as 12-point underdogs and came up with a clutch stop (turnover on downs) to end the game against Brady, who is the most clutch postseason quarterback in NFL history.
6. Super Bowl XLVI – February 5, 2012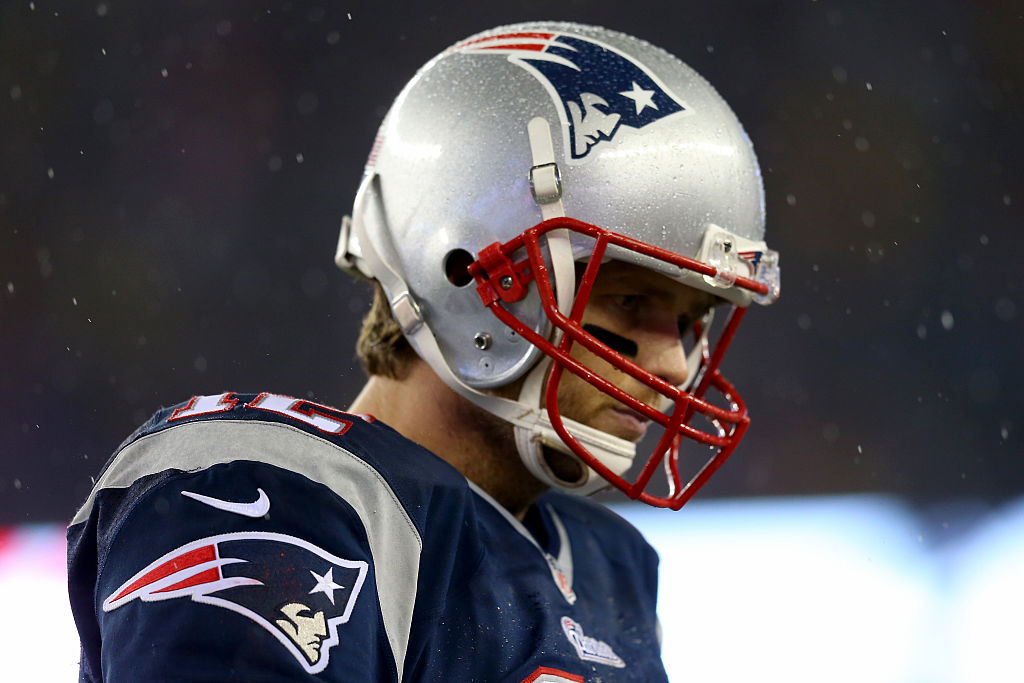 Result: New York Giants 21, New England Patriots 17
Statistics:
65.85% completion percentage (27/41)
276 passing yards
2 touchdown passes
1 interception
91.1 quarterback rating
As odd as this may sound, the Giants appear to have Brady's number on Super Bowl Sunday. As the only franchise he's lost to in the big game, the G-Men somehow found a way to make the four-time Super Bowl MVP look like an average player on the game's biggest stage — twice.
To be fair, Brady actually played far better in Super Bowl XLVI than his numbers suggest — and his wife, Gisele Bundchen, let everybody know about it. The Patriots missed several opportunities due to dropped passes, but none were bigger than Wes Welker's drop on a catchable deep throw from Brady with just over four minutes remaining in the game. If Welker made catch, there is a good chance the Pats would have won that game; Brady likely would have another Super Bowl MVP award.
5. Super Bowl XXXVI – February 3, 2002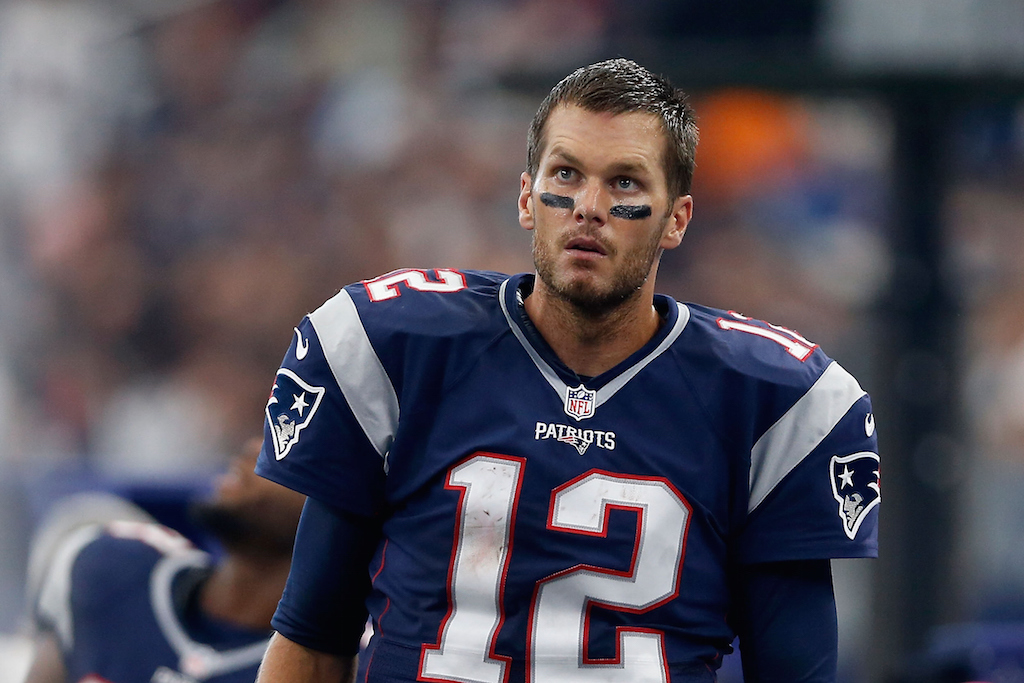 Result: New England Patriots 20, St. Louis Rams 17
Statistics:
59.26% completion percentage (16/27)
145 passing yards
1 touchdown pass
86.2 quarterback rating
Super Bowl MVP
Simply put: Brady and the Patriots shocked the world with their victory over the Rams in Super Bowl XXXVI. New England entered the game as 14-point underdogs against a St. Louis team with the most feared offense ("The Greatest Show on Turf") in the league.
Brady's performance in this game more closely resembled that of a game-manager than a game-changer. However, when it came to it, he executed New England's plan to slow the game down flawlessly en route to winning his first career Super Bowl MVP award.
4. Super Bowl XXXIX – February 6, 2005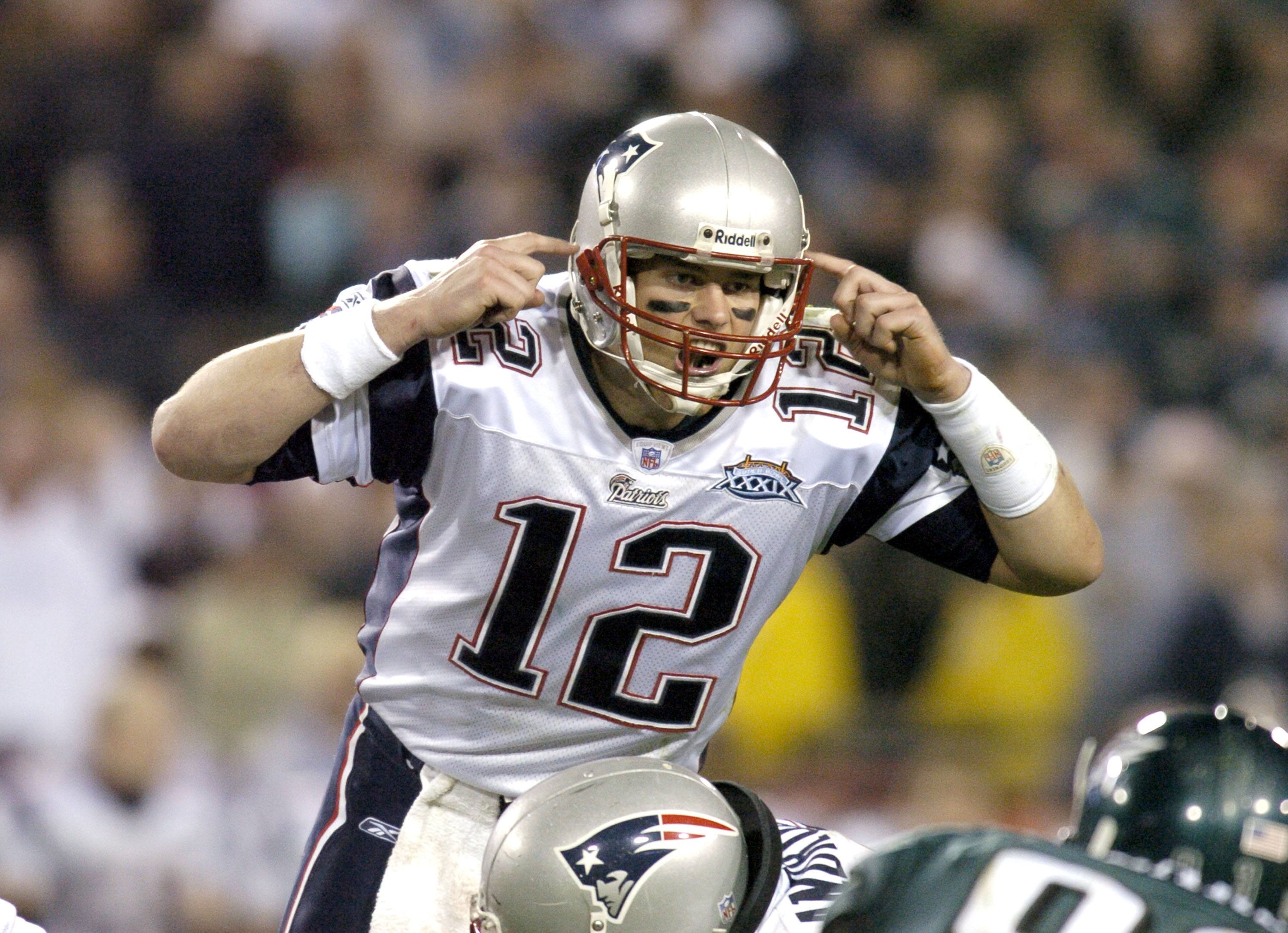 Result: New England Patriots 24, Philadelphia Eagles 21
Statistics:
69.70% completion percentage (23/33)
236 passing yards
2 touchdown passes
110.2 quarterback rating
Super Bowl XXXIX was the only time Brady won a world championship without also taking home Super Bowl MVP honors — even though he probably should have. Were it not for New England wide receiver Deion Branch tying the then-Super Bowl record with 11 receptions to go along with 133 receiving yards, Brady would have been a slam-dunk choice to be the game's Most Valuable Player.
3. Super Bowl XLIX – February 1, 2015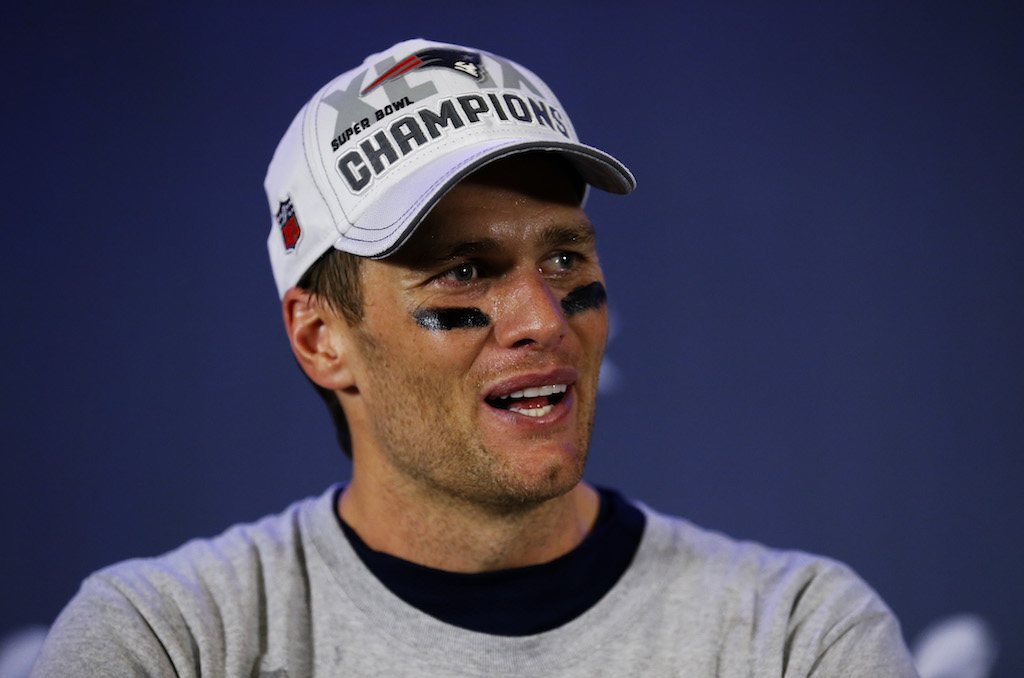 Result: New England Patriots 28, Seattle Seahawks 24
Statistics:
74.00% completion percentage (37/50)
328 passing yards
4 touchdown passes
2 interceptions
101.1 quarterback rating
Super Bowl MVP
The Seahawks intercepted two of Brady's passes in this game, but other than that, the two-time NFL MVP was flawless. He found a great deal of success through the air against one of the best defenses the NFL has ever seen. He was at his best during the game's fourth quarter.
In the final 15 minutes of Super Bowl XLIX, Brady led the Pats on two touchdown drives (the latter score proved to be the game-winner). With the help of a legendary play from Malcolm Butler, the former sixth-round NFL draft pick led New England to their fourth Super Bowl title in franchise history.
2. Super Bowl XXXVIII – February 1, 2004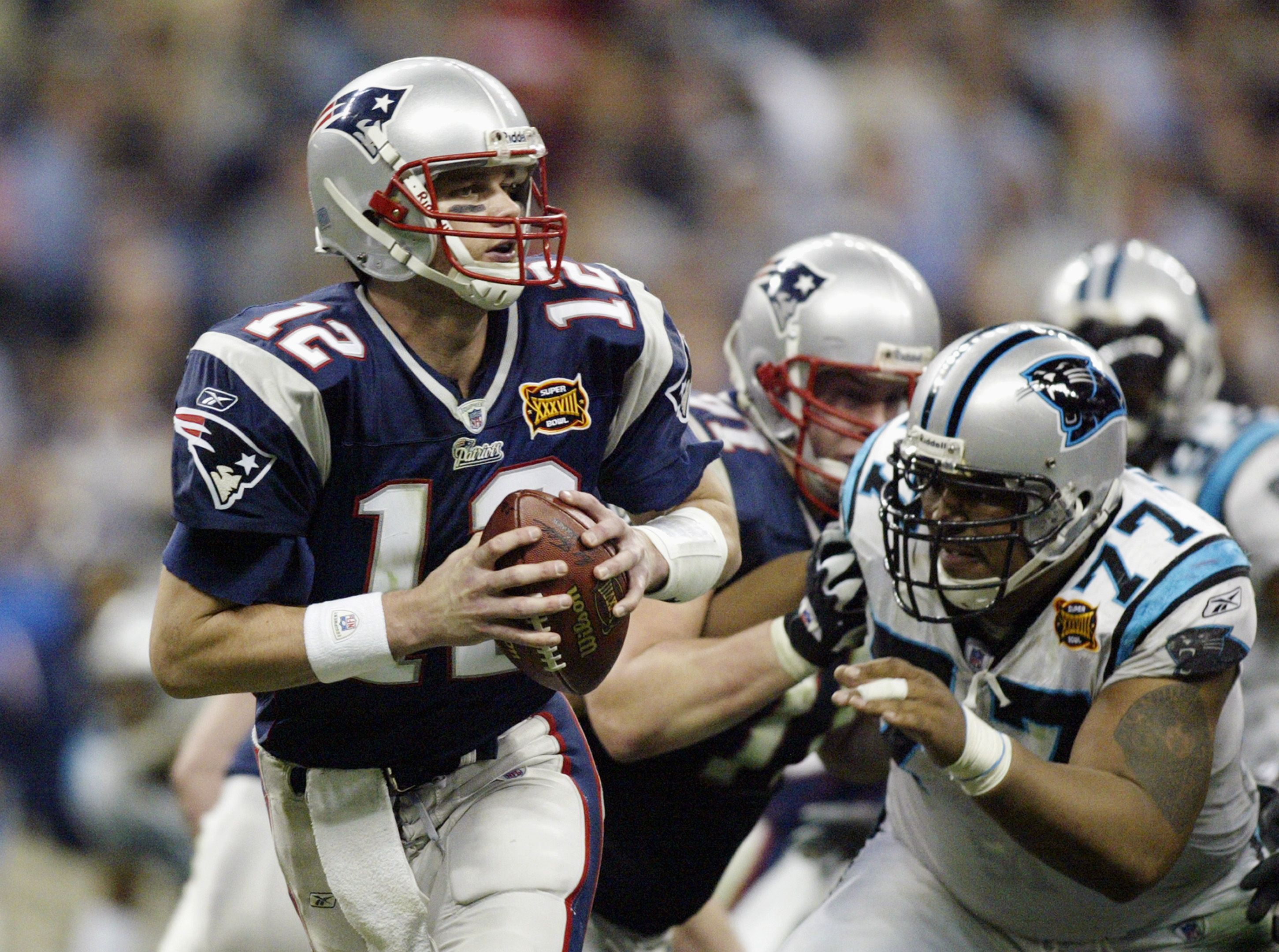 Result: New England Patriots 32, Carolina Panthers 29
Statistics:
66.67% completion percentage (32/48)
354 passing yards
3 touchdown passes
1 interception
100.5 quarterback rating
Super Bowl MVP
Super Bowl XXXVIII made it clear to the entire professional sports world that Brady was destined for greatness. After leading the Pats to a 14-2 regular-season record, Brady guided his team through the AFC Playoffs before delivering a performance for the ages against the Panthers in his second career Super Bowl start.
Brady helped the Patriots score 18 points in the fourth quarter. His 17-yard completion to Deion Branch with 14 seconds remaining in the game set up Adam Vinatieri's game-winning 41-yard field goal.
1. Super Bowl LI – February 5, 2017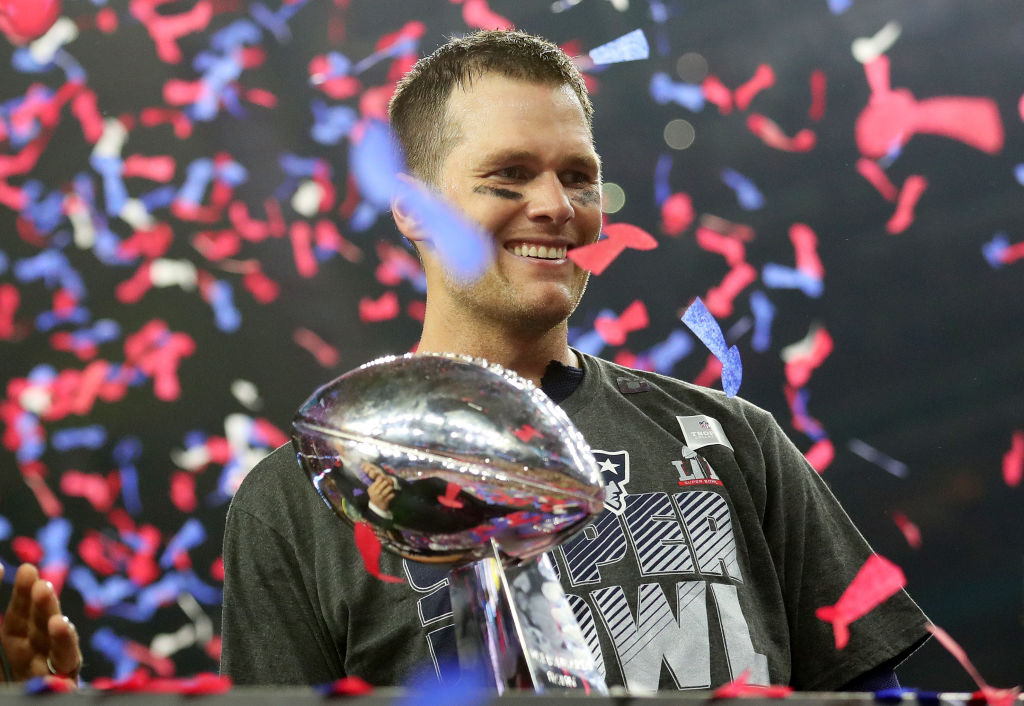 Result: New England Patriots 34, Atlanta Falcons 28
Statistics:
69.35% completion percentage (43/62)
466 passing yards
2 touchdown passes
1 interception
95.2 quarterback rating
15 rushing yards
Super Bowl MVP
Brady's most recent Super Bowl performance against the Falcons is his greatest. He set single-game Super Bowl records for most completions (43) and most passing yards (466), in addition to becoming the first starting quarterback in NFL history to guide his team to five world championships. What was even more impressive: He spearheaded the biggest come–from-behind (25 points) win in Super Bowl history.
Was this the best Super Bowl in the history of the game? It's hard to say, short list. But even if Super Bowl 52 is so spectacular that the Patriots' incredible comeback becomes a footnote in NFL history (highly unlikely), there can be no diminishing the efforts of #12. In our eyes, this is the greatest individual performance in Super Bowl history.
Statistics courtesy of Pro-Football-Reference.