Tom Brady Nearly Tumbled '300 Feet to His Death' While Playing a Sport With Bill Belichick — and It Wasn't Football
Tom Brady is considered the NFL GOAT in the eyes of many as we have seen him win seven total Super Bowls with the New England Patriots and Tampa Bay Buccaneers. His win-at-all-costs attitude is a reason he has been so successful.
However, that attitude also stretches beyond the football field. In fact, it played a role in Tom Brady nearly tumbling "300 feet to his death" while playing a sport with Patriots coach Bill Belichick. The sport wasn't football, either.
Tom Brady and Bill Belichick had a ton of success on the Patriots
RELATED: Michael Strahan Sends out a Stern Message While Defending Ex-Foe Tom Brady: 'Shut Your Mouth'
You probably know the story by heart now. Tom Brady wasn't expected to become the NFL legend he is now as the New England Patriots selected him in the sixth round of the 2000 NFL draft. He then only threw three total passes in his rookie season.
In 2001, though, Brady started 14 games and not only earned Pro Bowl honors but also led the Pats to a win in the Super Bowl. Bill Belichick, Tom Brady, and the Patriots then won three Super Bowls in four years from 2001 through 2004.
That was just the beginning of their dynasty.
Together, Bill Belichick and Tom Brady led New England to six Super Bowl titles, three other Super Bowl appearances, and 13 total AFC Championship Games. Brady is now considered the NFL GOAT, and many fans believe Belichick is the GOAT of NFL coaches.
However, all that dominance came to a screeching halt after the 2019 season as the two stars had a highly publicized breakup that led to Brady joining the Buccaneers.
TB12 nearly fell off a cliff while golfing with Bill Belichick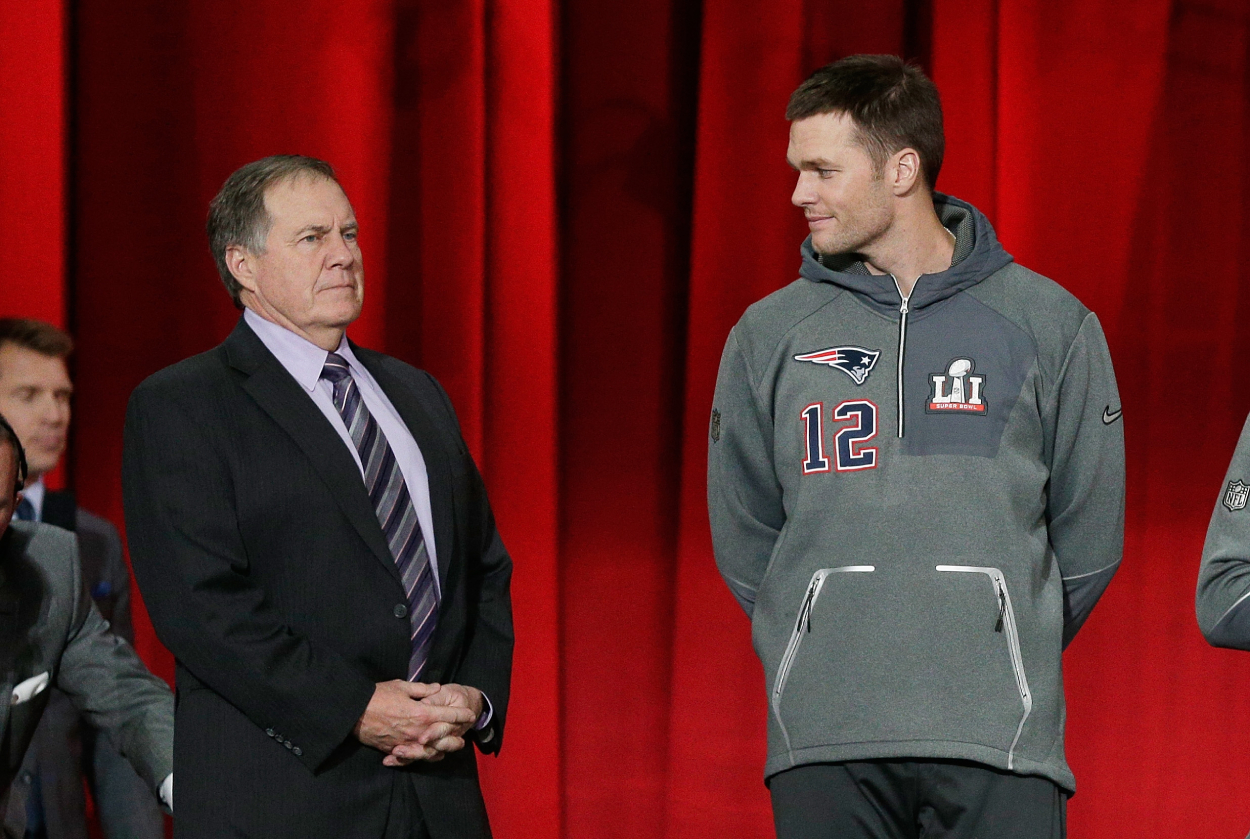 RELATED: Tom Brady Is Such 'a Pretty Man' He Left an NBA Star 'Embarrassed' When the 2 Men Crossed Paths
What ultimately made Tom Brady and Bill Belichick so successful together was the fact that both of them were — and still are — extremely competitive. However, Brady's competitiveness might just be on another level.
In honor of Brady's 40th birthday in 2017, Belichick gave ESPN his favorite TB12 story. It had nothing to do with football, either, as it actually showed just how competitive Brady is at everything — even golf.
"When we played golf at Pebble Beach two years ago, on the sixth hole, it's a big cliff. He's literally standing out there on the ledge, trying to hit the ball," Belichick said, according to ESPN.
Sure, that sounds scary enough, but the picture Belichick ultimately painted made it seem as if Brady risked his life to hit the ball.
"The caddie is holding him so he won't like tumble 300 feet to his death into the Pacific Ocean," the legendary coach added. "It's a golf ball. But I think that's kind of the competitiveness of Tom. I'm sure there's a picture of it. I'm thinking to myself, 'What the hell are you doing?'"
That definitely sounds terrifying. However, it also proves just how competitive Tom Brady really is. He has a burning desire to win at everything.
That burning desire, though, may also have led to Brady later winning the breakup over Belichick and the Pats.
Tom Brady won his breakup with Belichick and the Patriots
RELATED: Erin Andrews Has Covered Football for Years but Has Been 'Intimidated' by 2 Coaches: 'I Used to Stand as Far Away as Possible'
For years, people debated who was more important to the Patriots' dynasty: Tom Brady or Bill Belichick. Was Belichick just lucky to have such a great quarterback all those years, or was Brady just a system QB?
Brady proved the latter wrong in 2020.
In his first season with the Buccaneers, Tom Brady helped form a dominant roster that, of course, included guys who were already in Tampa such as Chris Godwin and Mike Evans. It also consisted of players like Rob Gronkowski and Antonio Brown, who essentially followed Brady to the Bucs.
Together, that group went 11-5 and eventually upset the Kansas City Chiefs in the Super Bowl to get Brady his seventh Super Bowl title. This was all while the Patriots went 7-9 in 2020 and missed the playoffs for the first time since 2008.
Now, heading into the 2021 season, the Buccaneers are bringing back all their starters. They also added Giovani Bernard, who should help Brady tremendously out of the backfield.
Tom Brady's competitiveness did more than help him win six Super Bowls with Bill Belichick and the Patriots. It didn't just nearly cost him his life while playing golf, either. That desire to win at all costs ultimately helped TB12 win the breakup over the Pats, and it is now giving him a chance to dominate this upcoming year at 44 years old.
It'll be interesting to see what else he can add to his incredible legacy.
Stats courtesy of Pro Football Reference