Tom Brady's Newest Critic Is a Former White House Official With Republican Ties: 'He Is Still Mortal and Not Infallible'
Article Highlights:
Former White House official Douglas MacKinnon criticized Tom Brady after a Week 15 loss
MacKinnon, who worked for Ronald Reagan and George H. W. Bush, isn't pleased with the seven-time Super Bowl champion's risky throws
The 44-year-old Brady is no stranger to frustrating older observers
Suffice to say that Tom Brady, in his 22 seasons as an NFL quarterback, has frustrated plenty of fans. One tends to excel at infuriating others when they win seven Super Bowl rings, throw for over 700 total touchdowns, and marry a supermodel.
At this stage in the 44-year-old Brady's career, he often annoys those who have watched him terrorize their teams for years and are ready for him to retire. However, former White House official Douglas MacKinnon has his own issues with the Tampa Bay Buccaneers star, especially after the quarterback's recent struggles in a shocking home loss to the New Orleans Saints.
Former White House official Douglas MacKinnon criticized Tom Brady after a Week 15 loss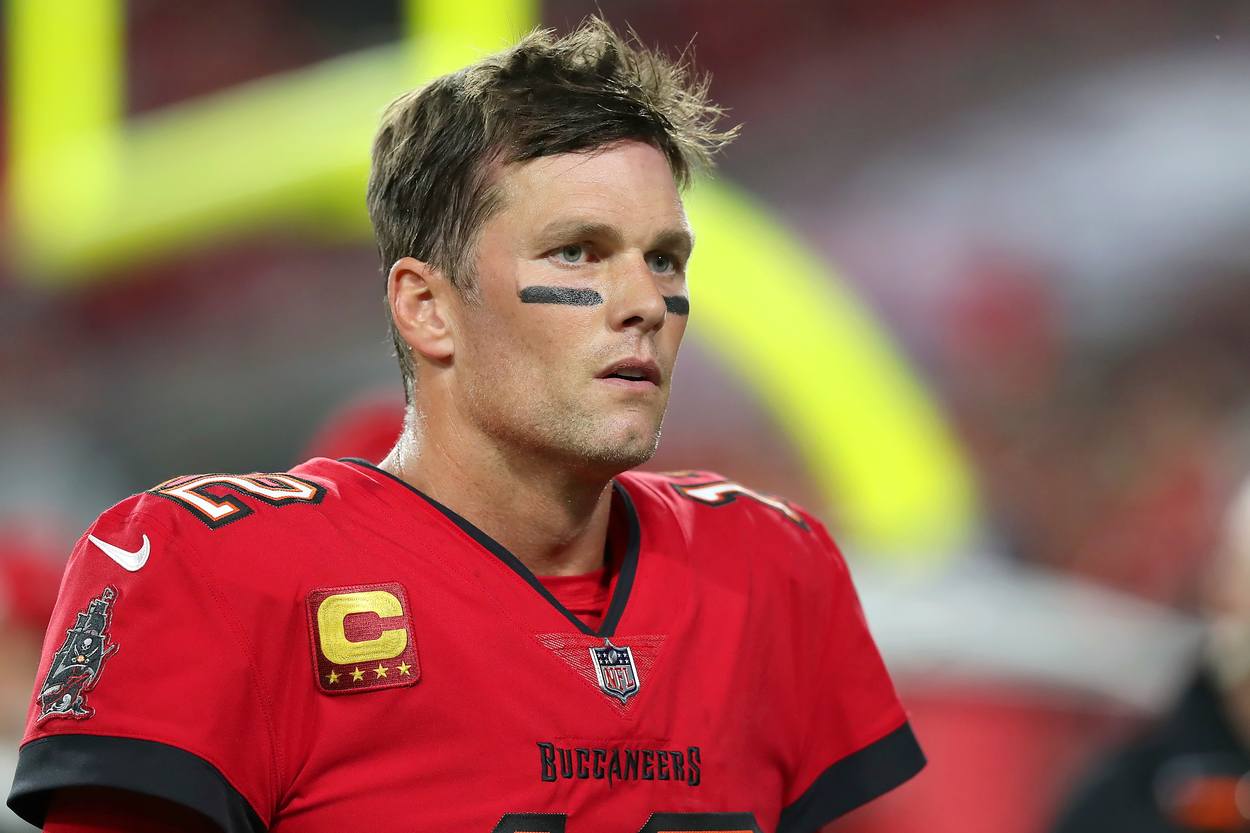 For the first time in months, Brady truly looked human in Week 15. The New Orleans Saints' defense limited him to a 54.2 completion percentage, 214 yards, no touchdowns, and an interception in a 9-0 Buccaneers loss on Sunday, Dec. 19.
Until the Saints came marching into Raymond James Stadium, Brady hadn't been shut out since Dec. 10, 2006, when Nick Saban's Miami Dolphins held him to 78 passing yards in a 21-0 shutout at then-Dolphin Stadium.
In fairness to Brady, he lost receiver Mike Evans and running back Leonard Fournette to hamstring injuries during the game; Fournette is also battling an ankle ailment. Chris Godwin, the Buccaneers' star slot receiver, departed with a torn ACL and will miss the rest of the 2021 season.
Still, that's not enough for MacKinnon, a writer who worked in the White House during Ronald Reagan and George H. W. Bush's presidencies. In a recent article for The Palm Beach Post, MacKinnon criticized Brady for trying to force deep completions when the Buccaneers faced short-yardage situations on third down.
Although MacKinnon said he understood if Brady felt he needed a "home run" play in the form of a deep pass, he also felt the veteran quarterback should have known better.
"But a more logical way to look at that same issue is that precisely because you are without Godwin, Evans, and Fournette, you need to grind out those third-and-2s to get a first down. Then grind out the next 10 yards. … Tom Brady does not have to be the hero on every play."

Douglas MacKinnon
An author and frequent newspaper contributor, MacKinnon made it clear he is not someone who roots against Brady.
"Not only do I believe Tom Brady is the greatest quarterback in NFL history, but its greatest player. Period," MacKinnon wrote. "That said, he is still mortal and not infallible."
MacKinnon isn't the first older fellow to share his frustration with Brady's play of late
Even as the NFL's oldest active player, Brady is still finding ways to frustrate those old enough to be his father. Remember, MacKinnon worked for George H. W. Bush, who left office in January 1992 … when Brady was 14 years old.
Earlier this month, Brady earned the ire of Buccaneers head coach Bruce Arians, a 69-year-old who happily lacks a filter. Earlier this month, Brady rushed seven times for 16 yards and a touchdown in a 33-27 overtime victory over Josh Allen and the Buffalo Bills. Considering the quarterback's age and the fact he only had at least seven rushing attempts in four other games, one can understand Arians' frustration.
"That's enough of that s—," Arians told reporters, according to the New York Post.
Sideline cameras and microphones also caught Arians telling Brady, "That's enough hits, alright?" midway through the Bills-Buccaneers game. Perhaps the Buccaneers would have won in Week 15 had Arians unleashed his quarterback on a read-option.
Risky plays or not, Brady is still playing at an MVP-caliber level yet again
Arians and MacKinnon's assessments and critiques each hold legitimate value. Brady and the Buccaneers have played extremely risky of late, whether it was his scrambling against Buffalo or the deep passes in the Week 15 shutout. 
Nonetheless, Brady enters Week 16 with a 67.1 completion percentage, 4,348 yards, 36 touchdowns, and 11 interceptions. The 17-game schedule means he's on pace to end his age-44 season with a career-high 5,280 yards and 44 touchdowns. 
As of Dec. 24, 2021, the FanDuel Sportsbook gave Brady +195 (bet $100 and win $295) odds of winning the 2021 NFL MVP Award. Only Green Bay Packers star quarterback Aaron Rodgers (+140) ranked higher entering Christmas Day.
Actually, maybe MacKinnon is wrong in one part of his assessment. If any player is putting up those numbers at 44 years old, it's fair to doubt whether or not they are mortal.
How to get help: In the U.S., contact the National Council on Problem Gambling helpline at 1-800-522-4700 or text HOME to 741-741 to connect with a trained crisis counselor at the free Crisis Text Line.