Tom Brady: A One Word Reaction to the 2022 Super Bowl Proves He Still Has the Fire to Make a Comeback
Tom Brady will be watching the 2022 Super Bowl just like the rest of us, as a spectator.
Granted, the rest of us don't have seven Super Bowl rings on our fingers, and most of us probably don't have the millions and millions of dollars that Brady does, but the sentiment remains. He will not be playing in this Super Bowl, and as long as he stays retired, he won't be playing in any more. Ever.
He doesn't seem to like that fact.
Tom Brady seems angry that he's not playing in the 2022 Super Bowl 
Brady took to Twitter in the hours before Super Bowl 56 and gave us all a peek into the mindset of an elite competitor and athlete.
It wasn't an in-depth look at his life, much like he has given us in several incredible documentaries over the past few seasons, And no, it wasn't a long-winded statement like his official retirement announcement.
What he did do was get right to the point, though, and in the process prove that he still has the fire to be an elite athlete competing at the highest level. The highest level in the NFL is winning Super Bowls, which is something Brady knows a thing or two about.
Brady censored himself, but the message was still clear. He posted a photo of a reminder he got on his phone about the Super Bowl, a clash that will feature the Cincinnati Bengals and Los Angeles Rams.
"Sh*t…" Brady wrote. It was a four-letter word that spoke a million. 
Brady still has the talent to play at a high level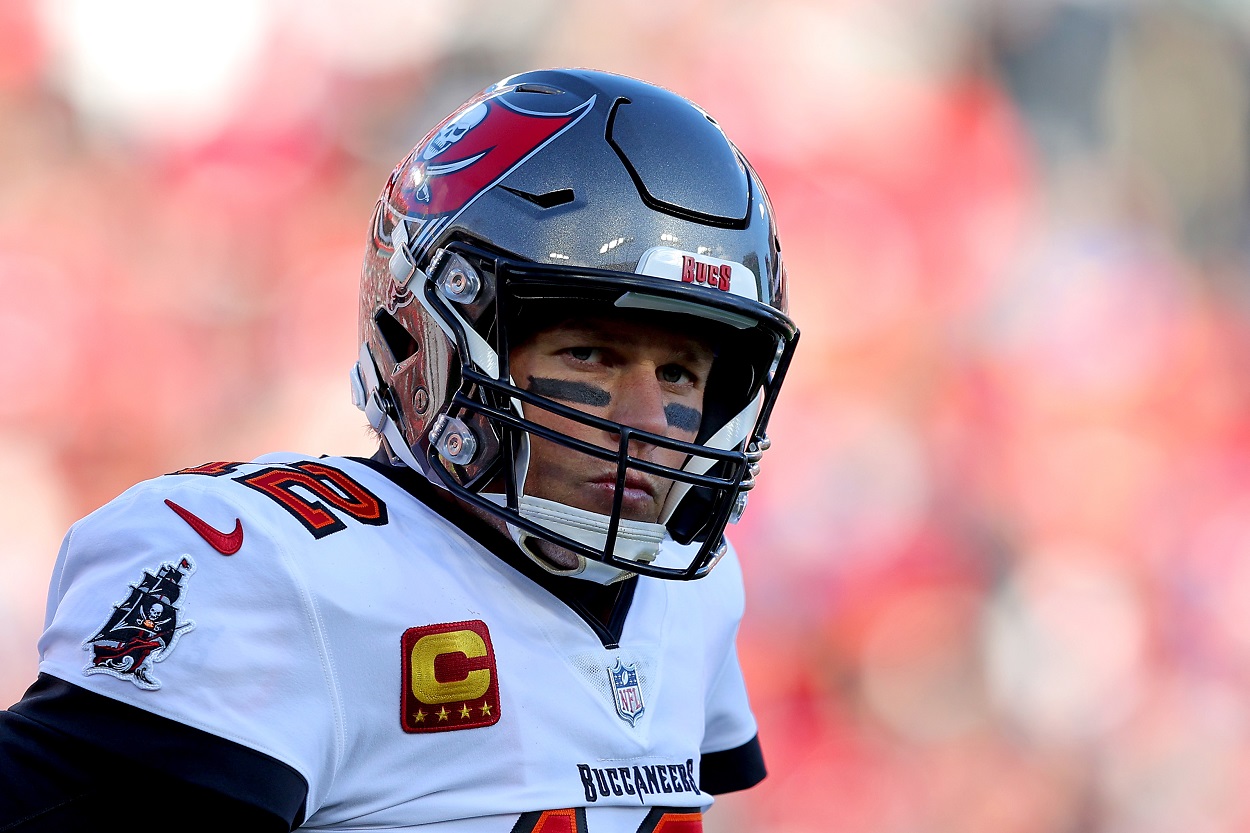 Brady wrote about his family in his retirement message, and he even said that he wasn't sure if he could put forth the effort and grind that it takes to play in the NFL anymore.
"This is difficult for me to write, but here it goes: I am not going to make that competitive commitment anymore," Brady wrote, per NBC.
It's understandable that he wanted to spend more time with his family, and at nearly 45, who could blame him for being tired of the NFL grind?
The fact that he was in the MVP conversation along with 38-year-old Aaron Rodgers is awe-inspiring, though, especially considering that Rodgers himself is deemed to be on the back nine of his career and near the clubhouse. 
Brady ultimately stepped away, but it wasn't because his game diminished at all, even at his age.
He threw for 5,316 and 43 touchdowns in 2021 with 12 interceptions. The yardage total was the best of his 22 season NFL career.
Hypothetically, Brady still has a few good years of football left in the tank, and one would imagine that fact will be at the forefront of his mind watching someone else hoist the Lombardi Trophy.
Never say never when it comes to Brady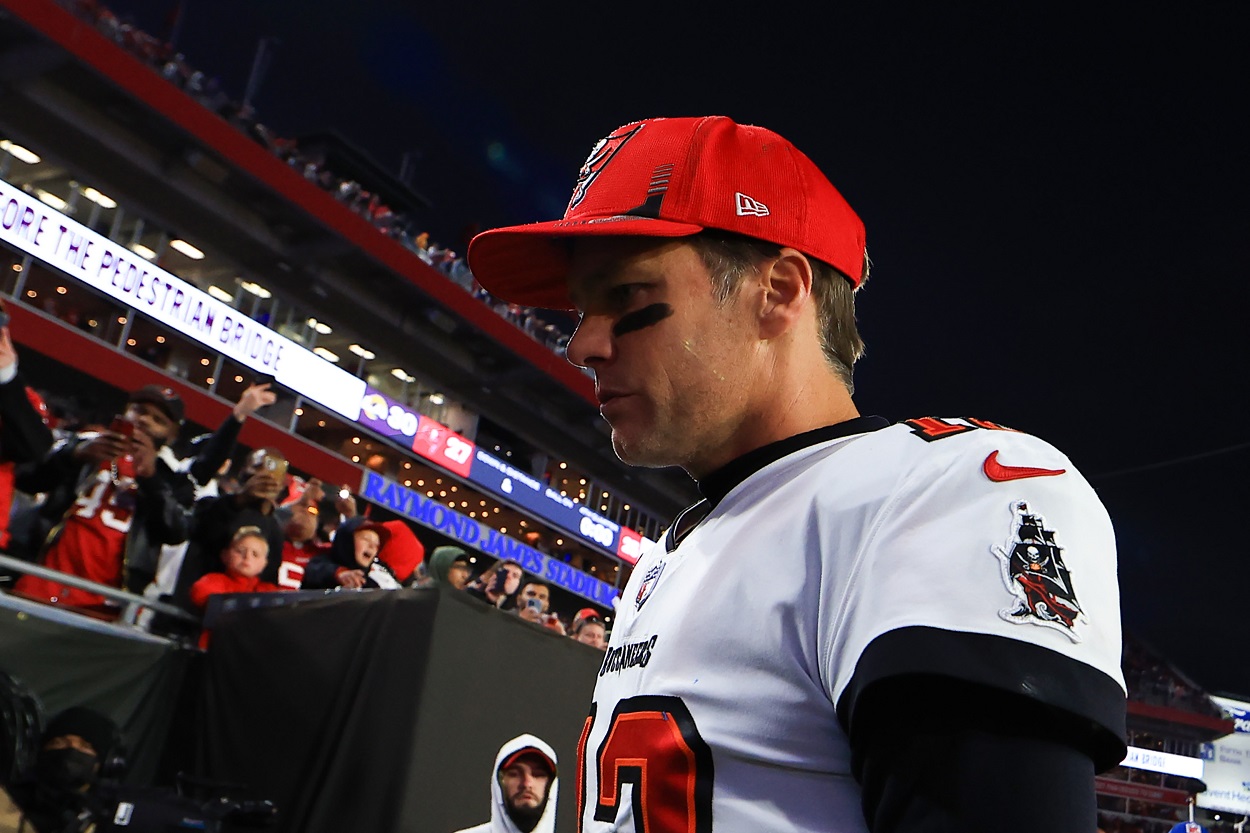 Not even a few weeks after retiring, Brady again lit the internet on fire with another simple yet effective phrase. "Never say never," he said, talking on his podcast about the potential of unretiring and making a comeback.
"I'm just going to take things as they come. I think that's the best way to put it, and I don't think anything, you know, you never say never," Brady told Jim Gray on "Let's Go!" (h/t ESPN) "At the same time, I know that … I feel very good about my decision. I don't know how I'll feel six months from now.
"I try to make the best possible decision I can in the moment, which I did this last week. And, again, I think it's not looking to reverse course. I'm definitely not looking to do that. But in the same time, I think you have to be realistic that you never know what challenges there are going to be in life. Again, I loved playing. I'm looking forward to doing things other than playing. That's as honest as I can be with you there."
Brady has been pleasantly open on social media since retiring, and he's certainly not one to be above trolling a little bit. That comment plus his evident disappointment the day of the Super Bowl do leave little bread crumbs toward the conclusion that Brady could ultimately try to come back, though.
There's also a new report from NFL.com that states the Tampa Bay Buccaneers aren't yet closing the door on Brady. If he wants to come back, they'll figure it out.
Again…this report has come out not even a month after he announced his retirement. If he's already itching to play now, how much stronger will that itch get once the 2022 season approaches?
Brady clearly still has the fire to be an elite competitor. He still has the talent. At this point, a potential comeback doesn't seem out of the picture.
Stats courtesy of ESPN and Pro Football Reference. Contract information via Spotrac
RELATED: Tom Brady's Incredible Durability Left a Profound Impact on Chargers Star Justin Herbert