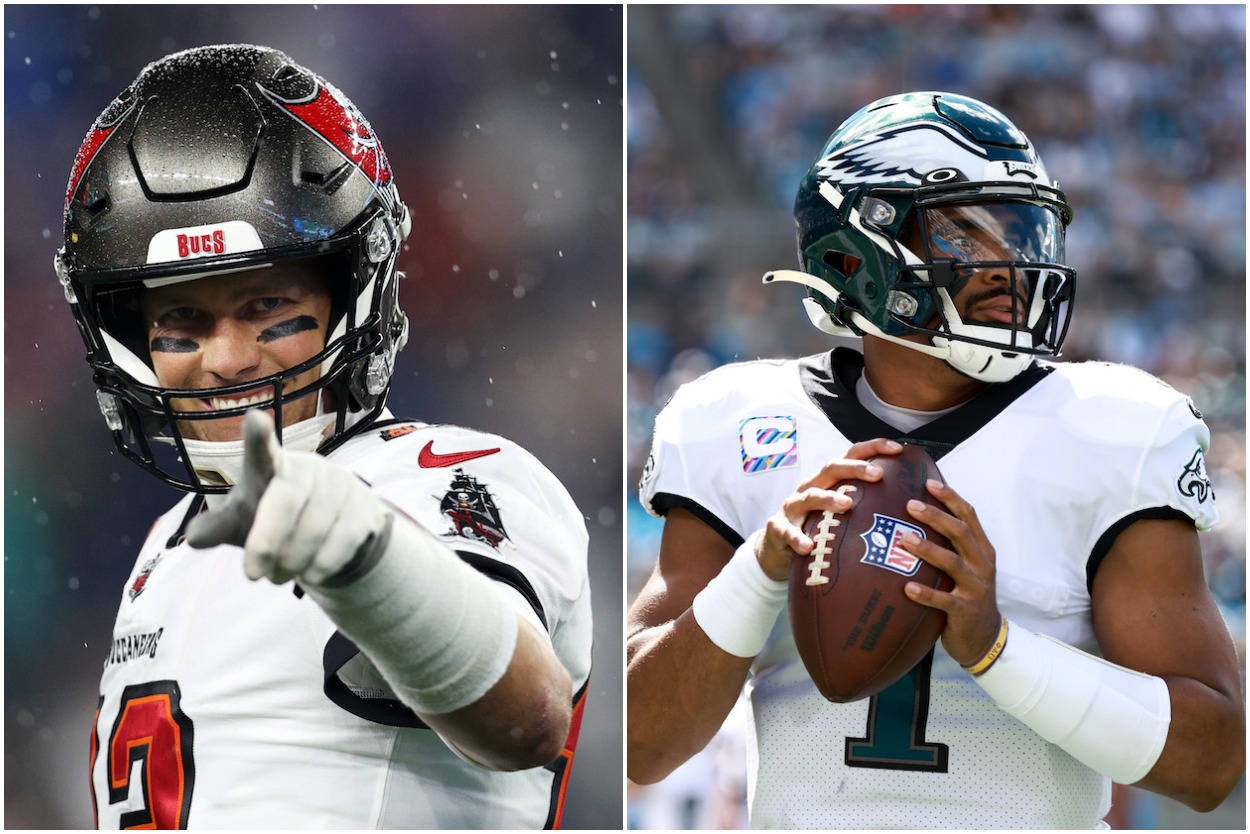 Tom Brady's Paycheck for Thursday Night Football Is Double What Jalen Hurts Will Make All Season
Tom Brady is just a bit richer than Jalen Hurts at this stage in their careers.
It's no secret that Tom Brady is a richer man than Jalen Hurts. After all, the guy's played 21 seasons in the NFL and has banked more than $290 million in on-field earnings alone throughout his career. Meanwhile, Hurts is only in his second NFL season and has earned just $3.4 million himself.
But when Brady's Tampa Bay Buccaneers travel to Lincoln Financial Field on Thursday night to play Hurts' Philadelphia Eagles, the greatest quarterback of all time will incredibly earn double in one night what Hurts will make all season.
Tom Brady will earn an average of $1.6 million per game this season
It shouldn't be a surprise to learn that the greatest quarterback to ever walk this earth is also the richest NFL player in history. Brady has earned $291 million now in his 22nd year in the league, which is $21 million more than the next-highest earner (Drew Brees). And guess what. He's still got a few more years and a few tens of millions left in the tank.
Brady made a living off signing short contracts with the New England Patriots. He never signed a deal for more than four years or more than $72 million, but that money adds up if you play in the NFL for two decades.
In 2020, he signed a two-year, $50 million contract with the Buccaneers. After winning the Super Bowl in his first year with the team, Brady restructured his contract to a four-year extension that voids to a one-year deal. The future Hall of Famer will earn $27.5 million this season, which averages out to $1.6 million per game.
Not too shabby for a few hours of work.
Tom Brady will make double Jalen Hurts' season salary on Thursday night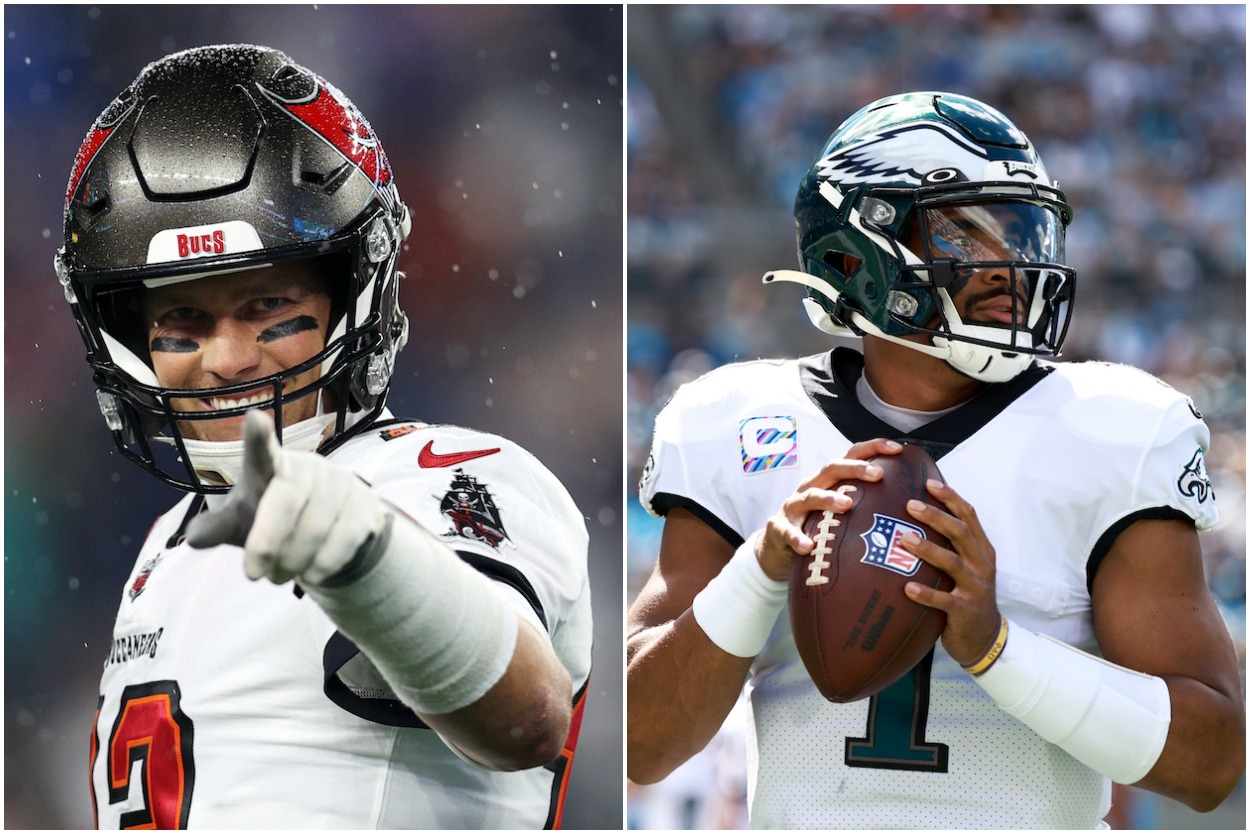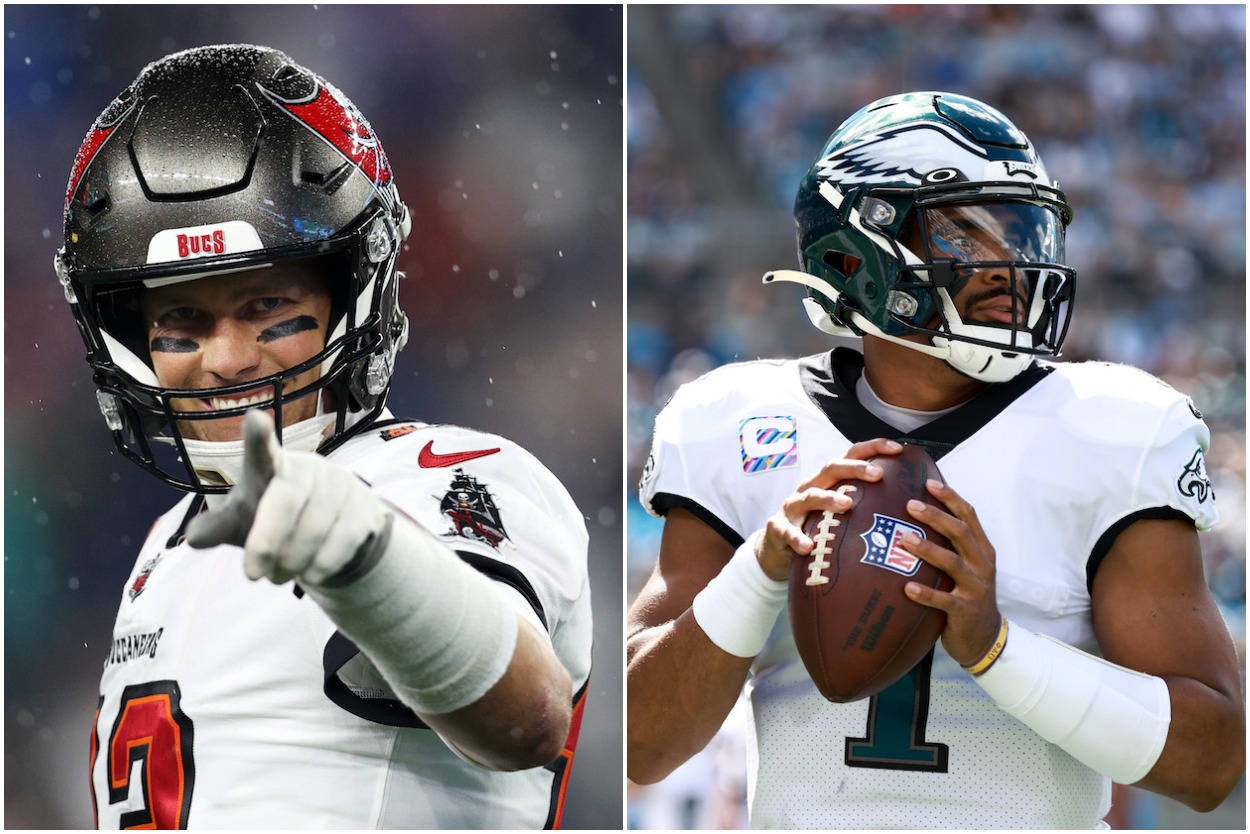 Alright, so we know what Brady makes in salary this season. But what about his Thursday Night Football opponent, Jalen Hurts?
As a second-year quarterback, Hurts obviously isn't on the same stratosphere as Brady in terms of his contract. The Alabama and Oklahoma product signed a four-year, $6 million rookie deal after hearing his name called by the Eagles in the 2020 NFL draft. He earned $2.55 million last year thanks to a $1.9 million signing bonus, but he's only due $883,871 in salary this season.
That's right, Brady's paycheck for Thursday's game will be nearly double what Hurts will make all season for the Eagles.
Money won't decide Buccaneers-Eagles TNF showdown
Brady might be a higher-paid player than Hurts by a wide margin, but money doesn't mean much once the ball is kicked in the NFL.
The Buccaneers enter their Thursday Night Football matchup against the Eagles as seven-point road favorites. As the reigning Super Bowl champs with a 4-1 record to start the year, that spread is more than warranted. But Philadelphia is a feisty team that can compete with the best in the NFL if they protect the ball and play sound defense.
Even so, Brady should be able to pick apart this defense all night. The Bucs simply have too many weapons for the Eagles secondary to handle. If Philadelphia can't get any pressure on Brady in the game, it could be a long night for that defense.
On the other side, Hurts might need to have his best game as a pro if he wants to defeat Brady in his first matchup against the legendary QB. The Buccaneers have a few injuries on the defensive side of the ball, and they've struggled to defend the pass all season.
Expect a high-scoring shootout in this one, and we'll see if the young gun can keep pace with the 44-year-old on TNF.
All contract details courtesy of Spotrac.
Like Sportscasting on Facebook. Follow us on Twitter @sportscasting19.