Tom Brady's Pregame Ritual Involves Healing and Protection Stones, Mantras From His Wife Gisele Bündchen
Tom Brady is so unbelievable, one might assume a bit of divine intervention was involved. The 44-year-old quarterback, who battled through an undisclosed knee injury throughout his latest Super Bowl-winning season, regularly dismantles players half his age. It turns out, Brady has admitted to a pregame routine involving a little bit of magic.
Tom Brady is all-in on Gisele Bündchen's pregame rituals
Supermodel and businesswoman Gisele Bündchen prefers not to leave the outcome of her husband's NFL games entirely up to chance. She tries to stack his deck for him in the form of positive thinking and, literally, magic.
The veteran QB opened up to CBS Sports about the quirky but emotionally resonant pregame routines his spouse does for him."She's so about the power of intention, and believing things that are really going to happen," Brady said. "[…]she always makes a little altar for me at the game, because she just wills it so much. At first, I was like, 'This is kind of crazy.'"
The instructions involve focusing their thoughts on positivity and building a small altar with pictures of their children. The couple also carries healing stones and necklaces and repeats mantras while blessing themselves with essential oils.
After heeding her advice, Brady became a believer. "About four years ago, we were playing the Seahawks and she said 'You better listen to me,'" the then-Patriots star continued. "I did all those things and, by God, you know, it worked."
Rob Gronkowski tries to stay out of Brady's way during pregame prep
The other side of Brady's resurgence with the Tampa Bay Buccaneers involves the familiar cast around him. Old friends from his Patriots days dot the roster, likely contributing to the positive vibes Bündchen insists are necessary to win. Tight end Rob Gronkowski was drawn back to the NFL by what Brady was building; he praises the atmosphere in Tampa Bay.
One thing he doesn't do, as he told NBC Sports, is bother Brady during that quirky pregame ritual. "Typically with Tom and I, we leave each other alone," Gronk said. "Everyone has their own little routine they do." That isn't to say the notably high-energy tight end is above the thoughtful blend of natural medicine and ritual that grounds his QB1.
An advocate for the healing properties of CBD, and an adherent to similar beliefs about positive thinking, the two have some habits in common. Where they likely differ is in overall diet, an area where Brady goes further than nearly everyone.
Brady's famously limited diet becomes even more important just before NFL games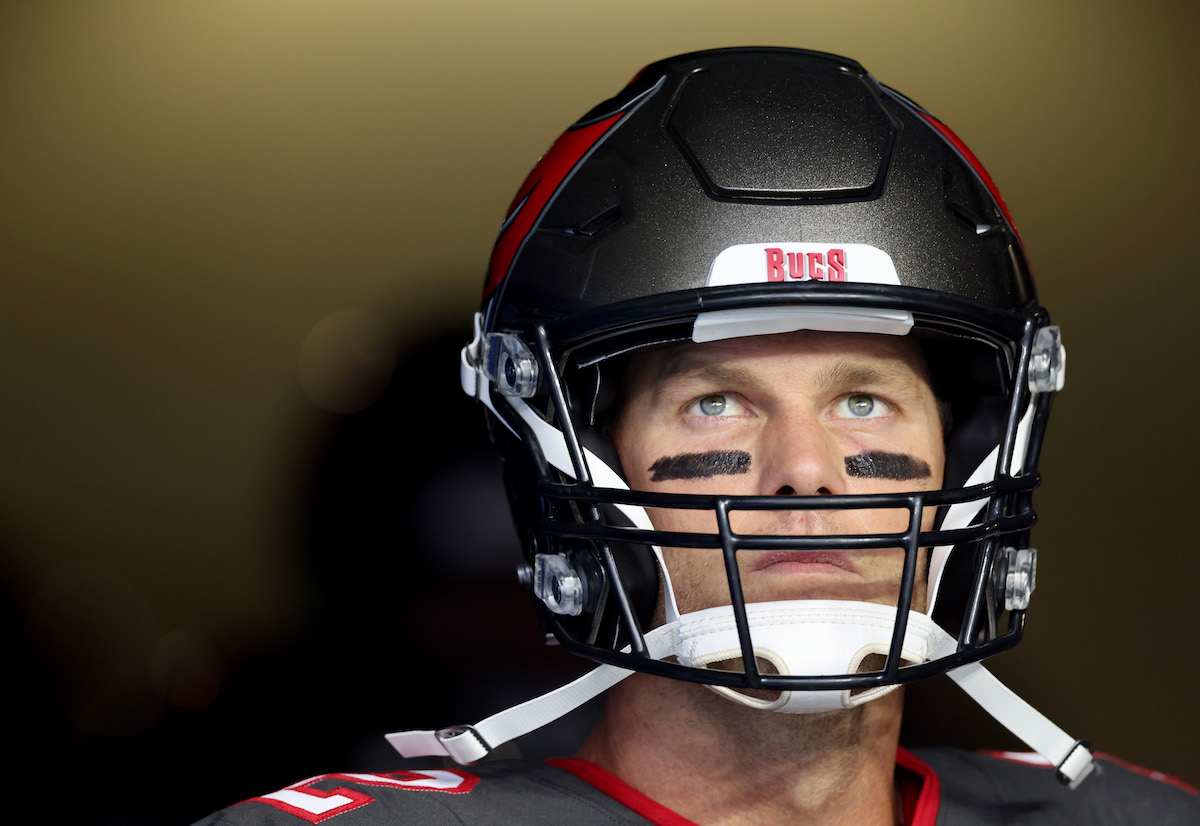 Brady has a lot of support from his family to help him stay grounded mentally. Physically, however, his longevity likely comes from his wildly restrictive diet. While his go-to treat, avocado ice cream, is a fan-favorite, most of his diet is impossible for the average person.
Looking at what Brady does consume seems tolerable at first glance. His pregame meals include protein shakes, 80% vegetable-based meals, bone broth, and fish. The restrictions cast his daily grind into stark relief: no dairy, coffee, white sugar, white flour, or alcohol. Even Brady's vegetable choices are limited; he cuts out foods associated with inflammation, like eggplant, tomatoes, mushrooms, and peppers.
Brady isn't completely inhuman, though. After coming out with a win in his latest Super Bowl appearance, he broke his diet to indulge in a little tequila. That blessed sports fans with a series of iconic images of a visibly drunk veteran QB tossing the Lombardi Trophy across boats and being held up by his teammates.
In retirement, Brady will probably be a lot of fun. Right now, he must keep mentally and physically fit with a regimen most of us can't imitate.
RELATED: Patrick Mahomes Reveals How Much He Weighs and How He Gets Ready to Play