Tom Brady's Production Company Name Shades the 31 Teams That Didn't Pick Him in the 2000 NFL Draft
Like the NBA's GOAT, Michael Jordan, the NFL's GOAT, Tom Brady, is branching out from the game and setting up his post-football success. Following in the footsteps of Jordan, who was the subject of an entertaining ESPN documentary, Brady has a docuseries in production. And his own content company, 199 Productions, along with ESPN and Gothram Chopra, is producing it.
If you're wondering about the number in the company name, recall that Brady was the 199th pick in the 2000 NFL Draft. And being the 199th pick has worked out OK for the NFL legend.
When did Tom Brady create 199 Productions?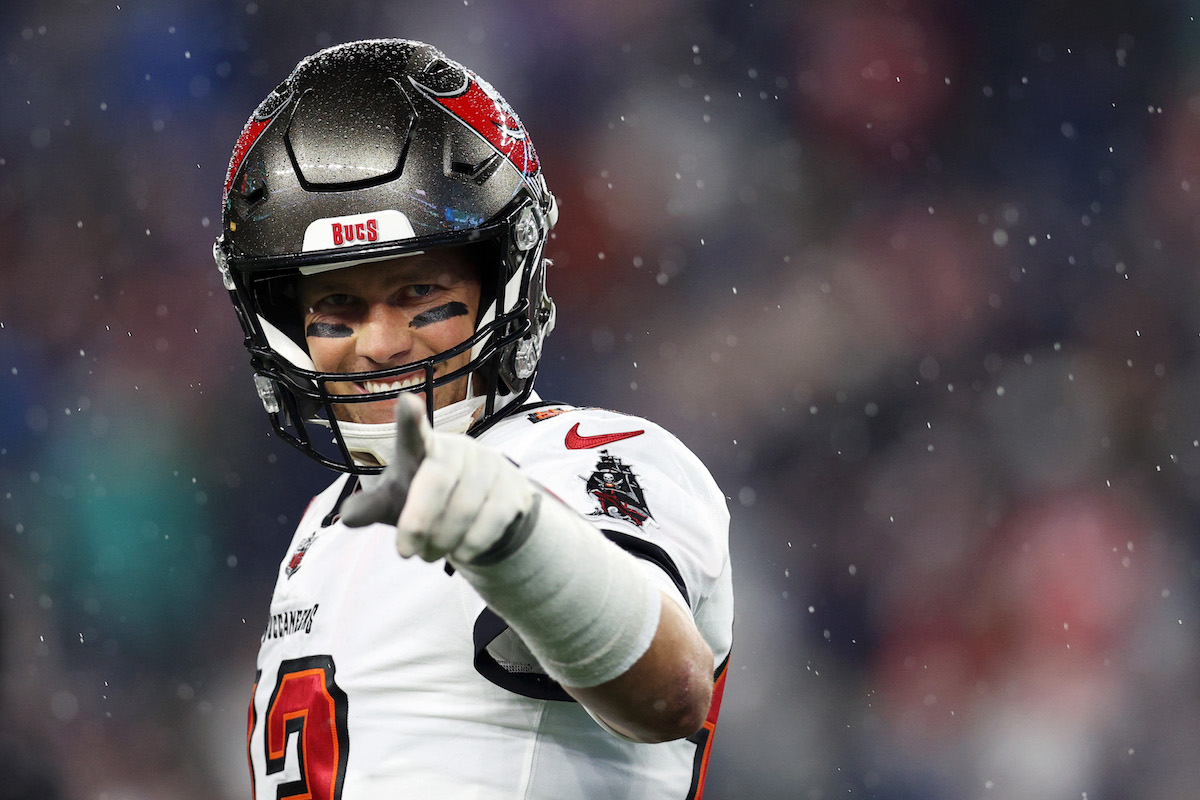 Brady launched 199 Productions in early 2020. The content company's name throws shade at the 31 teams that passed him over in the 2000 NFL Draft.
Brady's upcoming docuseries, The Man in the Arena: Tom Brady, will look at the quarterbacks' nine Super Bowl appearances with the New England Patriots. And don't worry if you think the series will be all smiles and victories — it will also cover the Patriots' three agonizing Super Bowl losses. That includes the 2008 loss that put an asterisk on the Patriots' undefeated season.
In addition, WSJ Magazine reported that Anthony Russo, co-director of Avengers: Infinity War and Avengers: Endgame, has something in the works with 199 Productions. However, it probably isn't the next Avengers film.
Russo says of Brady: "Tom has got incredible storytelling instincts."
And Chopra, who produced the Tom vs Time series, thinks Brady will approach his post-football career with the same relentlessness he exhibits on the field and in life.
"Everything in [Tom's] life is about, 'How do I do this thing? How do I get better?'" Chopra says. "The outside world is like, 'No, you can't get better. No one's been better,' and he's always like, 'No, I can, I can'… I say he's like a mad scientist, or he's a monk."
What happened in the 2000 NFL Draft?
Thanks to Brady's poor performance at the scouting combine, no one considered him a first-round quarterback. And he didn't get drafted in the first round. The second, third, fourth, and fifth rounds passed him by too.
He wasn't drafted until the sixth round with the 199th pick by Bill Belichick. In fact, six quarterbacks — Chad Pennington, Giovanni Carmazzi, Chris Redman, Tee Martin, Marc Bulger, and Spergon Wynn — were drafted before Brady.
Those six threw for a combined 44,470 yards and 246 touchdowns. As of this writing, Mr. Sixth Round Pick has thrown for 79,204 yards and 581 touchdowns in his career.
Tom Brady is also scaling up his TB12 brand and creating an apparel label
Never one to sit idly, the future Hall of Famer has continued to grow his TB12 brand and will soon release a clothing line, appropriately called Brady, in December.
According to Huddle Up, the quarterback's apparel label is like the Jordan brand, a high-end clothing line that includes men's training and activewear. Former DKNY designer Dao-Yi Chow and the mastermind behind Kim Kardashian West's billion-dollar Skims brand, Jens Grede, are working with Brady on the new brand.
The Cleveland Browns, San Francisco 49ers, and others probably still regret their decision to skip Brady. That's because Wynn played only seven games his rookie year with the Browns and threw one touchdown pass his entire NFL career. And the 49ers' Carmazzi never played a single regular-season game.
As for Brady? He used the fact that teams ignored him as fuel to prove everyone wrong. Mission accomplished.
RELATED: Tom Brady Calls NFL's Jersey Number Rule Change' Crazy,' Cites His Career Longevity as Reason for Protesting This 'Very Challenging Thing'