Tom Brady Receives Heavy Praise From Jason Garrett Ahead of Buccaneers-Giants Showdown: 'He's the Best Player That Ever Walked'
Seven Super Bowl championships, 14 Pro Bowl appearances, and three-time NFL MVP winner: This is part of the resume of Tampa Bay Buccaneers quarterback Tom Brady. He is one of the best players ever to grace the gridiron, and everybody knows it.
The former New England Patriots mainstay worked wonders in Foxborough before heading to Florida and is still putting up eye-popping numbers at 44 years old.
He is still playing at an unreal level, and Brady received massive praise from New York Giants offensive coordinator Jason Garrett before the Monday Night Football showdown.
Tom Brady continues to perform at a high level even at 44 years old
Brady doesn't seem to age at all. On the field, he is still playing at a high level.
The Buccaneers quarterback has 27 touchdowns and seven interceptions entering the duel with the Giants — a team he knows very well. He hasn't missed a step at all despite a frustrating two-interception performance in the loss to the Washington Football Team.
Even at the age of 44, he is still leading the way in the NFL. Sure, the Buccaneers have a ton of weapons around him, but Brady continues to be Brady time and time again.
The Bucs can very well make another Super Bowl run, and Brady is the main reason for the success in Florida.
Jason Garrett dishes honest truth on the Buccaneers quarterback
It just doesn't make sense how good Brady is every year. Ahead of Monday night's matchup, the Giants offensive coordinator got honest on the talent of Brady (h/t Bob Glauber of NY Newsday).
"They're gonna make a Mount Rushmore of football players at some point, and the first face they chisel will be that guy's face. He's the best that ever walked."

Jason Garrett on the excellence of Tom Brady
After all, Garrett had faced his fair share of Brady-led teams when he was with the Dallas Cowboys. Now, he has to face Brady in the NFC and try to lead an offense in New York to find a way to keep up with the Bucs firepower.
Indeed, an NFL Mt. Rushmore is an entirely different conversation, but a strong argument can be made that Brady belongs there.
His resume speaks for itself, and his continued excellence is unbelievable for players of his age.
Brady has a ton of history against the Giants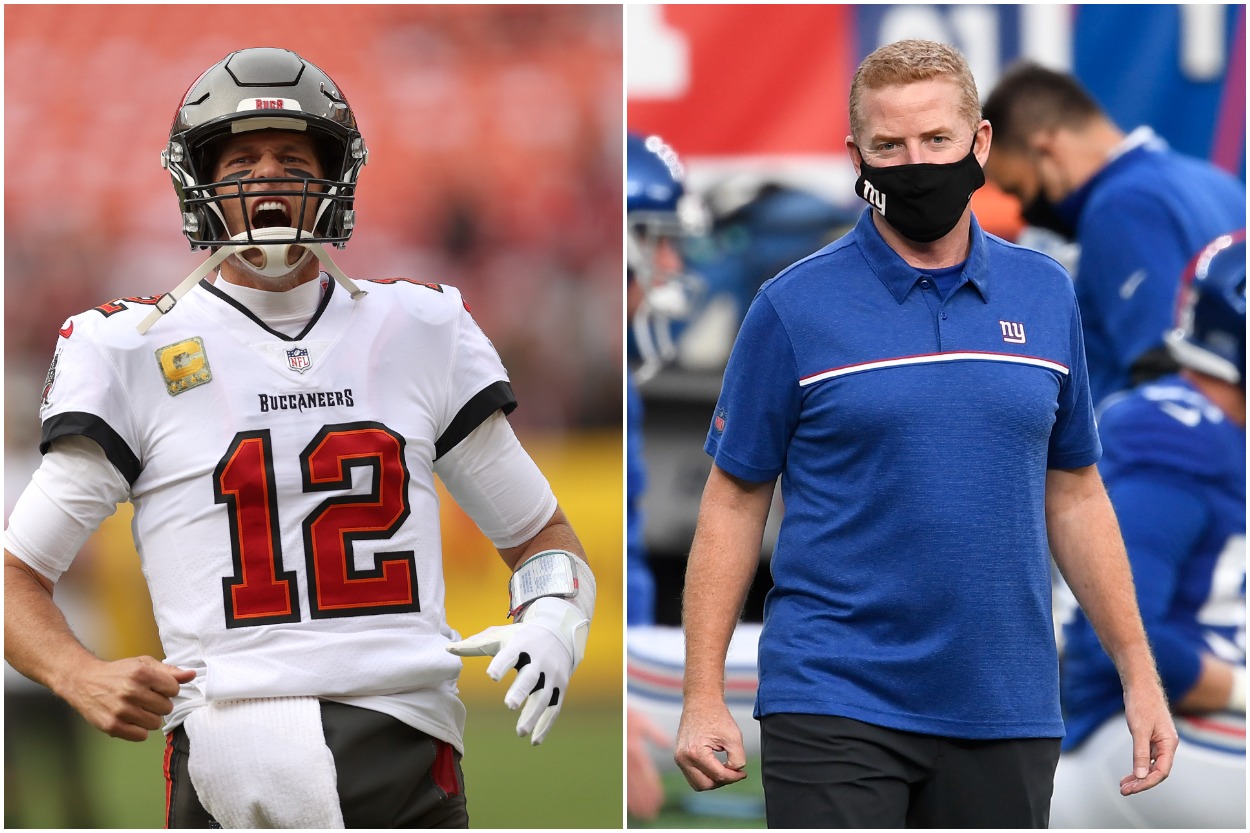 Everybody knows about Brady's history against the Giants. They were the Achilles heel of the Patriots while Brady was running the show, and now the NFC East foe is trending downward quickly as Tampa Bay goes upward.
Things are different than the Giants team Brady faced while he was with the Patriots. Daniel Jones is showing signs of promise, but Saquon Barkley has failed to stay healthy throughout the past couple of seasons.
The Giants receiving corps has been a trainwreck, and the decision to spend a bunch of money on Kenny Golladay looks more and more like a huge mistake.
The Bucs should have no issues with this Giants team, especially with Brady fresh off a disappointing loss to Washington.
To Garrett's point, surely Brady will be on the NFL Mt. Rushmore one day if it ever comes into fruition.
Stats Courtesy of Pro Football Reference