Tom Brady's Recent Instagram Comment Could Be Foreshadowing the NFC's Worst Nightmare
Tom Brady and the Tampa Bay Buccaneers are coming off a Super Bowl-winning season and have an excellent opportunity to contend for another title this year. However, what if you heard that they could potentially be even stronger in 2021? Well, that could be the case, as Brady's recent comment on Rob Gronkowski's Instagram post could be foreshadowing the NFC's worst nightmare.
Rob Gronkowski played well at times for the Buccaneers in 2020
Tom Brady joined the Buccaneers during the 2020 offseason and played the best football he had in years, throwing for 4,633 yards, 40 touchdowns, and 12 interceptions. His pal, tight end Rob Gronkowski, though, followed him from New England to Tampa and struggled at times, but the five-time Pro Bowler eventually still proved to be an effective player.
After retiring and sitting out the 2019 season, Gronkowski caught 45 passes for 623 yards and seven touchdowns for the Buccaneers in 2020. He had his biggest game toward the end of the year in a 27-24 loss to the Kansas City Chiefs in Week 12, catching six passes for 106 yards. In the Super Bowl, however, he came up about as clutch as Michael Jordan in the finals with six catches for 67 yards and two touchdowns in a 31-9 blowout win over the Chiefs.
The four-time first-team All-Pro is now playing for Tampa again in 2021, but he could potentially have an even bigger season this year.
Tom Brady had an interesting comment on Rob Gronkowski's Instagram post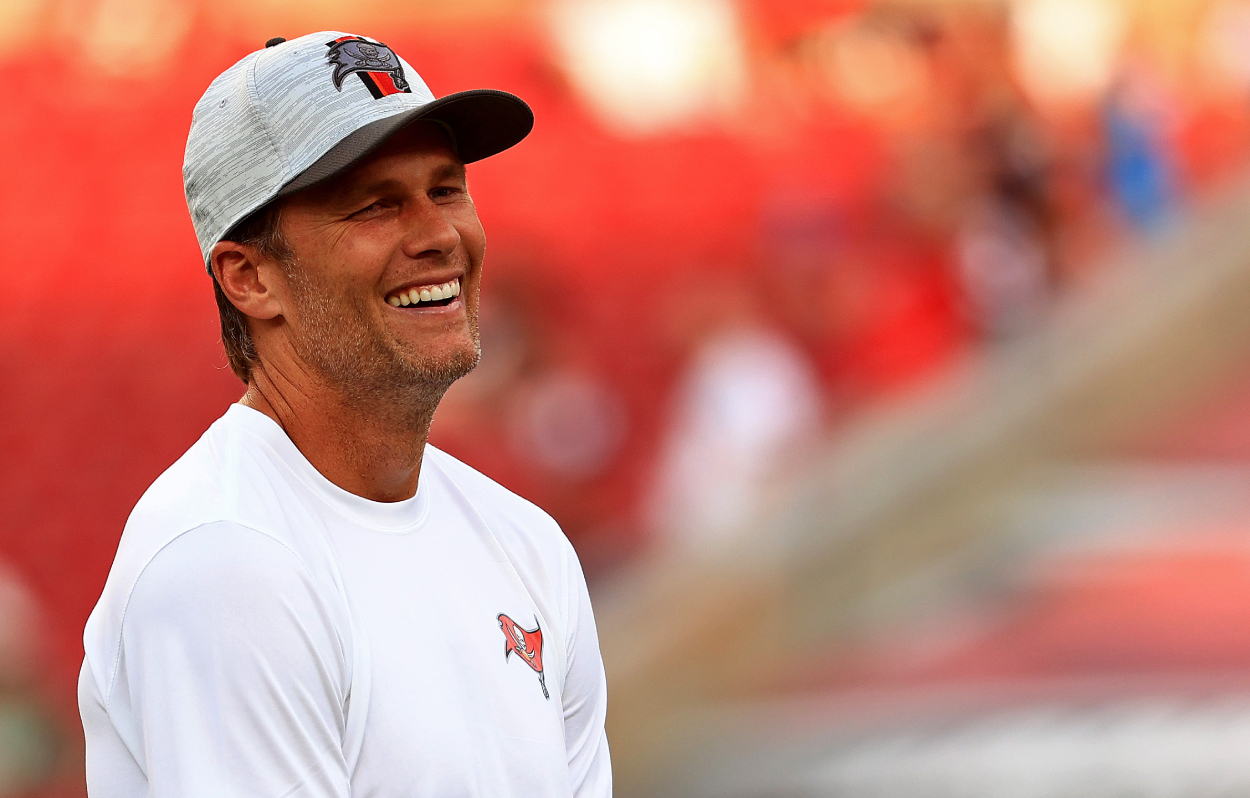 Rob Gronkowski recently took to Instagram and posted a photo of himself at the Buccaneers' Raymond James Stadium. He then added the caption below.
"Welcome to [Raymond James Stadium] where last season ended as champs, but for this season, it's where the glory begins with a whole new chapter," Gronkowski wrote.
The four-time Super Bowl champ's photo and caption were certainly nice, but Brady's comment was the most interesting part of the post.
"Love it Gronk! I've never seen you play the way you are playing! [two '100' emojis] LFG," Brady wrote.
It's pretty bold to say he has never seen Gronkowski play the way he is now, but if Brady's right, his comment could be foreshadowing the NFC's worst nightmare.
Tom Brady's comment should scare the rest of the NFC
Obviously, Brady didn't say what is comment meant, but we can only assume that he was saying it in a good way. So, if it's the truth, the rest of the NFC should be pretty frightened.
Brady already essentially has two No. 1 receivers. Mike Evans gained over 1,000 receiving yards last season, and Chris Godwin had 840 in 12 games. TB12 also has Antonio Brown, who proved he still has a lot left in the tank last year with 45 catches for 483 yards in eight games, and Scotty Miller was a solid receiver as well, gaining 501 yards for the Bucs.
A healthy Gronkowski, though, is arguably one of the most unstoppable players in the NFL.
In his prime, Gronkowski caught 90 passes for 1,327 yards and an NFL-leading 17 touchdowns for the Patriots in 2011. He also had three other seasons where he gained over 1,000 receiving yards, and he earned first-team All-Pro honors each of those years.
However, what made him so great wasn't just his six-foot-six-inch, 268-pound frame, but his elite athleticism did as well. Imagine trying to tackle a 268-pound force who is running around 19 miles per hour, per NFL.com; it's probably not going to end too well for you. And that's the task defenders had when trying to bring down Gronk in the open field during his New England days.
Gronkowski's five Pro Bowl seasons on the Patriots were enough to make him a future Hall of Famer. If he's playing somewhere near the level that he played at while with the Pats, Gronk will not only become just as dangerous a weapon as Evans and Godwin are, but he will make the Buccaneers' offense — which was third in the NFL in points per game in 2020 with 30.8 — even more explosive. 
If all this comes to fruition, it's hard to imagine any NFC team beating the Bucs on their path to another Super Bowl appearance. Gronk could become all of those teams' worst nightmares.
Stats courtesy of Pro Football Reference