Tom Brady Returning to the NFL and What It Means for Aaron Rodgers and the Packers
Tom Brady actually did it. All of the hints and suggestions weren't just a head fake. He is officially unretiring and will come back to the Tampa Bay Buccaneers for one more year. Green Bay Packers quarterback Aaron Rodgers didn't even get to revel in the glory of his own announcement for a week.
Such is life in TB12's NFL.
Brady coming back shifts the balance of power in the NFC once again, and it impacts both Rodgers and the Packers in multiple ways.
With Tom Brady back, the NFC will once again be hotly contested
For less than a week, it seemed as if the waves were parting for Rodgers and the Packers. That's not to say the Packers haven't had good scenarios play out for them in the past. They were the No. 1 overall seed in the NFC last season, after all. Still, they ended up losing to the San Francisco 49ers in the divisional round.
With Brady playing golf or making documentaries, or whatever, there seemed to be a power void at the top of the NFC, and Green Bay appeared poised to fill it. That void became even bigger when the Seattle Seahawks traded Russell Wilson to the Denver Broncos.
He's the AFC's problem for now.
Of course, Matthew Stafford, Aaron Donald, and the defending Super Bowl Champion Los Angeles Rams will be looking to repeat, but that's no easy task in the NFL. It's much easier said than done, and the odds are stacked against them. They call it the "Super Bowl hangover" for a reason.
Outside of perhaps the Dallas Cowboys, who nobody trusts in a big spot, it seemed as if the NFC was bound to run through Green Bay yet again.
Brady's announcement doesn't entirely change that, but it makes things a lot more complicated for Rodgers and the Pack.
Brady coming back directly impacts Aaron Rodgers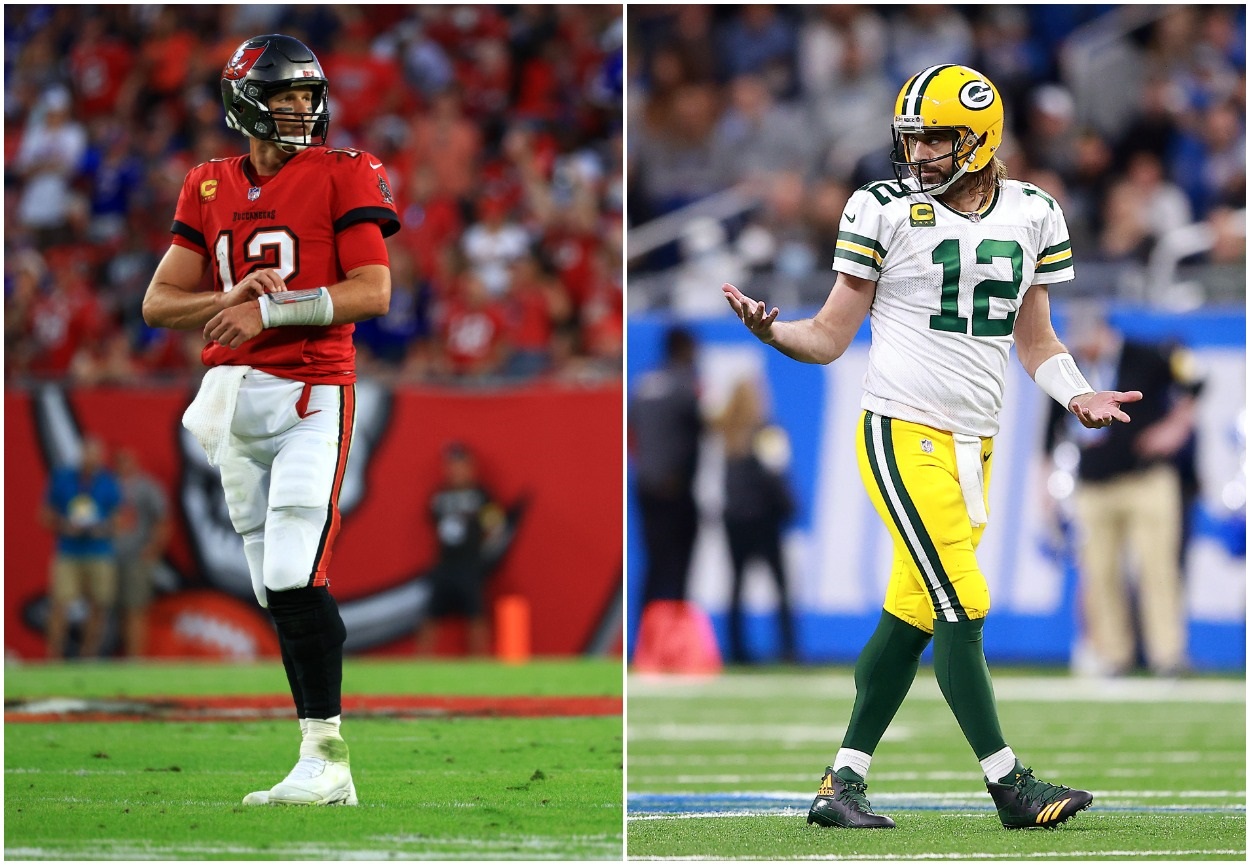 Rodgers openly considered retiring this offseason. In fact, while breaking the news that Rodgers decided to sign a new contract with Green Bay, Pat McAfee relayed that stepping away was a legitimate option for the four-time MVP.
Rodgers obviously feels like he has something left in the tank, and the relationship between him and the Packers has dramatically improved over the past season.
He never would admit it, but one has to wonder if another reason he decided to come back was that he didn't want to retire in the same offseason as Brady. Both will undoubtedly be NFL Hall of Famers, but if they were in the same Hall of Fame class, we all know which 12 would get top billing, and it wouldn't be the one wearing green and gold.
Rodgers can't seem to avoid comparisons to the seven-time champ, no matter what he does. Brady is inarguably the greatest quarterback of all time. Those seven Super Bowl championships are proof of that. On the other hand, Rodgers only has one, but he's often brought up in the GOAT conversation because of his otherworldly talent.
Talent is really where the comparisons end, though, because Rodgers hasn't sniffed the Super Bowl since 2010-11. Even worse, he's 1-4 in NFC Championship Games since Green Bay's last Super Bowl season, and that record includes a loss to Brady and the Buccaneers while playing at Lambeau Field in 2020.
The pressure is on Rodgers because Brady is coming back with one goal in mind, which is adding more rings to his collection.
Rodgers' legacy would undoubtedly change if he can get at least one more ring before he hangs up his cleats, but the 2022 season is now once again another opportunity for Brady to widen the gap between the two star quarterbacks.
Green Bay's Super Bowl window just got a tad bit smaller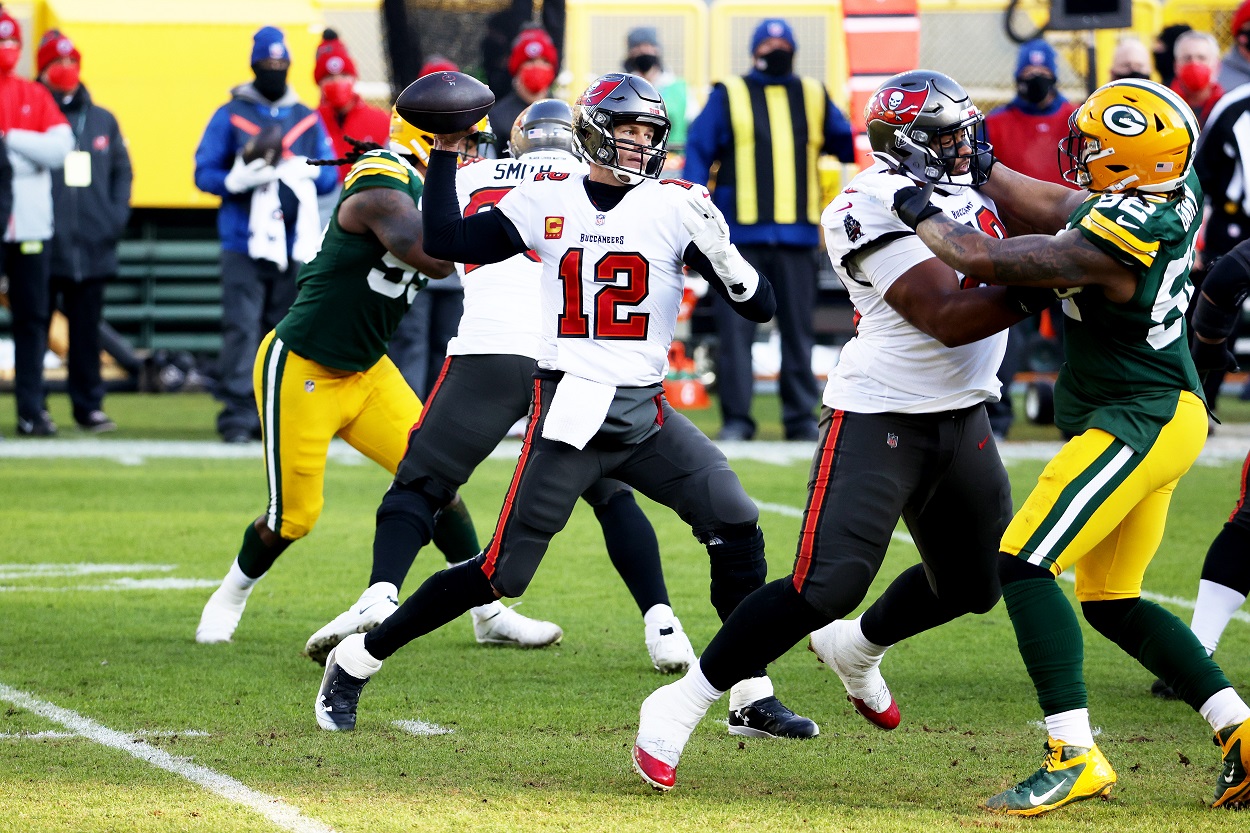 There might have been an option for Green Bay to trade Rodgers this offseason.
General manager Brian Gutekunst had said that he was not fielding any phone calls regarding a trade, but is that believable? There are a handful of teams just one elite quarterback away from being a legitimate Super Bowl contender. The general managers of those squads would have been not doing their jobs had they not at least inquired in some way about the status of the long-time Green Bay quarterback.
If the Packers did trade Rodgers, they would have undoubtedly been given a King's ransom in return. The Broncos traded five draft picks (including two first-rounders) and three players for Wilson, and as good as he is, he's no four-time MVP.
The Packers would have had a legitimate opportunity to build for the future and perhaps quickly be competitive in the post-Rodgers era. Instead, Gutekunst was clear, even before the new contract was announced, that Green Bay believes it still has an opportunity to make a run at the Super Bowl.
"Our football team is in a position right now to compete for championships. That's what the main goal is about right now, and it always has been," Gutekunst said back in February, per NFL.com
Gutekunst, and the Packers, as a result, believe that window starts and ends with Rodgers being on the roster.
While it's true that Rodgers does give the Packers the best chance at winning another Super Bowl, at least compared to the alternative, it's still in no way a guarantee. Heck, he just won his second-straight MVP award but couldn't even get the Packers past their first game in the playoffs.
There are a ton of factors at play, and it's not as if Green Bay is the only organization trying to push its chips to the center of the table.
The Rams did, and it paid off. The Broncos are clearly all-in now that they have Wilson, and now that Brady is back in the fold, the Buccaneers have to once again be considered a contender.
That's not even mentioning teams in the AFC. Patrick Mahomes, Josh Allen, and Joe Burrow won't be going anywhere anytime soon.
This is not to say that Rodgers and the Packers can't finally get over the hump and hoist the Lombardi Trophy once again, but their pathway to the top of the mountain just became a lot tougher because once again, there's a GOAT standing in the way.
Stats courtesy of ESPN and Pro Football Reference. Contract information via Spotrac
RELATED: Tom Brady: Ranking the Legendary QB's Top 5 Wide Receivers