Tom Brady Revealed the Secret Athlete's Legacy He's Been Furiously Chasing Over the Past 8 Years
Tom Brady is pretty universally considered the NFL GOAT (greatest of all time).
In particular, Brady's recent Super Bowl win with the Tampa Bay Buccaneers put to bed a large amount of discourse surrounding his legacy. Many considered him a product of Bill Belichick's system in New England — this logic no longer appears valid.
Brady has firmly positioned himself atop the Mount Everest of NFL QBs. However, it wasn't all that long ago that the Bucs QB was furiously chasing another's legacy.
And no, it wasn't Joe Montana.
Tom Brady had his eyes set on Michael Jordan's legacy as early as 2013
It's not surprising to hear Brady had some internal motivation driving him all these years — he's an intensely competitive individual. However, what is surprising is that Brady picked Michael Jordan, of all people. Obviously, Jordan is not a football player, so comparing his legacy to Brady's can be somewhat challenging.
With that said, this revelation shows Brady's intense desire to achieve something unachievable. He was internally creating standards for himself that most would deem impossible.
As impressive as Jordan's six championships were in the NBA, the idea of an NFL QB winning six Super Bowls felt like pure fantasy. Joe Montana, who many considered the best QB of all time before Brady arrived, only won four.
Of course, Brady's already won seven Super Bowls and is in the market for an eighth in 2021.
Has Tom Brady actually surpassed Jordan's legacy?
Outside of Brady now owning more championship-winning seasons than Jordan, it's worth exploring if he's surpassed MJ from a pure legacy standpoint.
Not only was Jordan considered the GOAT due to his immense on-field talent, but he was also a marketing icon. His "Jordan" brand is worth billions. He became a movie star thanks to Space Jam, and is currently the Charlotte Hornets owner. The Last Dance is another film that experienced immense success primarily due to the presence of Jordan.
Brady isn't able to make these types of claims just yet.
Brady has his own respective "TB12" brand, but he definitely has some work to do on the marketing/business side of things if he wants to compare his off-field legacy to Jordan. In the meantime, he can take solace in the fact that he accomplished his 2013 goal of winning more rings.
2021 should be another good year for the Buccaneers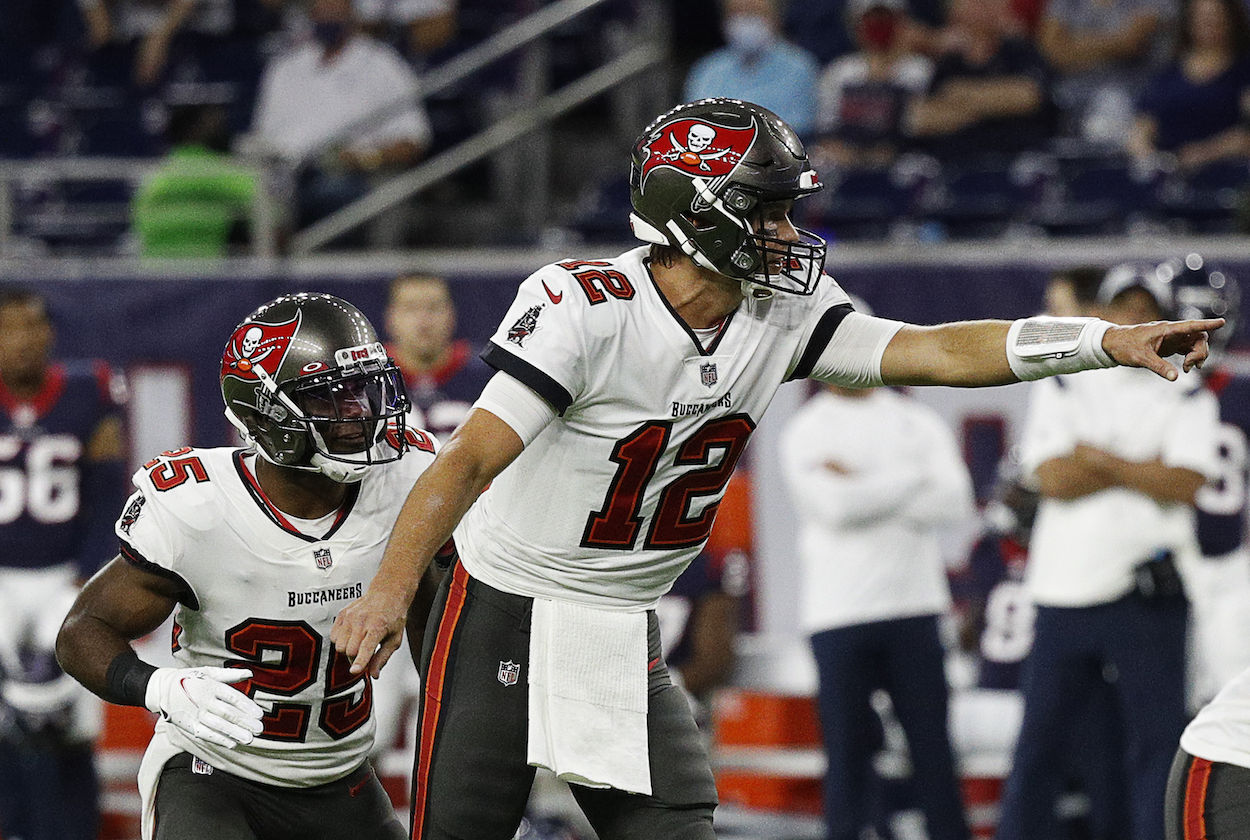 Before Brady can start chalking up post-retirement legacy plans, he has a job to do in 2021. The Buccaneers are returning every notable piece from their 2020 Super Bowl-winning squad, putting them in prime position to repeat as champions.
Brady is reportedly feeling healthy and strong despite a minor offseason knee procedure, and was even able to shed a knee sleeve that he's worn for the past decade-plus. If he plays like he did last year (40 touchdowns, 4,000-plus passing yards), the Bucs should waltz their way back into the postseason.
From there, it's about Brady doing what he does best — win.
All stats courtesy of Pro Football Reference.