Tom Brady Says Ronnie Lott Is the NFL Player From History He'd Most Like to Play With: 'He Had Such an Impact on Me'
It's safe to say Tom Brady's legacy will be one of the most remembered in NFL history. After all, you're talking about a man who's won seven Super Bowls — six with one team and a seventh well past the age of 40. The quarterback's place as the best quarterback of all time is without question.
Along with being a big part of football history, Brady also has tremendous respect for the players who came before him. In a recent interview, he spoke about the player from NFL history he'd most like to play with: Ronnie Lott. Let's look at Lott's influence on Brady as well as notable things Brady shared in his interview.
The surprising NFL player who Tom Brady would like to play with is Ronnie Lott
During an interview with the Wall Street Journal, Brady was asked which NFL player he'd like to play with from history.
At first glance, you may think Brady would pick a top wide receiver he could throw to, like Jerry Rice or Marvin Harrison. But Brady has had his fair share of great receivers, like Randy Moss and Antonio Brown. He didn't even pick an effective running back who would lighten his load offensively. 
No, Brady's surprising pick was a defensive great from the '80s who was well known for both his excellent play and his incredible toughness: 
"Maybe like Ronnie Lott. He had such an impact on me as a young player. There was a story that part of his finger got injured in a game. And instead of taking the next week off, he decided that he was going to amputate his finger so he could play the following week. You have to be pretty tough to do that."
The story of Lott's amputated finger has gone down as a legendary NFL tale; the story of a player risking life and (quite literally) limb to stay on the field. It's no wonder a warrior like Brady would respect a story like that. This wasn't the only insight the quarterback shared, however. 
The big piece of advice that changed Brady's life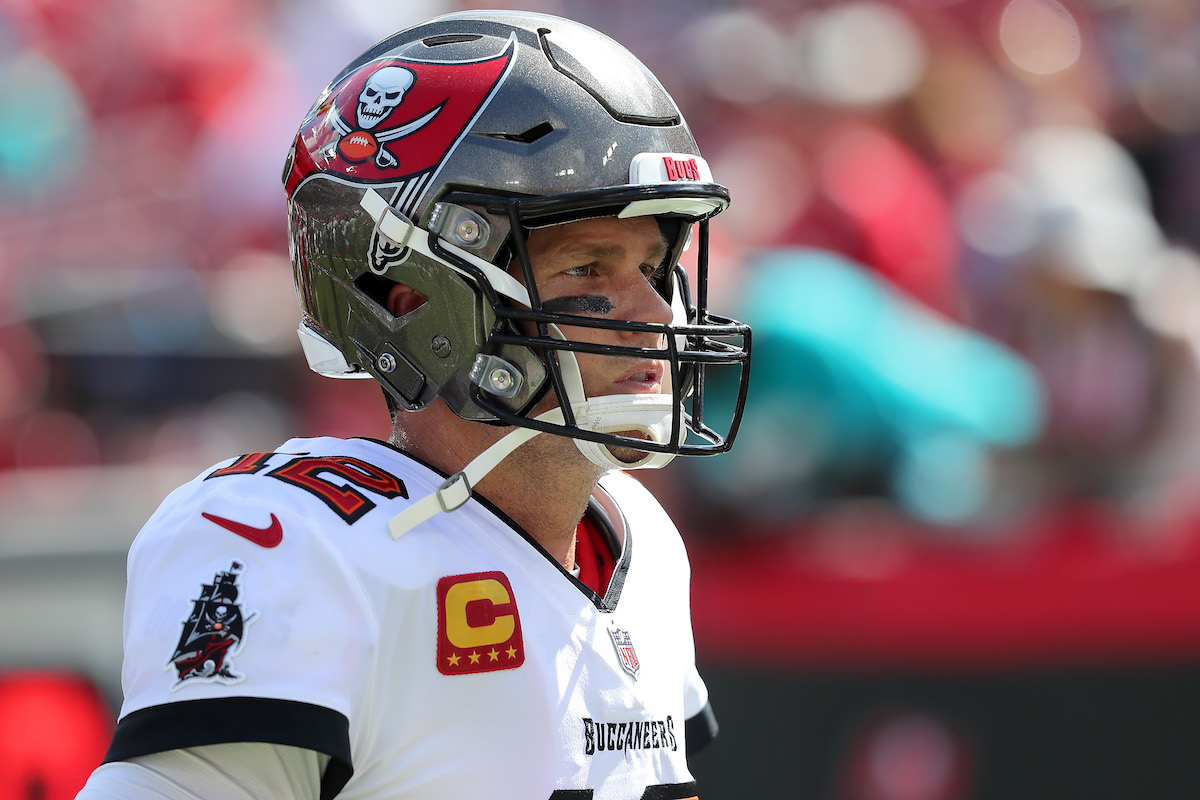 The WSJ also asked Brady about a piece of advice that changed the trajectory of his life. For someone as hard-working and as fortunate as Brady, it's interesting to hear about his unique path to success. 
According to the 44-year-old, it came during his time at the University of Michigan. "I used to complain a lot that I wasn't getting opportunities that other people were getting," recalled Brady. He was then approached by someone who put things in perspective and became a trusted friend:
"One of our team psychologists, sports psychologist, who ends up still a great friend of mine, Greg Harden. He said to me, 'Will you quit worrying about everyone and just worry about yourself? When you get in there, you do the best with what you got.' And I did that. Over months and months and months, I transitioned from getting not a lot of opportunity to more opportunity because what I was doing I was doing really well. I live by that off the field too."
Brady values honesty above all else
Finally, Brady was asked one thing he had too much of. According to the legendary quarterback, he said, "I have too many people that tell me too many nice things. You know? It's nice to get a real straight, truthful answer as much as possible."
It makes sense that someone as successful as Brady would have people surrounding him trying to please him. But it's refreshing to hear he strives for radical transparency, searching for those who will be authentic with him. 
Although his critics might balk at his stance on honesty — this is the man involved with Defategate after all — it seems like Brady has distanced himself from the more controversial moments in his NFL career.
RELATED: Tom Brady's Shocking New Claim About How Long He Could Play in the NFL Won't Make Gisele Bundchen or Bill Belichick Particularly Pleased