Tom Brady and Rob Gronkowski Managed To Pass Joe Montana and Jerry Rice for a Historic Record
It's not an overstatement to call Tom Brady and Rob Gronkowski the greatest quarterback to tight end hook up in league history. The pair solidified their greatness with an absolutely electric Super Bowl performance. But Brady and Gronkowski did more than just steamroll the Kansas City Chiefs in the big game.
They also gave themselves another mention in the NFL's record books. Let's take a closer look at the pair's performance and how they eclipsed Jerry Rice and Joe Montana for a historic record. 
The connection between Tom Brady and Rob Gronkowski
Before Gronkowski and Brady ever linked up, Brady was already a successful quarterback. At the time the Pats drafted Gronkowski, the Patriots had already won three Super Bowls and appeared in four.
During the previous decade, however, Brady experienced a shortage of elite receiving options. Sure, he'd had Randy Moss for a few seasons and they were able to put up major numbers. Wes Welker was also great as an elite slot option. But for the most part, Brady's receivers in New England could be rated from mediocre to good at best. 
Gronkowski helped change things for the last decade or so of Brady's career. As one of the best tight ends of all time, he provided Brady with an athletic receiving option who could also block downfield to open up things for other receivers.
The two teamed up to win three Super Bowls together in New England over Seattle, Atlanta, and Los Angeles. After their last title together, Gronkowski retired.
Brady played one Gronk-less season in a Patriots uniform before leaving via free agency. That prompted Gronkowski to come out of retirement to force a trade to join Brady in Tampa Bay. 
The dominant Super Bowl performance of Tom Brady and Rob Gronkowski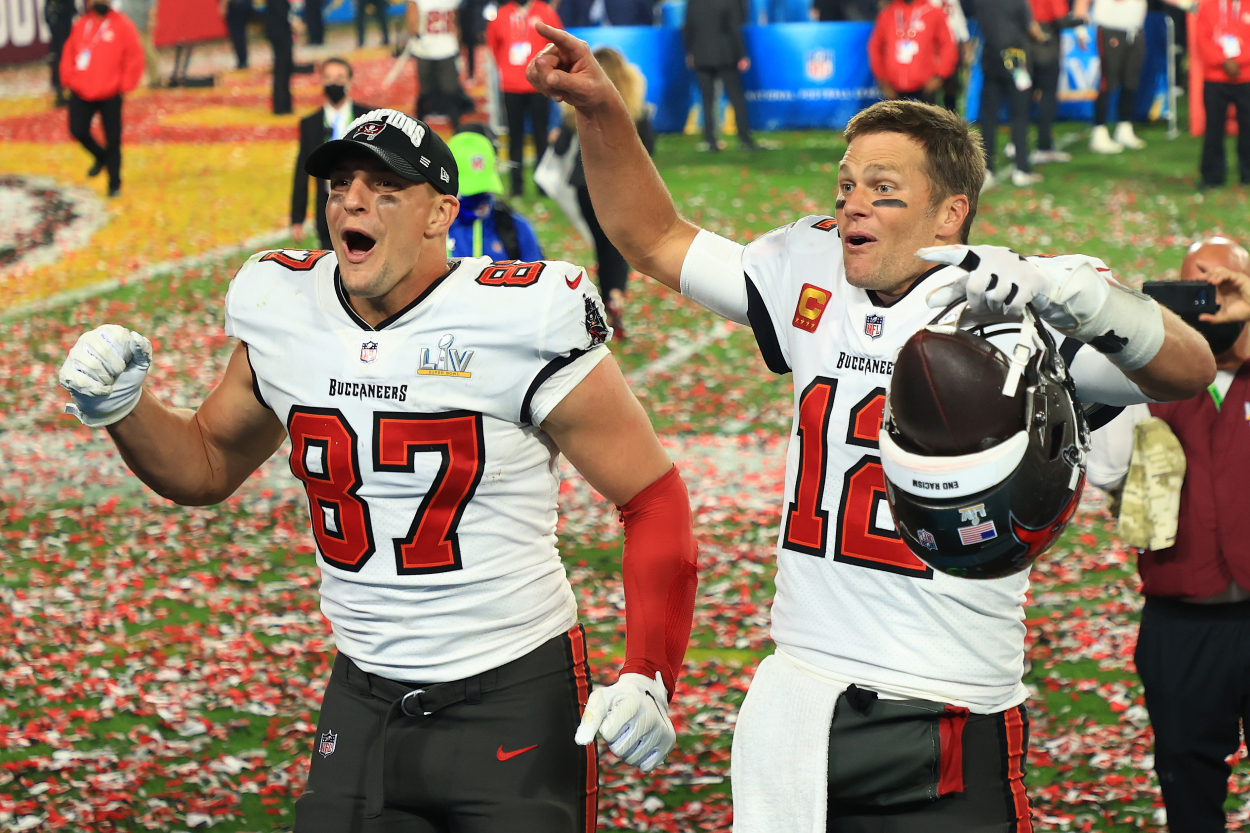 RELATED: Tom Brady's Controversial $960,855 Business Move Has Forced More Than 172,000 People to Take a Public Stand Against TB12
Brady came to a Tampa team that likely had more talent at the skill positions than any Brady-led team in the past. Outside of the 2007-2008 Moss/Welker tandem, none of Brady's former receiving corps even came close.
Brady had Mike Evans and Chris Godwin as his top two options. Midway through the season, Tampa added the troubled but talented Antonio Brown. Adding Gronkowski only made the team's receiving options that much more potent. 
It paid off in a big way. Brady led the team to its second Super Bowl victory this season. With a great defense in place and Brady leading a capable offense, they routed Kansas City in the Super Bowl.
Gronkowski played a big part in the victory as well. He scored two touchdowns. Brady eventually won the game's MVP Award, but likely the only player who could also lay a claim to it was Gronkowski with his two scores. 
Passing Joe Montana and Jerry Rice for a historic record
In just the context of this specific game itself, Brady and Gronkowski's performance was legendary. The tight end's two scores helped cushion an early lead for Tampa that led to an even bigger one later in the game. But at a higher level, Brady and Gronkowski's connection during this game represented football history.
According to NFL.com, Brady's first-quarter touchdown strike to Gronkowski set a record for playoff touchdowns between a QB and receiving duo.
Prior to the score, the record-setting pair was Rice and Montana with 12 touchdowns in the playoffs. Gronkowski is now second all-time in postseason touchdown catches with 14; in that category, he's still well behind Rice's career total of 22. Gronkowski and Rice are the only two receivers in NFL history with multiple-score Super Bowls in their career.