Tom Brady Says Antonio Brown 'Has Become Like a Brother to Me'
Say what you want about Tom Brady, but he's clearly a great leader. He does what it takes to win on and off the field. That often includes connecting with his teammates. Any great quarterback will tell you that having good chemistry with your fellow players — particularly those on offense — is critical to success. That's why Brady has fostered such great relationships with his teammates over the years.
One of those examples is Antonio Brown. The mercurial wide receiver has played with Brady in both New England and Tampa Bay. The two have become close friends, and their bond shows on the field.
Here's the story of how their relationship has evolved and why Brady says Brown is like a brother to him. 
Tom Brady and Antonio Brown's history of playing together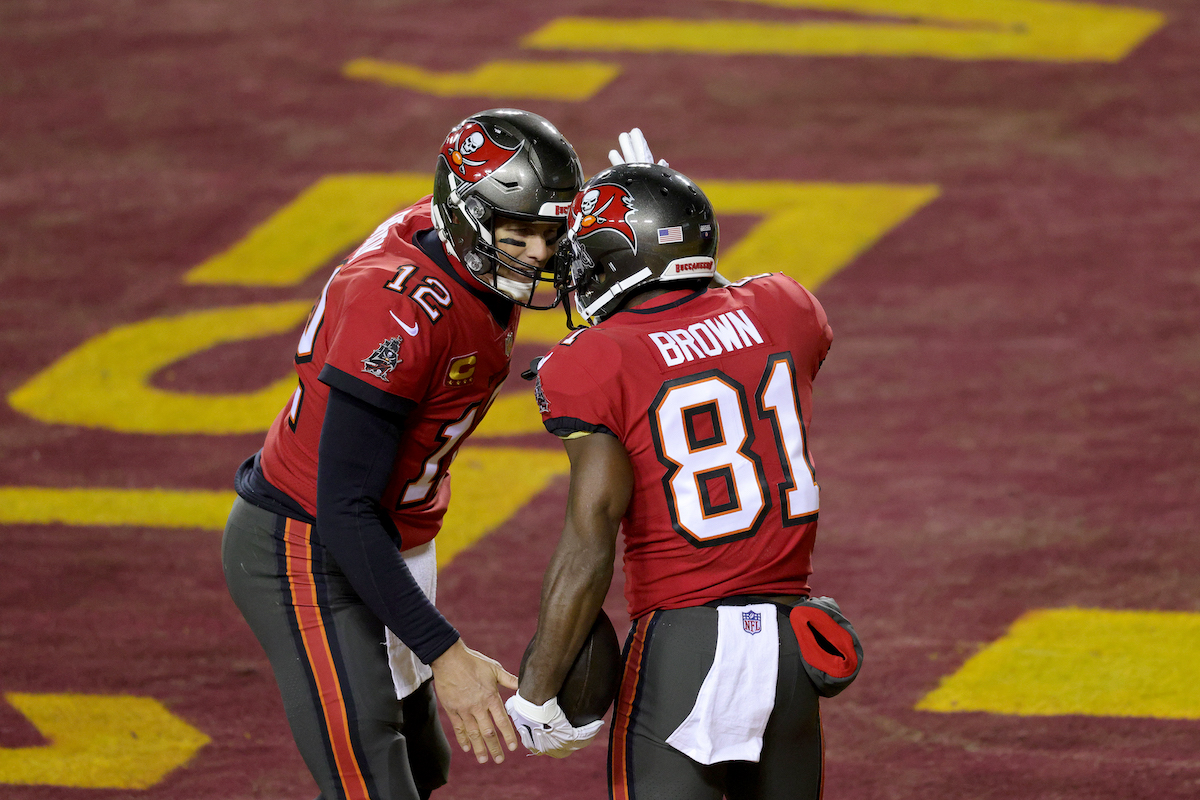 Brady and Brown first played together with the New England Patriots during the 2019 NFL season. That offseason, Brown had forced a trade from Pittsburgh to Oakland. After finding himself unhappy with the conditions in Oakland, he forced his release there. Finding himself a free agent, Brown joined the Patriots in time for Week 2 of the regular season. 
In Brown's first (and only) game with the team, he and Brady connected for a touchdown, along with four catches for 56 yards, in a victory over the Miami Dolphins. It was a solid if not spectacular effort and showed promise for greater things to come. Unfortunately for the duo, their time in New England would be short. 
Brown's self-imposed off-field issues prompted the Patriots to cut the wide receiver. After no one signed him, the league slapped Brown with an eight-game suspension due to his off-field misconduct, the NFL reported.
Afterward, he signed with the Bucs. Brown became part of a stellar receiving corps for Brady that included Mike Evans, Chris Godwin, and Rob Gronkowski. No longer forced to be the offense's focal point, Brown thrived. He helped the team win its second Super Bowl in franchise history — and Brady's seventh. 
There's no question Brady played a pivotal role in bringing Brown to Tampa due to their tight-knit relationship. According to NBC Sports, it was the QB who persuaded head coach Bruce Arians to sign Brown.  
How Tom Brady views Antonio Brown
On a recent episode of his podcast, Let's Go!, Brady had nothing but kind words about his relationship with Brown. He even equated the receiver to a family member: "AB has become like a brother to me."  
Brady also said of the progress Brown has made:
"He's done the work. He's put the work in. We're all challenged in different ways on and off the field. Sometimes football comes really easy, but the successes of football become a little more challenging to deal with." 
If you're wondering how close Brady and Brown have become, consider that the teammates briefly lived together.
The QB invited Brown to live with him when he was new to New England
Brady is known for being an excellent teammate, and his relationship with Brown is more evidence of that quality. The quarterback even invited his fellow player to move into his home.
Brady said he made the offer to Brown while he was still new in town: 
"He's just getting settled, and l know he's looking for places. It's nice to have him around. It's a big transition for him moving across the state not knowing anyone. I'm just trying to be a good teammate and help somebody out."
The superstar QB would likely extend that invitation to any teammate, but the gesture speaks to the pair's closeness. Their camaraderie is apparent when they line up on the field. 
RELATED: Antonio Brown Explains the Origins of His Alter Ego 'Tony Toe-Tap'