Tom Brady Secretly Owns 1 of the Most Impressive NFL Records of All Time
When you're a high-level starting quarterback in the NFL for 19 seasons, you're bound to set at least one NFL record along the way. Tom Brady has set more than a few of those, some of which may never be broken. Perhaps his most impressive one is a record that is hard to quantify. More players have caught a touchdown pass from Brady than from any other quarterback in NFL history.
How many players have caught touchdown passes from Tom Brady?
RELATED: Danny Amendola Fires Massive Shot at Bill Belichick With Powerful Statement About Tom Brady and the 'Patriot Way'
As of 2021, Brady has thrown touchdown passes to 85 different players — far and away an NFL record. According to ESPN, the previous record-holder was Vinny Testaverde, who played 21 years with seven different teams. Testaverde threw touchdown passes to 70 different players.
Of those 85 players, Brady has connected with two of them for touchdowns in both a Patriots and a Buccaneers uniform. In 2019, Brady threw one touchdown pass to Antonio Brown in their only game together. The following season, Brown reunited with Brady in Tampa, and the two connected for four more scores.
The other one has a paragraph all to himself.
In an even more mind-blowing statistic, 13 different players have caught a touchdown pass from Brady in a Super Bowl. One standout among them is Patriots linebacker Mike Vrabel, who caught one each in two different Super Bowls.
Who caught Tom Brady's first touchdown pass?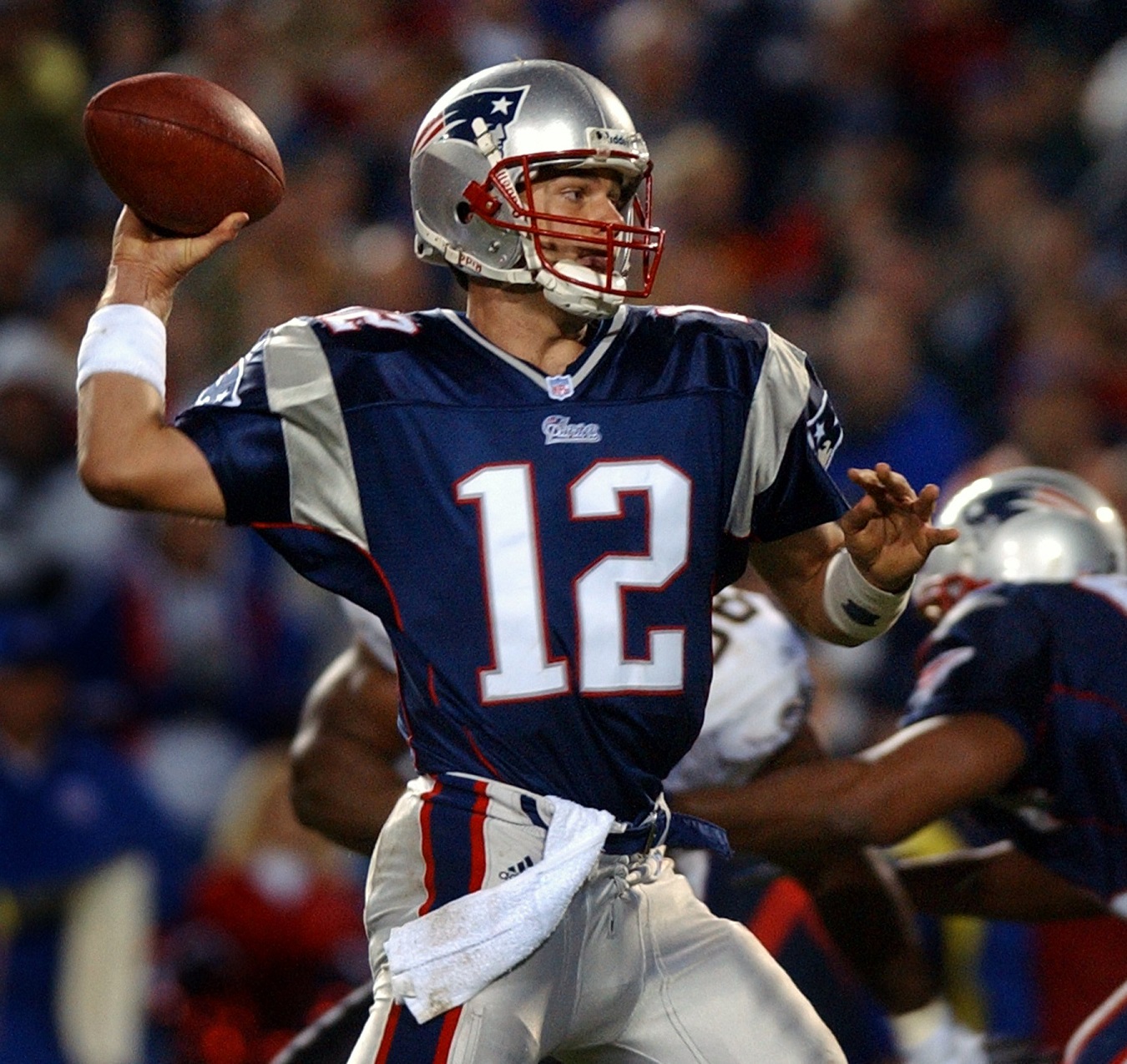 RELATED: The Patriots Officially Have Reinforcements on the Way to Help Save Bill Belichick From Suffering Another Blow to His Hall of Fame Resume
Although Tom Brady took over as the Patriots' starting quarterback in the third week of the 2001 season, it took him until the fifth week to throw his first career touchdown pass. That came against the San Diego Chargers at the old Foxboro Stadium.
With 3:55 remaining in the first half and the game tied at 3, Brady threw a 21-yard touchdown pass to Terry Glenn – the first of his 581 touchdown passes to date. In a strange twist, Adam Vinatieri missed the extra point. He redeemed himself later by kicking the game-winning field goal in overtime for a 29-26 win. Patriots fans would learn to get used to late-game heroics from Brady and Vinatieri that season.
Ironically, this would be the very last touchdown pass Glenn would catch from Brady — or any Patriots quarterback, for that matter. He clashed with head coach Bill Belichick all season, leading to his suspension and release from the team. He played no part in the Patriots' playoff run and did not even receive a ring.
Who caught the most touchdown passes from Tom Brady?
In his 19-year career, Tom Brady has found a rapport with many different receivers. But none come close to the connection he found with Rob Gronkowski, one of the greatest quarterback-receiver duos in NFL history.
Since the two first joined forces in 2010, the duo became an unstoppable scoring machine. In five of their first six seasons together, Brady and Gronkowski combined for at least 10 touchdowns, including a ridiculous 17-touchdown haul in 2011. After briefly retiring, "Gronk" added to his total with seven more scores as a Buccaneer in 2020.
By a long distance, Gronkowski has caught more touchdown passes from Brady than any other player. In fact, he's caught more than twice as many scores as the next-closest receiver, Randy Moss, who has 39. By contrast, 25 different receivers have caught only one touchdown pass from Brady, including the aforementioned Terry Glenn.
Statistics courtesy of Pro-Football-Reference.