Tom Brady Sets Multiple NFL Records While Torching the Bills Yet Again (Don't Worry, They Saved the Ball This Time)
Another week goes by, and another new record for Tampa Bay Buccaneers quarterback Tom Brady. The ageless wonder continues to delay Father Time's coming, and there is a reason to believe that he is headed for another Super Bowl if things keep up. More than that, Brady planted his flag in the Buffalo Bills once again — a team he has dominated his entire NFL career.
Tom Brady gets another victory over the Buffalo Bills and continues to dominate his former AFC East foe
Brady's lifetime record against the Bills shouldn't be too surprising. After all, he spent most of his career with the New England Patriots and they had their way with every team in the division. The New York Jets are also on the list, as Brady has beaten them 30 times in his career.
That is quite the accomplishment, and there is no telling when Brady will slow down. Even at 44 years old, he continues to be one of the best in the game. It makes no sense, but yet here we are singing the praises of Brady for yet another NFL campaign.
Against the Bills, he finished with a 31-of-46 clip while throwing for 363 yards and two scores — including a 58-yard game-winner in overtime to Breshad Perriman to give Brady another impressive accomplishment.
Brady's game-winner adds another mark to his resume and yes, they kept the ball this time around
Brady's game-winner just happened to be career TD No. 700 — and what a way to get it done. Perriman's first catch of the game, and just his fourth since joining the defending Super Bowl champions.
No other quarterback in NFL history has 700 career touchdown passes, and Brady's number will only continue to grow as long as he is out there on the field. More than that, he remains in the thick of the NFL MVP conversation.
Remember when Mike Evans gave away Brady's record ball and Tampa Bay had to get it back? They wanted to avoid that this time around and had a staffer run to grab the ball that Perriman dropped after crossing the goal line.
A brilliant plan for the Bucs, and Brady must be happy. After all, he gave that fan some Bitcoin and memorabilia to get the ball back in a hilarious moment — one that Evans probably regrets.
Perriman, however, must have been aware. If not, then it is good that the Bucs had a plan for the circumstance.
Either way, 700 career touchdown throws is impressive, and Brady continues to defy the odds. But that isn't the only record he set on Sunday.
The Buccaneers QB sets yet another NFL record and cements his case as one of the greatest to ever play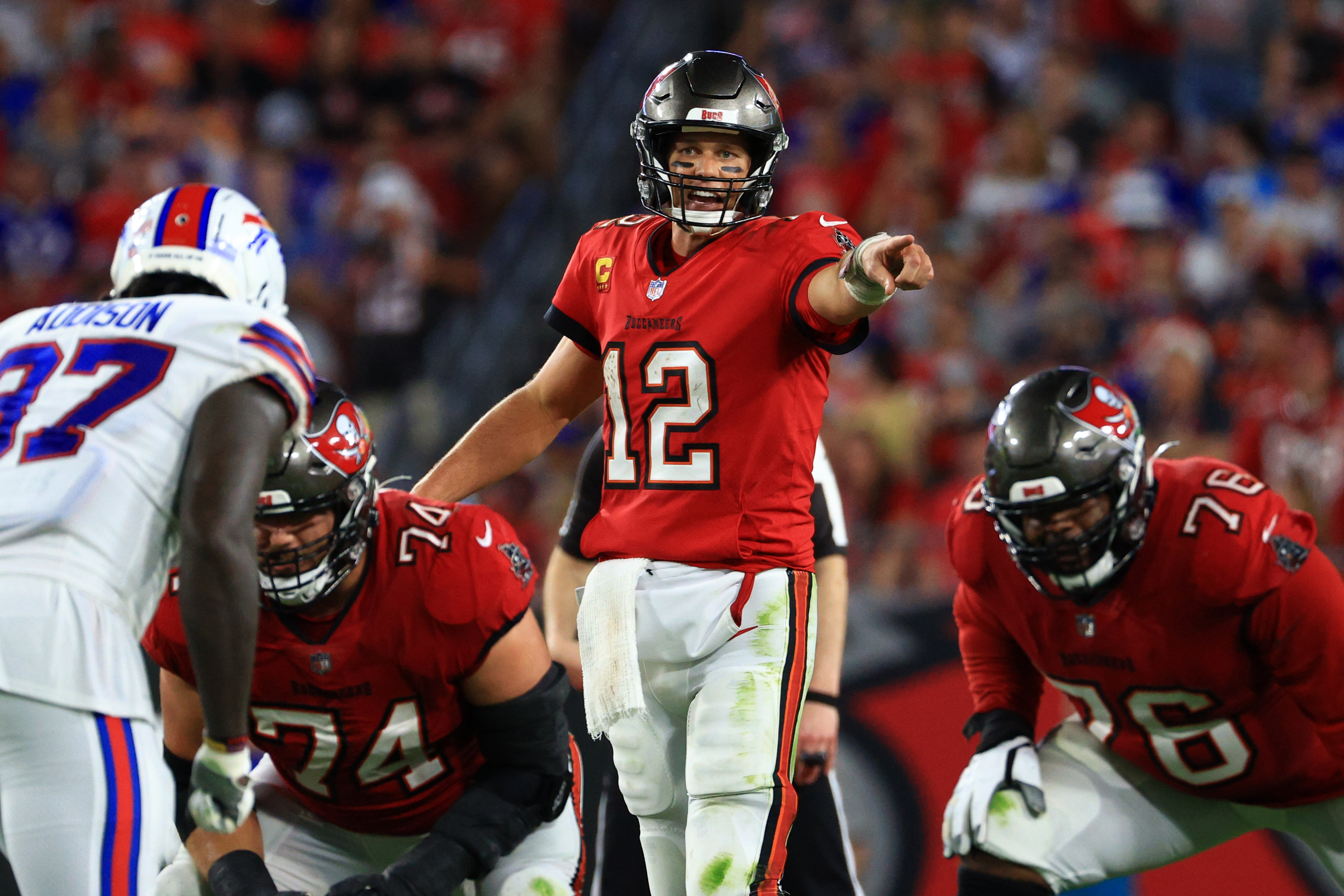 It seems like every week Brady is approaching a new NFL record. Well, against the Bills, he became the NFL's leader in completions with a beautiful floater to Evans as the second quarter was winding down.
A perfect jump ball where only Evans could get it. How many times have we seen this? Brady now has the NFL record for passing yards, completions, and touchdowns, with all three growing every week for as long as he plays.
Again, this doesn't make sense. At 44 years old, he is still doing these things, leading the Buccaneers to victory and has a very realistic shot at getting his eighth Lombardi Trophy.
It never ends for Brady, and he will go down as one of the most decorated and accomplished athletes in the history of sports by the time it is all said and done.
Stats Courtesy of Pro Football Reference