Tom Brady Shared an Announcement About His Tampa Bay Buccaneers Future That Has the Rest of the NFL Rolling Their Eyes in Frustration
Tom Brady continues to age like a fine wine. Despite playing last season at 43-years-old, the future Hall of Famer had zero issues leading the Tampa Bay Buccanneers to their first Super Bowl victory since the early 2000s.
Now 44-years-old, rival teams around the NFL are beginning to count down the days until Brady finally retires. They're all extremely exhausted from losing to the GOAT.
However, following a recent announcement, it doesn't sound like Brady is planning to walk away from the game anytime soon.
Tom Brady wants to be in Tampa Bay 'for many years'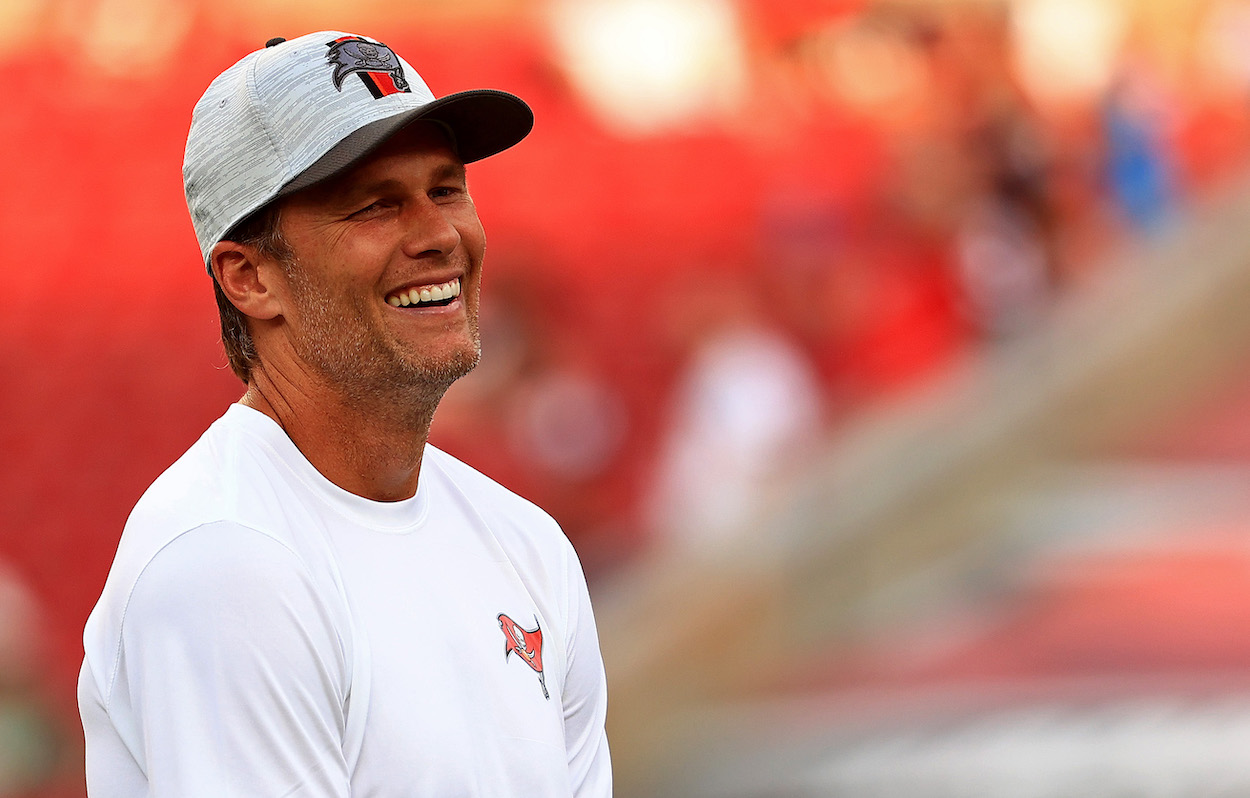 Brady is coming off a spectacular 2020 campaign. Alongside his seventh Super Bowl win and fifth Super Bowl MVP, he also stuffed the stat sheet as Tampa Bay's starting quarterback.
Brady threw for 4,633 yards and 40 touchdowns. It's the most amount of passing yards the veteran QB has recorded since 2015 and the most amount of touchdowns he's thrown since 2007. It was an awe-inspiring season from top to bottom, one that showcased Brady's ability to still operate as one of the league's top passing threats.
During a recent interview with the Tampa Bay Times, Brady iterated a similar thought process:
"I can still throw the ball like I'm 24″

"Hopefully, I'll be here a long time," Brady said. "For many years."

Tom Brady via Tampa Bay Times
There's little reason to doubt the veteran QB
While the NFL has never seen a quarterback dominate the game into their mid-to-late forties, Brady unquestionably has the ability to do so.
His game has never been based around athleticism or arm strength; he's an on-field surgeon who understands passing concepts and defensive coverages better than anyone in league history. As long as his mind stays sharp, one can only assume Brady will continue to perform as an elite QB.
Brady is also in a near-perfect environment to complete such a task.
Not only has he formed a strong relationship with head coach Bruce Arians, but the Buccaneers' front office has done a fantastic job of fielding strong rosters in back-to-back years. Last season's squad featured a trio of elite pass-catchers in Mike Evans, Chris Godwin, and Antonio Brown (alongside tight end Rob Gronkowski), and the defense was borderline elite.
Tampa Bay was able to run it back this summer, seeing all of their key free agents return on team-friendly contracts.
Tom Brady loves Tampa Bay
To make matters even worse for rival NFL teams who are not-so-secretly rooting for Brady to retire, the veteran QB has repeatedly expressed a strong love of the Bucs franchise and surrounding Tampa Bay area:
"Whatever I thought I was getting into, it's been so much better," Brady said. "As good as I could've envisioned, it's been even more enjoyable than that. It's pretty much a different life than being in the Northeast. I had a great 20 years and I never want to take away from that. Also, this experience has been amazing. (Tampa's) a great-kept secret. It's a small city. Everything is close. The airport is close. Work is close. We live on the water."

Tom Brady via Tampa Bay Times
Brady is coming off a great year, he loves his team, he loves his community, and he's publicly announced his desire to stay in the league for another few seasons.
Don't doubt the man.
All stats courtesy of Pro Football Reference.