Tom Brady Shared Some Surprising Comments About Dak Prescott, Which Should Have Cowboys Fans Feeling Quietly Optimistic
The 2021 NFL season is kicking off with Tom Brady and the Tampa Bay Buccaneers vs. Dak Prescott and the Dallas Cowboys.
For the most part, oddsmakers and media members are heavily favoring Brady and the Buccaneers. On the surface, it makes perfect sense. The Bucs are coming off a Super Bowl, and Brady threw for 5,000-plus yards, whereas Prescott missed most of the Cowboys' lackluster 2020 campaign with an ankle injury. Throw in the fact that Prescott has missed a significant amount of practice time this offseason due to nagging shoulder soreness, and the Cowboys could be due for a rude awakening on Thursday.
However, it appears Brady isn't looking past Prescott and the Cowboys quite yet.
Tom Brady had nothing but good things to say about Dak Prescott and the Cowboys' offense
During a recent media session with Tampa Bay reporters, Brady spoke candidly about his Week 1 opponent:
"He's a really talented player," Brady said. "Really since the day he came into the league, he's shown to be a great leader for the team. We're just expecting him to play like Dak Prescott does – very talented, loose in the pocket, throws a good ball, they have a lot talented skill players."

"Dak's a great player. They have one of the best offenses and a very talented defense, they're very deep at linebacker, they have a good push up front and I think they have a very talented secondary. It's a big challenge for our team."

Tom Brady via CBS Sports
While the rest of the football world has already penciled Week 1 in as a victory for the Buccaneers, Brady takes the mature approach of not overlooking his opponents. Even with his array of injuries over the past 12 months, Prescott is a talented quarterback with a plethora of offensive weapons at his disposal. Very few teams can say they have a WR room as talented as the Cowboys'.
Tom Brady is correct to not look past the Cowboys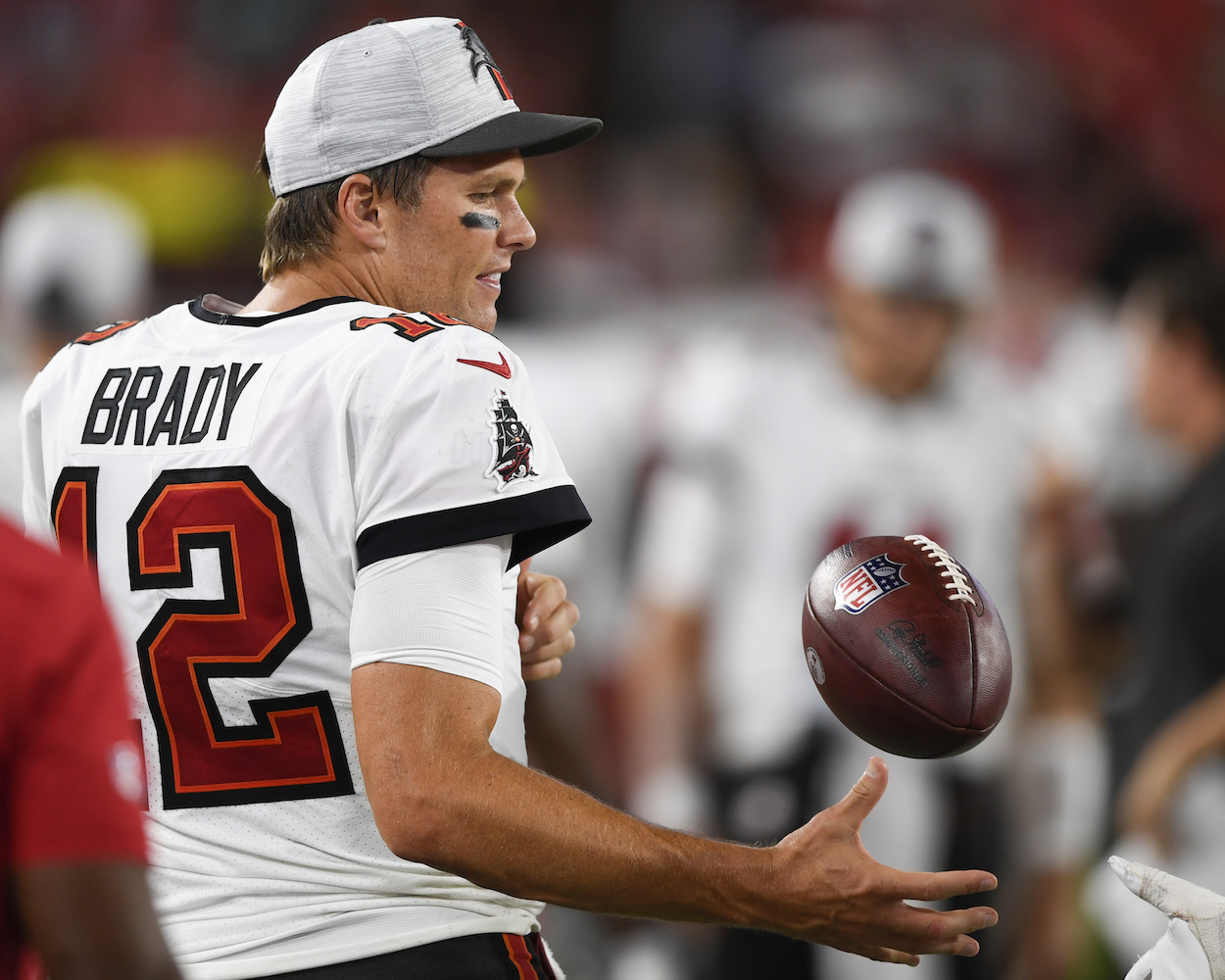 Tom Brady is the veteran of all veterans when it comes to the quarterback position. He understands what it takes to be successful in the NFL.
One of the key components is taking each season game by game. While the Cowboys may look weaker than the Bucs on paper, Brady understands that anything can happen on a given Sunday. He understands the importance of showing up on Thursday ready to outduel a fellow gunslinger in Prescott.
It wasn't all that long ago that Prescott threw for 30 touchdowns and 4,900-plus yards in a single season (2019).
Dak Prescott needs to trust his body for the Cowboys to be successful
It's no secret that Prescott won't be playing Week 1 at 100%. Between his surgically repaired ankle and sore shoulder, it's a bit of a miracle he was cleared to play in the first place. However, that doesn't mean Prescott gets a free pass.
Prescott must be willing to trust his body for the Cowboys' offense to be successful against a strong Tampa Bay defense.
If Prescott plays with the same level of confidence that Brady expressed in him during his media session, the Cowboys should at least be able to put up a fight against the reigning Super Bowl champs.
All stats courtesy of Pro Football Reference.
RELATED: Bruce Arians Willing to Go to Extreme Measures to Keep the Buccaneers Healthy This Season: 'There's League Rules and Then There's My Rules'