Tom Brady Sounds Like a Man Who Still Doesn't Want to Think About Retirement: 'I'll Know When the Time's Right'
Tom Brady played in his first game on Nov. 23, 2000, in mop-up duty for the New England Patriots. The PlayStation 2 console hit North American stores only a month earlier.
Flash forward to August 2021, where Brady — now 44 years old and playing for the Tampa Bay Buccaneers — is still going strong. He's a co-cover athlete on EA Sports' Madden NFL 22, available on both the PlayStation 4 and the PS5, and he has seven Super Bowl rings to his name.
Brady has done everything imaginable in the NFL thus far … well, except retire. However, it sounds like that word, along with candy, is banned in his household.
Tom Brady says he'll know when to retire
Remember when we said Brady debuted on Nov. 23, 2000? Atlanta Falcons tight end Kyle Pitts, who will play his first game against the seven-time champion twice this season, was born on Oct. 6 of that same year.
Needless to say, Brady has been around the block for a long time. The question of when he'll finally retire has followed him for years at this point, dating all the way back to his thrilling comeback victory in Super Bowl 51 against Matt Ryan and those same Falcons.
It's been over four years since a then 39-year-old Brady rallied the Patriots back from a 28-3 deficit that night in Houston. When he recently spoke with NBC's Peter King, the veteran quarterback provided an update on when he may finally hang up his cleats. 
"I'll know when the time's right. If I can't … if I'm not a championship-level quarterback, then I'm not gonna play. If I'm a liability to the team, I mean, no way. But if I think I can win a championship, then I'll play."

Tom Brady
Brady has repeatedly said he hopes to play until he's 45 years old. He'll reach that milestone on Aug. 3, 2022.
Brady still sounds in denial about eventually needing to retire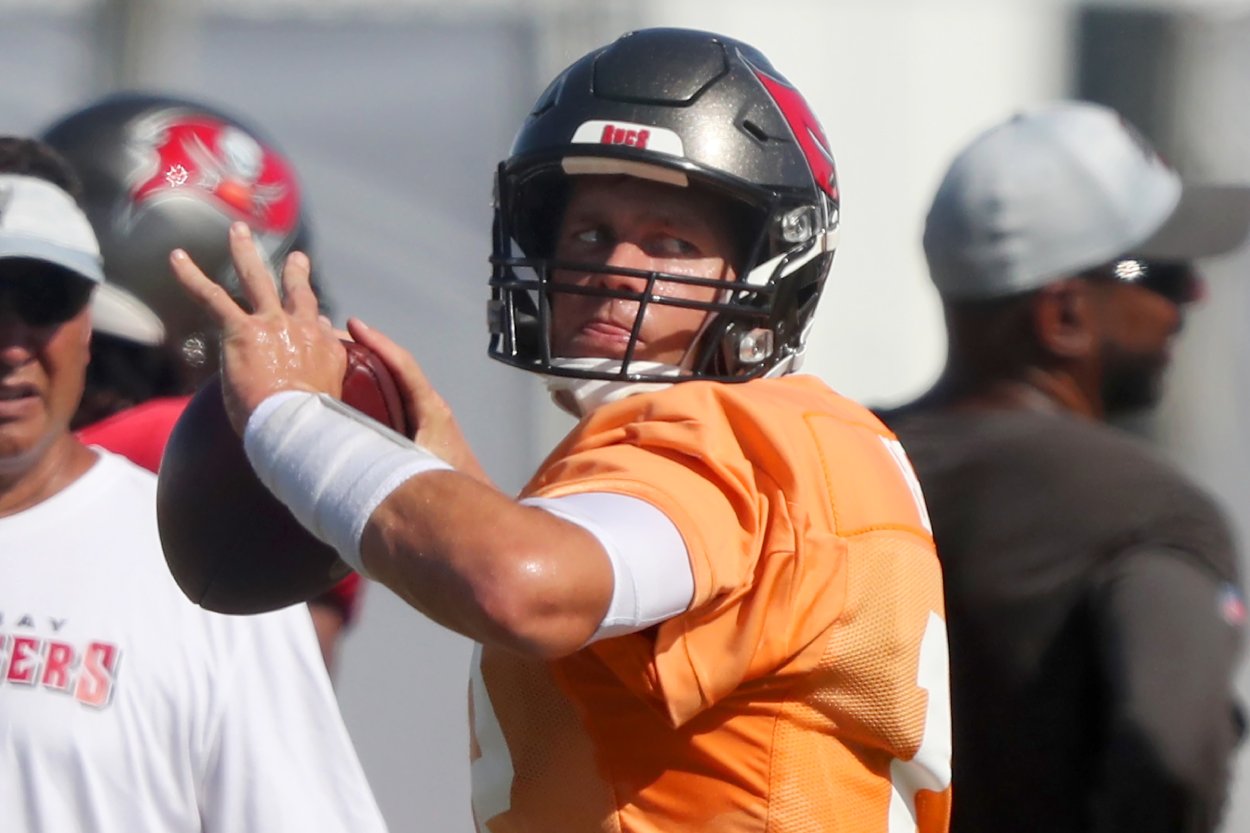 Brady deserves credit for even making it this far. Forget playing at a high and capable level into his 40s for a second. This is someone who beat the odds as a sixth-round draft pick and who parlayed Drew Bledsoe's career-changing injury into seven Super Bowl rings.
Superman can't keep wearing his cape forever, though. The time will come where Brady steps away from football, and he may not get to do so on his own terms. Peyton Manning retired a champion in 2016, but Detroit Lions legend Calvin Johnson — who recently joined Manning in the Pro Football Hall of Fame — didn't get to say the same thing.
Brady has seemingly adopted the mindset that he'll only retire when he feels he can't play anymore. There's no guarantee he'll be the one to make that decision, much less even be qualified to do so. Are the long-term health risks of playing at 45 or 46 years old really worth it for someone with seven championships?
When will Brady become the oldest starting quarterback in NFL history?
It's an understatement to say Brady is old by NFL standards. As of publication, he remained the league's oldest active player.
However, Brady still isn't the oldest quarterback in NFL history. That honor still goes to Steve DeBerg, who started for the Falcons at 44 years and 279 days old on Oct. 25, 1998. Brady would pass him when he plays his first game of the 2022 season.
Brady still has a long time to go before he becomes the oldest player in league history to throw a pass. George Blanda, a longtime quarterback who spent his last NFL seasons as a kicker, obtained that record in December 1975 when he was 48 years old.
Well, this is Brady we're talking about. He might still be slinging touchdowns at 55 years old for all we know.
Like Sportscasting on Facebook. Follow us on Twitter @sportscasting19.