Tom Brady Still Isn't 'the Best Quarterback of All Time,' According to a Retired Pro Bowler: 'I Always Say Tom Brady's the GOAT Because I Just Don't Want to Argue'
For years, the NFL GOAT debate was one of the hottest in sports, but in recent seasons, Tom Brady has put a halt to it. His ability to win championships over two decades has solidified his claim to the throne.
However, a retired Pro Bowler who is now a TV personality still doesn't believe TB12 is the greatest quarterback of all time.
That former player is Marcellus Wiley, and he firmly believes Peyton Manning is the best QB to ever play in the NFL.
Tom Brady has a strong argument for the GOAT QB title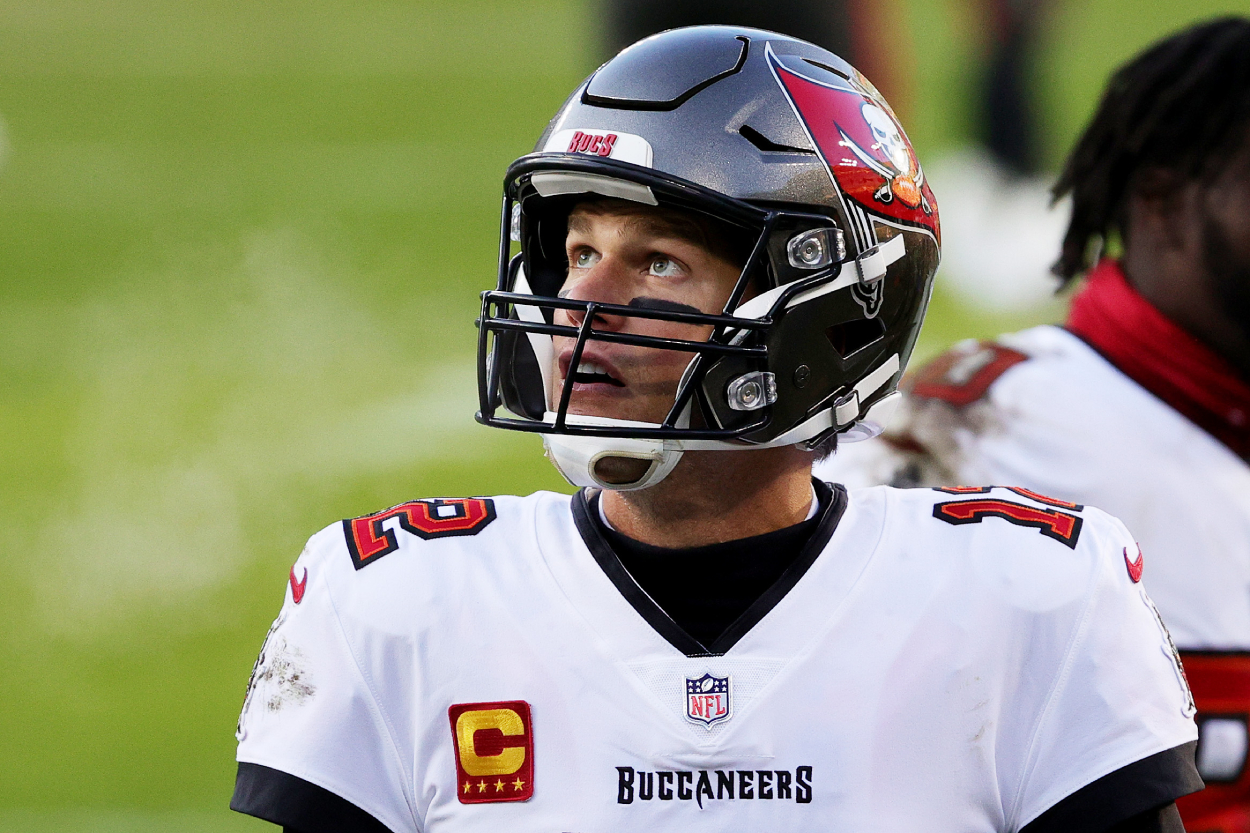 Fans and experts who don't believe Tom Brady is the GOAT quarterback probably just look at his early seasons.
Yes, he won three Super Bowls in his first four years as the New England Patriots' starter, but he didn't put up massive numbers. In fact, Brady failed to reach 3,800 passing yards in each of those seasons and threw 12 or more interceptions all four years.
However, the Michigan product has since put up great numbers essentially every year within the past decade-plus. He has also won four more Super Bowls and has played in three others as his teams are almost always one of the best in the NFL. They have even appeared in a whopping 14 conference championship games with him as the starter.
His longevity, though, has provided the greatest boost to his case for the best-QB title as he just won a Super Bowl with the Tampa Bay Buccaneers at 43 years old. Brady's 21 NFL seasons — soon to be 22 — have also helped him climb atop almost every major passing category.
But given just how good Peyton Manning was when he was at his best, some people still believe he's the greatest QB to ever play.
Including Marcellus Wiley.
Marcellus Wiley thinks Peyton Manning is the greatest QB of all time
Marcellus Wiley played in the NFL for 10 years and earned a Pro Bowl selection as a defensive end for the San Diego Chargers in 2010, racking up 13 total sacks and five forced fumbles that year. Since his final season in 2006, though, Wiley has become a popular TV personality.
Recently, the 1997 second-round pick appeared on FS1's Speak For Yourself, and he gave his hot take about Tom Brady and Peyton Manning.
"I always say Tom Brady's the GOAT because I just don't want to argue, but if you ask me who's the best quarterback of all time, it's Peyton Manning. It's not even a conversation for me," Wiley said on the Aug. 9 episode. "I played against both guys, and that's just my opinion. But to save myself my voice and my argument time, and being in the barbershop all night, I just go with the flow and say Tom Brady."
Wiley then said he understands the argument for Brady. But he also just gets defensive whenever people don't even want to put Manning — who won a Super Bowl with both the Indianapolis Colts and Denver Broncos — in the conversation.
"Peyton Manning has multiple championships; Aaron Rodgers does not, but he's in the GOAT conversation, and Peyton Manning's not?" he said. "Peyton Manning has [five] MVPs. Who else has five MVPs in the entire NFL's history? No one."
Wiley continued: "So if you combine those two, a guy who has more MVPs than anyone else, he has multiple championships [with] different franchises. Why isn't he in the GOAT conversation? I understand if you don't want to make him the GOAT because you don't want to be in the barbershop all night. But for me, Peyton Manning, best I ever played against on the field."
Peyton Manning's argument for the GOAT QB title over Tom Brady
Whenever fans want to argue in favor of Tom Brady being the GOAT QB, they just look at his championships; he has seven while Peyton Manning only won two. Some believe the argument stops there. Brady, though, has also surpassed Manning in career passing touchdowns and passing yards as he is No. 1 in NFL history with 581 passing TDs and No. 2 in yards with 79,204.
However, when he was at his best, Manning was unstoppable.
As Wiley mentioned, Manning has more MVPs (five) than any player in NFL history. He also holds the single-season records for passing yards (5,477), passing touchdowns (55), and passing yards per game (342.3).
But Wiley isn't the only one who thinks he's the GOAT quarterback.
Pro Football Reference has a Hall of Fame Monitor, which is a metric that looks at players' approximate values, Pro Bowl and All-Pro selections, championships, and other stats to determine their chances at making the Pro Football Hall of Fame.
On its quarterback list, Manning has the top overall score at 257.7, while Brady is No. 2 at 252.34.
At this point, though, most of the public believes Brady is the GOAT; it would be hard for Manning to ever change their minds now, especially since he's retired. But either way, they were two of the greatest QBs to ever throw a football. Many of us should consider ourselves lucky that we were able to watch them in their primes.
Stats courtesy of Pro Football Reference