Tom Brady's Superstar Teammate 'Didn't Know' Just How Hurt TB12 Was in 2020: 'He Was Battling'
NFL fans will always remember the 2020 season as the year Tom Brady proved he is, without a shadow of a doubt, the GOAT, as he won a Super Bowl with the Tampa Bay Buccaneers. Brady ultimately showed the world he doesn't need Bill Belichick and the "Patriot Way," and that the "Patriot Way" might have actually been the "Brady Way."
However, TB12 reportedly did all that with a fully torn MCL, which further proves just how incredible of a season he had in Tampa. Brady's superstar receiver Mike Evans, though, had no idea just how hurt Brady really was in 2020.
Tom Brady reportedly played on a torn MCL with the Buccaneers in 2020
As mentioned above, Brady won a Super Bowl with Tampa during the 2020 season, but he also had his best campaign statistically in years. He threw for his most yards since the 2015 season with 4,633, and he had the second-most passing touchdowns in his career with 40.
He also did it all with a "pretty serious" injury.
"I had a pretty serious knee surgery this offseason, which is the first surgery I've had in about 12 years," Brady said on the Hodinkee podcast in May, per CBS Sports. "I was really interested to see how it was going to go, because last year it just took a lot. Every week I was kind of tending to my knee, and I thought I would love to see a season where I can focus on some other strength stuff that I want to do, some other technique stuff where I'm not just focused on protecting my knee all the time."
After fans didn't initially know just how serious his injury was, NFL Network's Ian Rapoport reported earlier this month that Brady played the entire year on a fully torn MCL.
"It was an injury I dealt with really since last April, May. I knew I'd have to do something at the end of the year, and happy I did it," Brady said in June, per CBS Sports.
Mike Evans didn't know how hurt TB12 was in 2020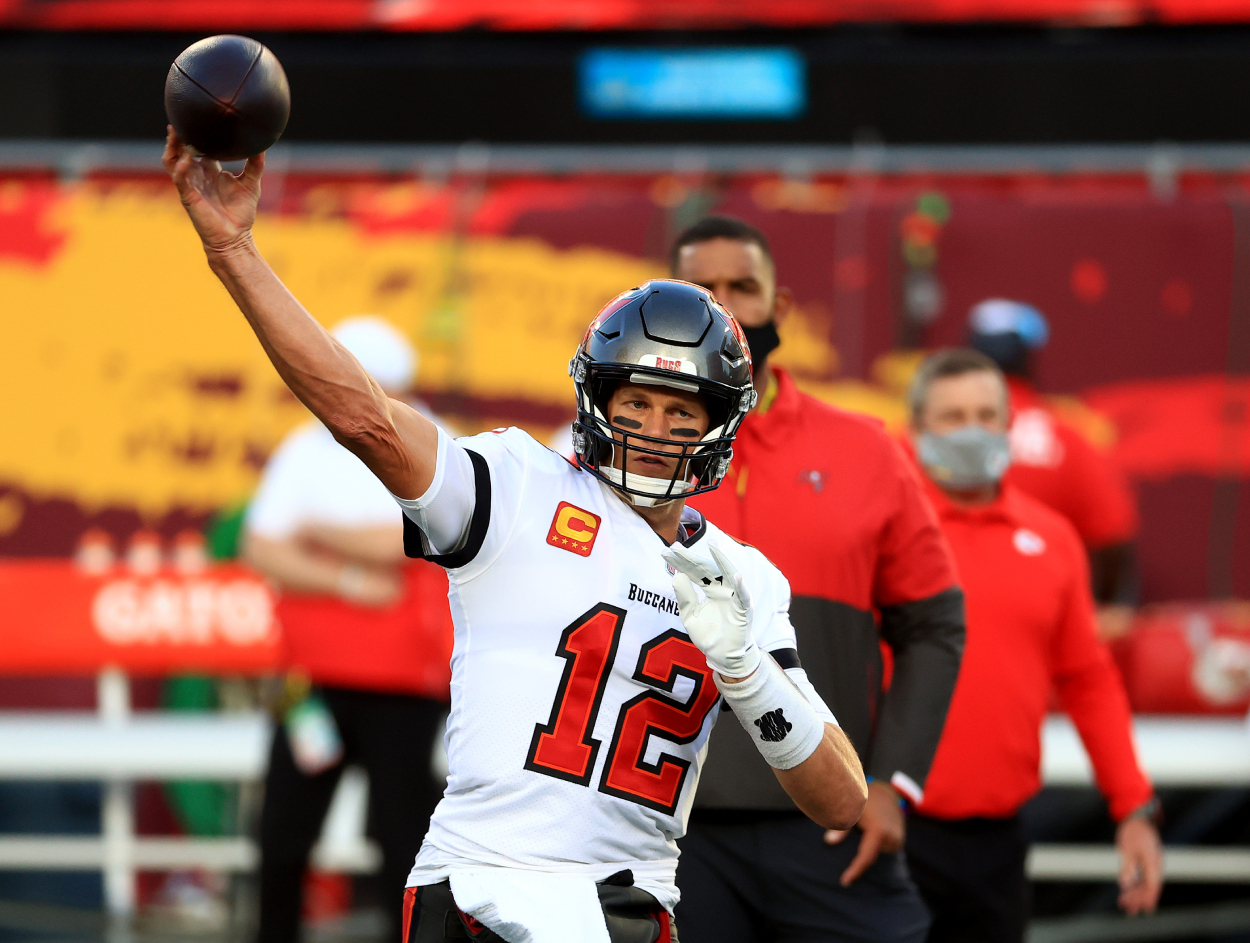 Mike Evans had a nice season with Brady in 2020. He caught 70 passes for 1,006 yards and a career-high 13 touchdowns.
Evans recently admitted he knew Brady was injured throughout the year, but he didn't realize how hurt.
"I knew he was hurt, hurt pretty bad," Evans said to JoeBucsFan.com, per CBS Sports. "But you know, he's as tough as you're going to get. He was battling. I didn't know it was torn. But it speaks to as tough as a player he really is."
"Tough" is the perfect word to describe Brady's 2020 performance. Now, he has a chance to have even more success in 2021, but doing it while healthy.
Tom Brady can have a huge season with the Buccaneers in 2021
If Brady could have all the success he did with that Buccaneers team in 2020 while injured, it's scary to think about how great a healthy TB12 can be in 2021.
"From this point to the beginning of the season, to the beginning of training camp, I really feel like I can really work hard at football improvement as opposed to getting back to a rehab, you know, place where you're more baseline," Brady said in June, per CBS Sports.
Brady can now play without limitations; he no longer has to worry about protecting his knee. The future Hall of Famer just has to worry about balling with his teammates, the same teammates from last season, as the Buccaneers return all 22 starters from their 2020 team, as well as Leonard Fournette and Antonio Brown.
Brady may be a seven-time Super Bowl champion, but his health and the Buccaneers' talented roster could potentially make him an eight-time champ this upcoming season.
A healthy Brady will be a scary sight for the entire NFL.
Stats courtesy of Pro Football Reference