Tom Brady Will Soon Support His Arch-Nemesis in 1 of the Biggest Nights of Their Life
Over the years, sports have given us some epic rivalries between some all-time great athletes. The few legendary foes that immediately come to mind are Magic Johnson and Larry Bird, Tiger Woods and Phil Mickelson, Rafael Nadal and Roger Federer, and, of course, Tom Brady and Peyton Manning.
The latter had some intense battles over the years, as Brady and Manning are two of the NFL's greatest quarterbacks to ever play. Fans now have treasured memories of Brady's New England Patriots and Manning's Indianapolis Colts and Denver Broncos going to war in meaningful games that went down to the wire almost every year. Each matchup had its own storyline and both players typically had monster performances.
However, Manning is now retired and will soon enter the Pro Football Hall of Fame for his accomplishments. But can you guess who will be at his induction? Yes, Brady will be there to support his former rival.
Tom Brady and Peyton Manning had some epic battles
When looking back at the rivalry between Tom Brady and Peyton Manning, it wasn't an actual rivalry at first. As noted by Sporting News, Brady initially had a 6-0 record against Manning with a win in an AFC Championship Game and another in a divisional round matchup.
However, from the 2005 through the 2015 campaign — when their last matchup took place — Manning held a 6-5 advantage, so Brady's all-time record against Manning eventually ended up being 11-6. Manning also had a 3-2 record against Brady in the playoffs, winning their next three postseason meetings, with each matchup being in the AFC Championship Game.
The wins and losses weren't what was most important in their rivalry, though. It was how both of them ranked among the all-time greats.
Manning won a record five MVPs in his career to go with 14 Pro Bowl selections. He also won two Super Bowls, played in two others, and finished with 71,940 passing yards and 539 passing touchdowns, which are now both third all-time.
Brady, on the other hand, has three MVP awards and 14 Pro Bowl selections. He also has an incredible seven wins in the Super Bowl and played in three others. His 79,204 passing yards are second all-time, and his 581 passing touchdowns are No. 1.
Brady, though, is still playing, as he's trying to win a second consecutive Super Bowl with the Tampa Bay Buccaneers while Manning is about to enter the Pro Football Hall of Fame.
Tom Brady will attend Peyton Manning's Hall of Fame ceremony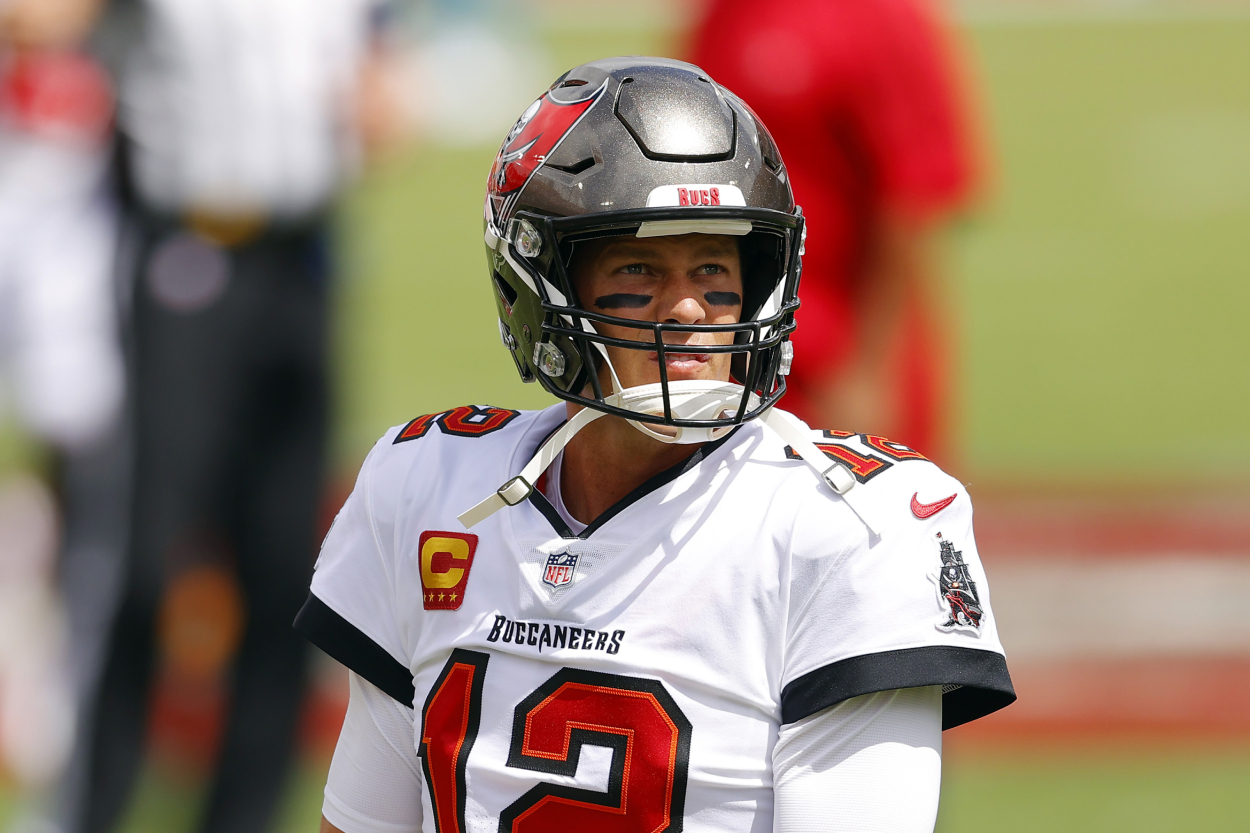 Peyton Manning will officially achieve legend status on Aug. 8 when he enters the Pro Football Hall of Fame in Canton, Ohio.
According to the Tampa Bay Times, Brady will actually be there in attendance, as he will make the trip to Ohio on his and the Buccaneers' day off. 
Buccaneers head coach Bruce Arians also told the Tampa Bay Times that he plans to be there, as he was the Colts' quarterbacks coach in Manning's first three seasons. Bucs QB coach Clyde Christensen is also going, as he coached in Indy with Manning from 2002 through 2012, and Tampa's offensive consultant Tom Moore, who was the Colts' offensive coordinator from 1998 through 2009, will be there as well.
"I think the thing that just stands out to me is they stayed on top for such a long period of time," Christensen said of Brady and Manning, per the Tampa Bay Times. "They both played at such a high level. They both, for the most part, stayed healthy. And being in the AFC, people got to see it. There were 17 games between them, and people got to view the rivalry. It was just outstanding, which doesn't happen in the NFL a whole bunch."
He continued: "I think they're two absolute warriors that can go tooth and nail at each other and then shake hands, respect each other, and start getting ready for the next time."
Brady and Manning's relationship is more than just a rivalry. It eventually evolved into mutual respect and now a friendship.
The two NFL legends are good friends
Despite their rivalry, Tom Brady and Peyton Manning actually have a tight friendship.
Christensen told the Times that Manning and Brady met in Chattanooga, Tenn., for a few days when they were in their 30s. They spent days throwing, playing golf, lifting weights, and, of course, talking football.
"I really like Peyton," Brady said on Westwood One Radio in 2016, per People Magazine. "There are a lot of things in common that we've had over the years, so it's nice to have someone who can relate to a lot of similar experiences we've had. Being that we were in it together for so long at the same time, it's really a special relationship to me."
The two GOATs and heated rivals appear to have a relationship that's much deeper than football. They have an immense amount of mutual respect for each other and an appreciation for their friendship.
Stats courtesy of Pro Football Reference