Tom Brady Already Seems Thrilled With His New Buccaneers Weapons: 'They're 2 Dynamic Guys'
Tom Brady already had elite weapons on the Tampa Bay Buccaneers in 2020, and they are all back for 2021. However, he also has a couple of new teammates catching his passes this year, as the Bucs' offense got even stronger in the offseason.
Although he just started playing with them, Brady seems pretty excited about both new players and recently called them "dynamic guys."
So, who are Brady's two new teammates? Giovani Bernard and Jaelon Darden.
Giovani Bernard and Jaelon Darden have joined Tom Brady on the Buccaneers
It's a well-known fact that Tom Brady had a loaded offense around him on the Buccaneers in 2020.
He essentially had two No. 1 wide receivers in Mike Evans and Chris Godwin to go with second-year player Scotty Miller, who had a breakout year, and his pal Rob Gronkowski at tight end. Brady then welcomed four-time first-team All-Pro Antonio Brown halfway through the season, and Brown proved to still have a lot left in the tank.
Together, Brady and all those weapons helped lead the Bucs to a win in the Super Bowl during the 2020 campaign. And now, the offense is even stronger.
Tampa Bay signed veteran running back Giovani Bernard this offseason. Bernard only ran for 3,697 yards in eight seasons with the Cincinnati Bengals, but he caught 342 passes for 2,867 yards out of the backfield. 
The team also drafted wide receiver Jaelon Darden in the fourth round of the 2021 NFL Draft. He caught 74 passes for 1,190 yards and 19 touchdowns in only nine games at North Texas in 2020.
Brady just started playing with these two as the Bucs are now in training camp, but it seems that he's thrilled to have them on the field with him.
Tom Brady seems thrilled about his new Buccaneers teammates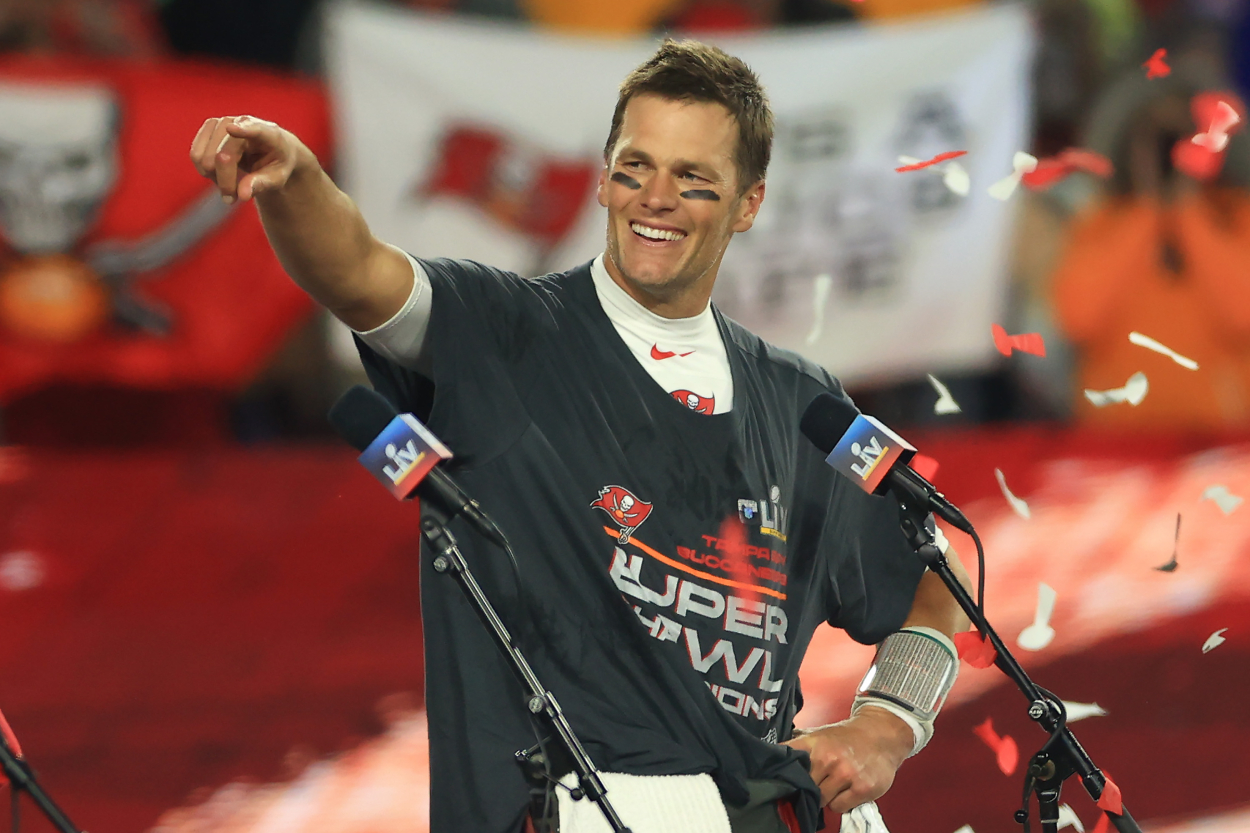 According to the Tampa Bay Times, Bernard and Darden are already having success in training camp. Darden caught a touchdown pass from Brady on Aug. 2, and Bernard has caught frequent passes from TB12 and had a couple of long runs on July 31.
"They're really working hard to get things right, and I'm just excited about being with them," Brady said, per the Tampa Bay Times. "They're two dynamic guys. Not the tallest guys but quick, agile, athletic. Really fun to see them making a lot of plays out there, making guys miss."
Are Bernard and Darden going to be huge game-changers like Evans, Godwin, or even Ronald Jones II and Leonard Fournette? Probably not, but they ultimately give Brady and the Buccaneers an embarrassment of riches and can not only provide depth but also help them during a likely deep playoff run.
What can Giovani Bernard and Jaelon Darden bring to the Buccaneers?
It's hard to say what Darden will ultimately bring to the table for the Bucs — if anything at all given the significant depth they have at the receiver position — but if he does play, Bleacher Report says he's "undersized but tough" and has "the speed to make defenses pay."
Brady should certainly be able to work with a guy who can take the top off defenses.
Bernard, on the other hand, gives Tampa something it didn't have last season: a weapon out of the backfield. Jones and Fournette are talented runners, but they struggle in the passing game, as they only gained 398 receiving yards between the two of them in 2020. Bernard gained 355 receiving yards himself last year. He also only dropped eight balls in the previous three seasons combined, according to the Tampa Bay Times, while Fournette and Jones combined for 12 drops in 2020.
All in all, the former Bengals back can actually give Brady and the Bucs an element they didn't have during their title run, which is a terrifying thought.
Many people think Brady and his Buccaneers squad can get back to the big game and win another Super Bowl this year. Given the talent the team already had, combined with the services of Darden and Bernard, it's certainly a strong possibility.
We know the GOAT will give everything he has.
Stats courtesy of Sports Reference and Pro Football Reference