Tom Brady Throws Jab at Ohio State While Reaping the Praise of Bengals Star Joe Burrow Ahead of Super Bowl 56
After deciding to retire following the Tampa Bay Buccaneers loss to the Los Angeles Rams, Tom Brady is no longer an active NFL player. Now, Brady will sit back on his couch and watch football just like everybody else for the first time in 22 years. But, the legendary quarterback praised Cincinnati Bengals star Joe Burrow ahead of Super Bowl 56 — and made sure to throw a nice jab toward Ohio State in the process.
Tom Brady throws shade at Ohio State while discussing Joe Burrow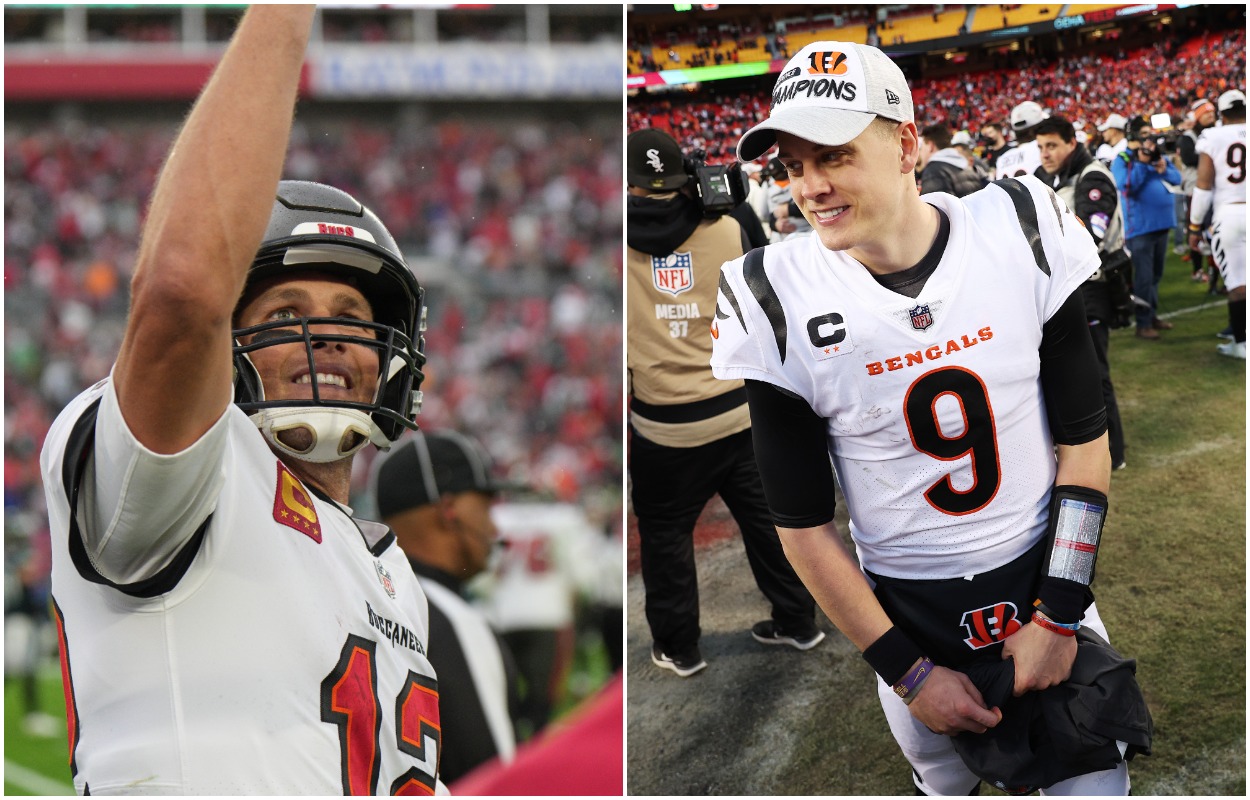 Brady held nothing back while talking about Burrow on the Let's Go! Podcast — even ripping apart Ohio State in the process. Brady, the Michigan alum, has never favored the Buckeyes, which isn't a surprise.
He said Burrow's best decision was leaving "that god-forsaken place" while referencing Ohio State. Burrow then went to LSU, and the rest is history. The Tigers won the National Championship, Burrow went first overall, and now the Bengals are preparing for a Super Bowl in Burrow's second season in the NFL.
Brady's entire comment is pure gold (h/t Patrick Conn of LSU Wire).
"Joe's obviously a great player. I think one of the (greatest) decisions he ever made was leaving Ohio State. You got out of that godforsaken place and (went to) LSU. As a Michigan man, I could tell how smart he was when he did that. One of the best you ever made Joe."

Tom Brady on Joe Burrow
Burrow responded to Brady's remarks and agreed that it was a good decision, saying, "I think it was too, but maybe for different reasons than you might have."
Brady will throw shade at rival Ohio State whenever he can and wasted no time doing so with Burrow.
Joe Burrow's move from Ohio State to LSU paid off in a big way for the Bengals star QB
Burrow's journey to get to this point has been a wild one. He first went to Ohio State and left after getting beat out by Dwayne Haskins. Haskins is a backup for the Pittsburgh Steelers while Burrow is preparing for Super Bowl 56.
Moreover, Burrow's decision to transfer to LSU paid enormous dividends for both sides. That LSU team had a flurry of weapons — including Bengals teammate Ja'Marr Chase. Burrow won the Heisman Trophy and went first overall in the 2020 NFL Draft after a record-breaking campaign at LSU.
So, it worked out pretty well for Burrow, and Ohio State must be thinking twice about rolling with Haskins over Burrow that season — although Haskins did have a pretty good campaign.
However, Buckeyes fans can relax a little bit, especially since they still hold a place close in Burrow's heart.
That helps, but Burrow leaving Columbus and winning a title at Baton Rouge is much more detrimental, especially after seeing all of the success Burrow has achieved in just two seasons in the NFL.
Can he add a Super Bowl trophy to that list?
Joe Cool and the Bengals are set to play the Rams in Super Bowl 56
The legend of Burrow is only beginning. After tearing his ACL in his rookie season, he returned and led the Bengals to an AFC North division title.
Then, they defeated the Las Vegas Raiders, the top-seeded Tennessee Titans, and won a thriller against Patrick Mahomes and the Kansas City Chiefs — and Mahomes gave him a simple but encouraging message after the game.
Burrow has been unbelievable. He has thrown for 4,611 yards with 34 touchdowns and 14 interceptions during the regular season. He followed that up with four touchdowns and two picks in the playoff run en route to an AFC title and looked cool as a cucumber as the Bengals won an overtime thriller at Arrowhead Stadium.
Can Burrow continue his magic and give the Bengals a Super Bowl victory over the Rams? With each passing day, the legend of Burrow continues to grow in just his second NFL campaign, and Brady can't help but think that his move from Ohio State had a lot to do with it.
Stats Courtesy of Pro Football Reference
RELATED: Tom Brady Offers Advice to Joe Burrow on What He Should Do If the Bengals Beat the Rams