Tom Brady Has Been Told Just How Long the Buccaneers Want Him Playing in Tampa
Not many people thought Tom Brady would actually still be playing at an elite level at 43 years old, but the GOAT ultimately won a Super Bowl in his first season with the Tampa Bay Buccaneers and now looks to run it back at 44. It's truly remarkable how Brady has defied Father Time so far, and it will be interesting to see when Father Time actually wins.
However, does Brady have a target year in mind for when he plans to retire?
That, we don't know, but Buccaneers general manager Jason Licht recently revealed how much longer he told Brady he wants him playing in Tampa. It's not just for a few more years, either.
Tom Brady signed an extension with the Buccaneers after winning a Super Bowl
Following two decades with the New England Patriots in which he won six Super Bowls and played in three others, Brady played for the Buccaneers in 2020.
Despite being 43 years old, Brady was still one of the best quarterbacks in the league. He threw for 4,633 yards, his most since 2015, and 40 touchdowns, his most since 2007.
His play ultimately led the Buccaneers to the playoffs, but — like in all other years of his career — he shined in the postseason. TB12 threw for 1,061 yards, 10 touchdowns, and three interceptions in four postseason games and helped Tampa win the Super Bowl over the reigning champion Kansas City Chiefs, 31-9. Brady even won Super Bowl MVP as he threw for three touchdowns and no interceptions.
About a month after the Super Bowl, Brady signed a one-year contract extension with Tampa that will put him on the Buccaneers roster through the 2022 season. That, of course, means he'd be playing at 45 years old.
Could he play longer, though?
Buccaneers GM Jason Licht said TB12 can play in Tampa until he's 50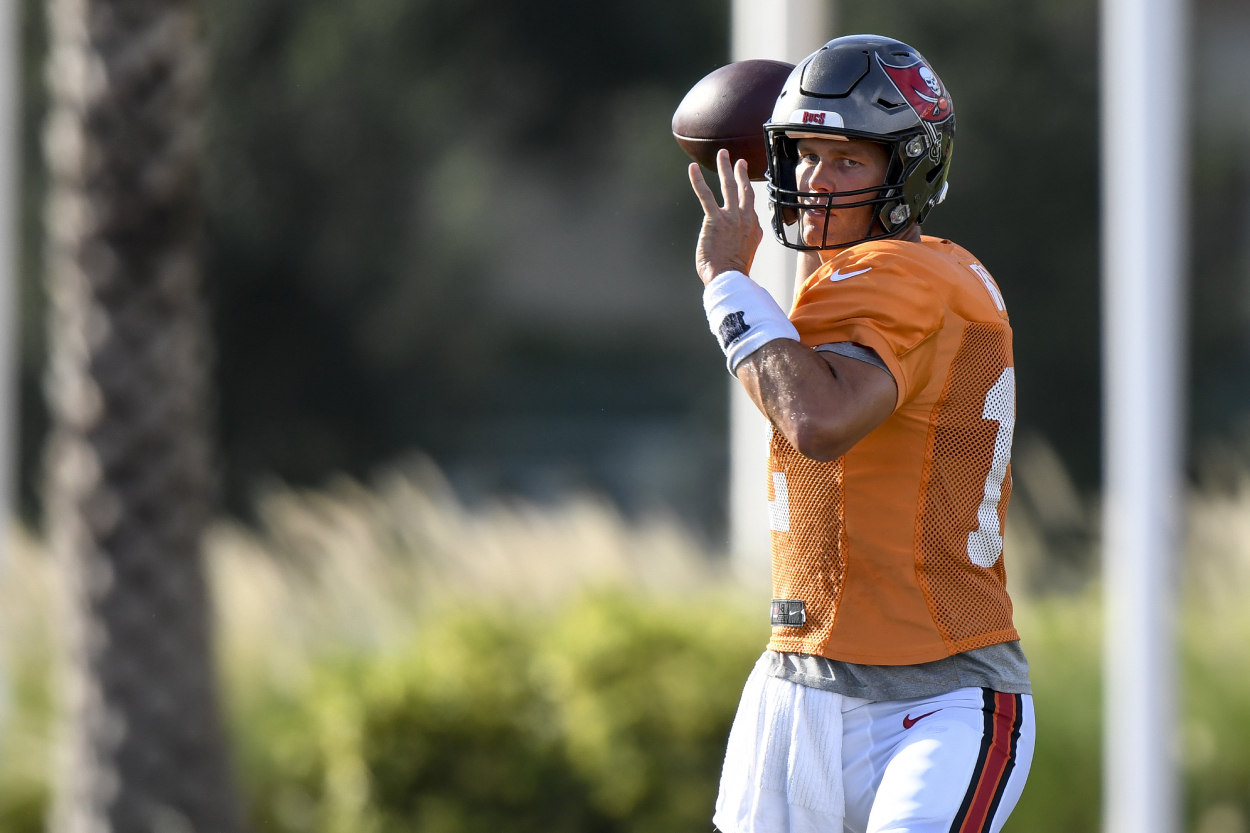 Everyone has always looked at the age of 45 for Brady as he said in the past that he planned to play until then. But when asked about it before the Super Bowl, the quarterback said he would "definitely consider" playing past 45, according to Sports Illustrated.
So, how much longer does he actually plan to play? The GOAT has not quite revealed that answer, as Licht said on The Rich Eisen Show that when they negotiated his contract extension, Brady gave him "no inkling at all" as to how long he plans to keep going. However, Licht also revealed the age he told Brady he can play to in Tampa.
"I told him if he wants to play until he's 50 — and he feels like he can still play — he can play until he's 50," Licht said on the May 10 episode.
Playing until he's 50 means Brady would be playing for seven more seasons. That sounds absurd, but is it possible?
Can Tom Brady actually play in the NFL until he's 50?
How likely is it that Brady can actually still play in the NFL until he's 50? Well, he's already the oldest primary starting QB in league history. George Blanda was the oldest player in NFL history, according to ProFootballTalk, and he played until he was 48 years old. Blanda, though, was a star quarterback in his prime but was just a kicker in the last several years of his career.
Brady is already doing something we have never seen before, but who's to say he can't play that long? He just had his best season in years and defeated three great quarterbacks in the postseason, which included outdueling arguably the best quarterback in the NFL right now in Patrick Mahomes, who is only 25 years old.
Thinking about a football player playing until they're 50 may sound outrageous, but what Brady is doing right now is already astonishing. We should never count the GOAT out.
Stats courtesy of Pro Football Reference