Tom Brady Took a Trip With Eldest of 3 Kids: It's 'More Special for Me Than Him'
Tom Brady might be the greatest quarterback ever. But his personal life has garnered nearly as much attention. Before his marriage to supermodel Gisele Bündchen, Brady dated actress Bridget Moynahan. Shortly after he and Moynahan broke up, she announced she was pregnant with his child. Although it was scandalous at the time, the trio has learned to co-parent Jack along with Brady and Bündchen's two children. Tom Brady does all he can to be present in his kids' lives, including taking his first-born son, Jack, on special trips.
How many kids does Tom Brady have?
So how many kids does Tom Brady Have, exactly?
His first child, a son named John Edward Thomas Moynahan (who goes by "Jack") was born in Aug. 2007. Brady shares Jack with his ex, Bridget Moynahan.
After Brady and Bündchen married in February 2009, they welcomed son Benjamin Brady in December 2009 and daughter Vivian Brady in December 2012. Which means that Tom Brady currently has three kids.
Tom Brady and Bridget Moynahan had a contentious breakup
For Brady, 2007 was a tough year. His ex-girlfriend, Bridget Moynahan, announced her pregnancy as Brady was already dating Gisele Bündchen. Many fans looked down on him and his off-field decisions. His son Jack was born a few months later. The Things reports that while Brady was at the hospital that day, Moynahan limited his time there.
Tom Brady went on to marry Bündchen in 2009, and they now have two kids together, Benjamin and Vivian. Brady and Moynahan share custody of Jack, so when he wasn't with his mother in New York, he spent his time with his father and stepmother in Massachusetts, where Brady played for the Patriots. When Brady left the Patriots, one of the factors in his choosing of Tampa Bay was its proximity to Jack and the East Coast. 
Brady shared about a special moment with his firstborn son
While Jack doesn't spend 100% of his time with his father, that doesn't stop Brady from forming a special relationship with his firstborn. He told Dax Shepard of the Armchair Expert podcast he recently took Jack on a trip to China:
"You know what, it was a great trip for a dad and a son at about 10 years old. I mean, it's pretty, pretty amazing just to be together. I had a couple other trips with my dad when I was young, so it's probably more special for me than him, but he'll remember it. That's pretty sweet."
Brady mentions that while he may be an NFL quarterback, to his kids, he's just their dad. "My kids see me as dad, so then when you're one-on-one, you're just doing dad things. And when you have them one-on-one, and then they say these things, and it just makes your week or year or month. There are some really great moments."
What's it like growing up with an NFL star for a dad?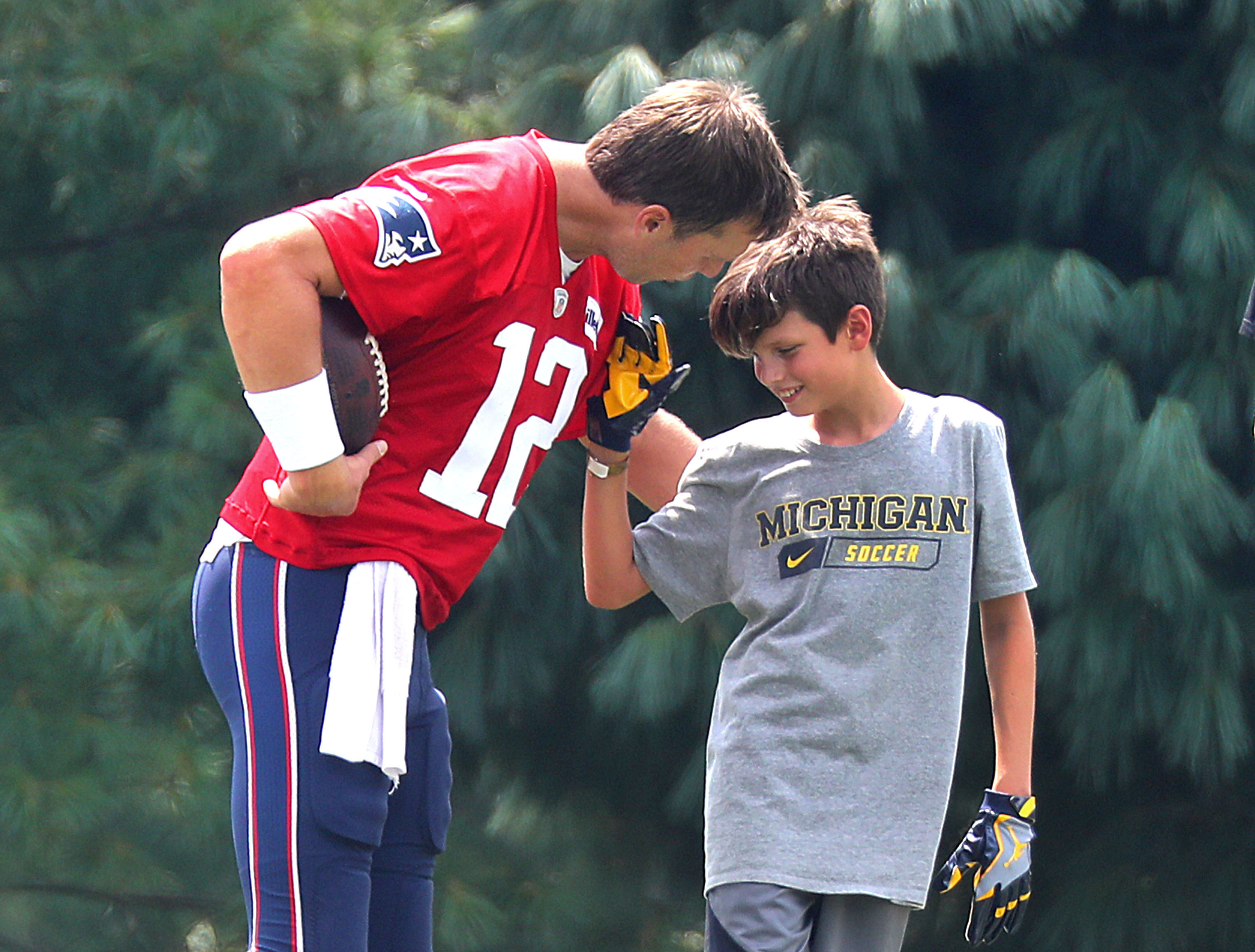 When dad is one of the greatest NFL players of all time, it's easy to assume his kids will follow in his footsteps. Tom Brady has no qualms about his kids playing football, he says their interests lie elsewhere.
The QB has stated that Jack likes watching football, but he loves playing soccer, and even hopes to play in the Olympics someday. Younger son Benjamin is into hockey, and Vivian hasn't picked up the athletic bug yet. He said all of his kids love to ski, swim, and surf.
Having famous parents has its perks too. On the podcast, Brady said that his children have a unique experience because they get to travel so much: "Our kids have had a lot of different experiences being in the Northeast, now we're in the Southeast. They've traveled to South America, we've had a home in Costa Rica for a long time."
With Bündchen from Brazil, they even get to learn another language while they're young. "My daughter speaks both languages very well," the QB explained. "My son hears it from his mom but doesn't necessarily always want to communicate it back. At least he's getting it." It seems like the Brady bunch kids are living a pretty idyllic life.
RELATED: Tom Brady Has 2 Sons and Would 'Absolutely' Let Them Play Football