Tom Brady Admits He 'Wasn't Thinking' During the Riskiest Throw of His Career
Tom Brady has enjoyed life after winning his seventh Super Bowl ring. Despite making headlines in the news, the Tampa Bay Buccaneers quarterback hasn't made public comments since the big game. That all changed on March 2 when he sat down with James Corden.
During the interview, the 43-year-old quarterback talked about his time during the Bucs' championship boat parade. Although he wasn't thinking, Brady doesn't regret his toss that went viral during the event.
Tom Brady went viral during the Tampa Bay Buccaneers' championship parade
RELATED: The NFL Is Bailing Out Tom Brady for His Words During Super Bowl 55
The Tampa Bay Buccaneers had a celebration like no other after their victory in Super Bowl 55. They conducted a boat parade down the Hillsborough River, and Tom Brady was the center of attention.
The seven-time champion made headlines for his risky throw during the parade. Brady tossed the Lombardi Trophy from his yacht to teammate Cameron Brate on another boat. While he's used to catching footballs, the tight end still managed to secure the unconventional pass.
"That was the best catch of my life. Unbelievable. If I had dropped that? I think I would've had to retire," said Brate per ESPN.
Brady had another viral moment after the parade. He was recorded walking off the boat, needing help from a friend. While it wasn't clear whether sea legs or too much partying was the problem, the Super Bowl MVP had no issue poking fun at himself on Twitter.
Tom Brady discusses Super Bowl parade with James Corden
RELATED: Marshawn Lynch Hilariously Shows Love to Tom Brady After Tyrann Mathieu Altercation
Tom Brady hadn't spoken on his actions during the Super Bowl parade until joining The Late Late Night Show with James Corden on March 2. Corden wasted no time in asking the Michigan alum about his infamous Lombardi Trophy toss. Brady admitted that it wasn't his best decision. 
"I was not thinking at that moment. It was, 'this seems like really fun to do.' I found out later that had that been an incomplete pass, that would've went down like 80 feet. So I'm so happy for Cam [Brate]," said Brady on The Late Late Night Show with James Corden.
At least one person knew that tossing the Lombardi trophy wasn't a good idea and Brady revealed she was only one person with sense during the ordeal.
"My little eight-year-old daughter. Who could imagine that an eight-year-old girl would have the most sense out of anybody in that whole area at the time. She's the voice of reason," Brady said.
Tom Brady also discusses his offseason knee surgery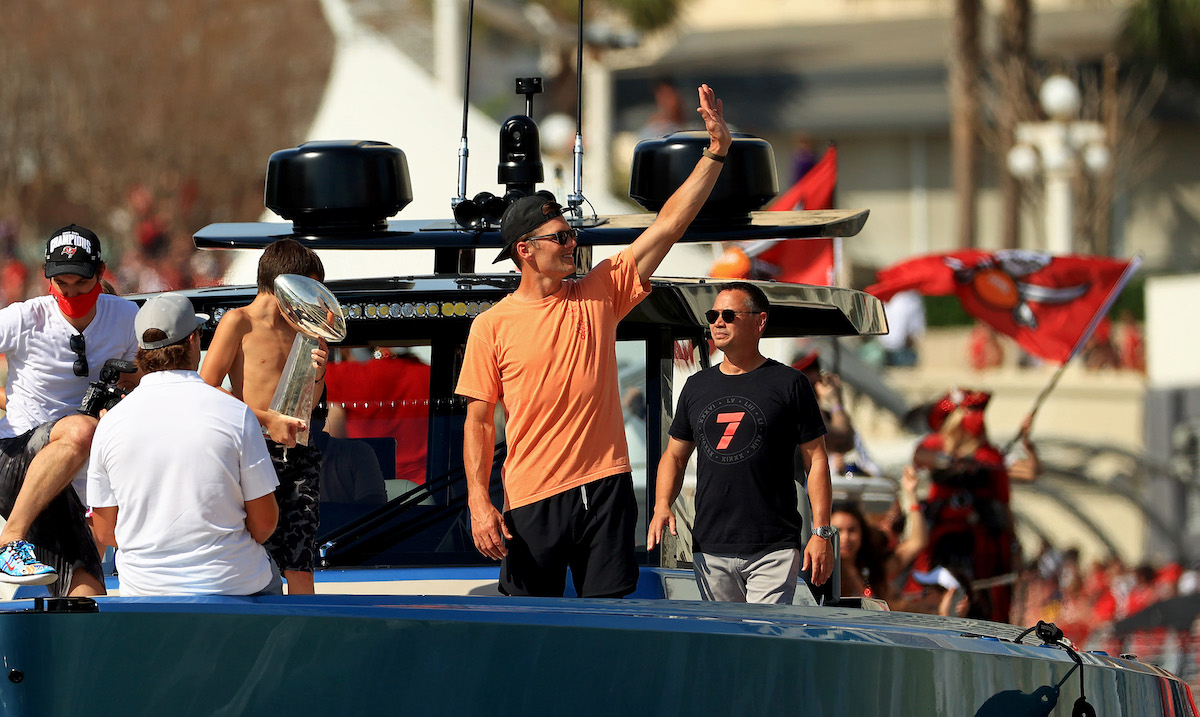 RELATED: Tom Brady's First Offseason Move Questions How Much Longer He Can Outlast Father Time
Other than his antics during the Super Bowl parade, Tom Brady also talked about his upcoming offseason. He described the offseason as an abrupt end to a six-month routine. The quarterback said he's enjoyed his time with family since the season ended but already has something football-related keeping him occupied.
"I actually had knee surgery, so I'm kind of rehabbing now, which is giving me something to do. Although I'd rather be kind of staying active like I normally do," Brady told James Corden. 
While it's not clear how serious Tom Brady's knee issue was, the quarterback should be ready for action in time for the 2021 campaign. Both he and the Tampa Bay Buccaneers will be hoping to make another run at the Super Bowl title. Next time around, though, they'll probably be a bit more careful with the Lombardi Trophy.