Tom Brady Will Eventually Unretire, According to Antonio Brown
It was bound to happen sooner than later. However, that doesn't mean Tom Brady's recent retirement didn't catch some people off guard. The future first-ballot Hall of Famer was coming off a stellar season where he led the league in passing yards (5,316 yards).
The Tampa Bay Buccaneers were also one-blown coverage away from taking the eventual Super Bowl-winning Los Angeles Rams to overtime during the NFC Divisional Round. All signs pointed toward the Bucs looking to run things back in 2022 during Brady's final season under contract.
However, Brady (abruptly) decided to hang up the cleats after his playoff exit. Now, speculation is running rampant on whether the G.O.A.T will second guess his decision sometime soon.
Antonio Brown doesn't believe Tom Brady is finished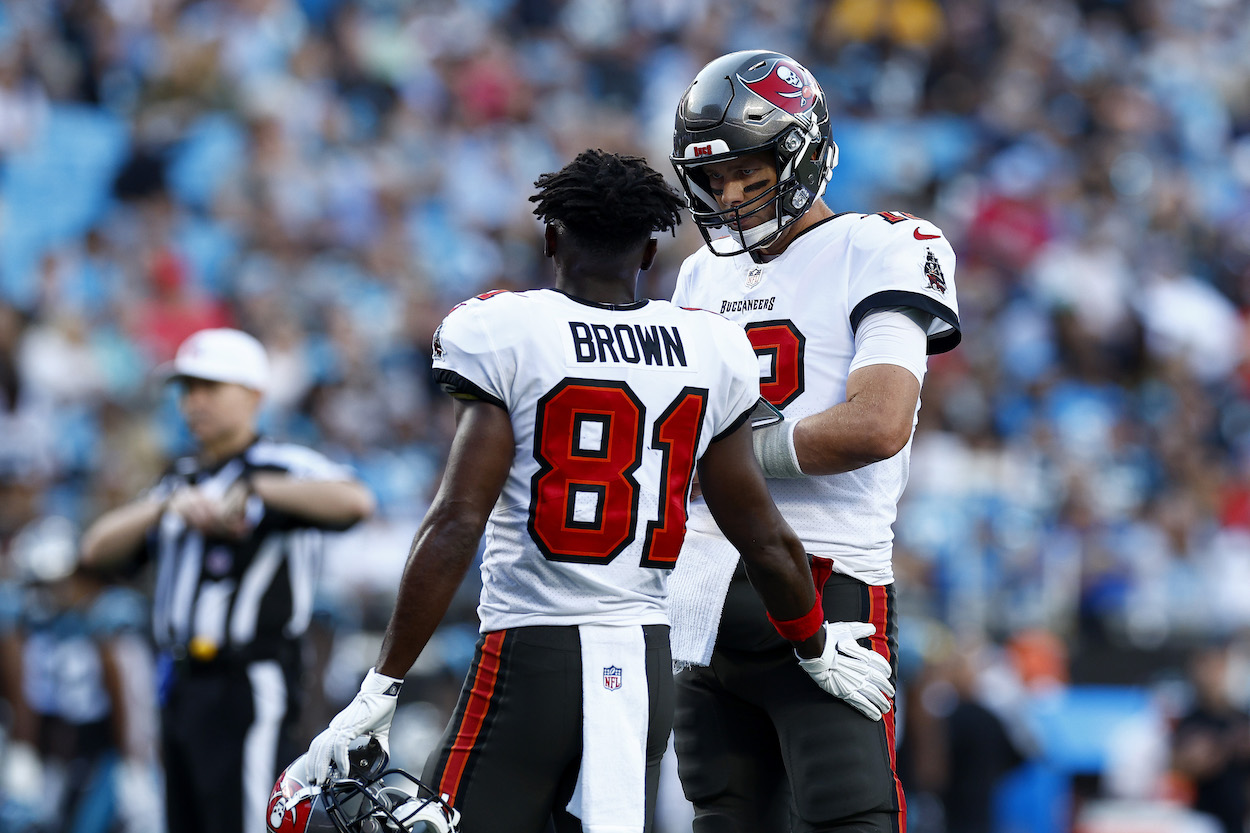 Since Brady's retirement, people all over the NFL have discussed the possibility of him returning to action after some time away from the sport. The Buccaneers reportedly even have a plan set in place should their former star QB decide to unretire.
Former Brady teammates, in particular, have been the most skeptical about his retirement. Antonio Brown was the latest individual asked about the topic, and he didn't think twice about saying he believes Brady will be back at some point.
The former Buccaneers wide receiver was asked about the G.O.A.T. on his way into Craig's … and he made it pretty clear, he thinks Brady will be back on the field in 2022.

In fact, when asked if he thinks Brady was "going to retire for good" — Brown said straight up, "Why would he do that?!"

…Brown, though, said he could see the return happening — and added that it might not necessarily be with the Bucs.

TMZ
Tom Brady can realistically return whenever he wants
It's hard to claim that Brady should return to the NFL. If he's happy in retirement, then he's happy in retirement. However, it's challenging to ignore all the smoke surrounding the situation. It's even more challenging to ignore the fact Brady is still one of the best quarterbacks in the world.
Brown saw it first-hand — Brady is still an absolute assassin on the football field. His game has never been predicated on speed or raw athleticism. He's built a niche for himself as one of the brightest and most accurate athletes in sports history. His attention to detail is off the charts.
Brady had the most passing yards in the NFL at 45 years old, while multiple of his top WRs battled injuries and suspensions. He could easily show up to Bucs practice halfway through the offseason and pick up where he left off, as Brown suggests.
What if the Buccaneers aren't TB12's preferred team?
At the end of TMZ's report on Brown, it does mention that AB said he wasn't sure if Brady would be willing to return to Tampa Bay. This is an interesting piece of information considering an earlier report that dropped on Brady's end with the Buccaneers.
Former NFL offensive lineman Rich Ohrnberger claims Brady and Bruce Arian's relationship became fractured at the end of the 2021 NFL season. This could have played a role in Brady retiring, as opposed to sticking things out for one extra season.
Of course, the Buccaneers control the rights to Brady if he decides to unretire. The Bucs would have to be willing to trade Brady for him to land with a new team, which feels unlikely.
Regardless, you can add Antonio Brown to the growing list of people who don't believe Brady is done playing professional football.
All stats courtesy of Pro Football Reference.
RELATED: Tom Brady 'Souring' on Buccaneers HC Played a Role in His Retirement