Tom Brady's Workouts Are Basically 'Like a Practice,' According to Bucs WR Scotty Miller: 'Tom Just Runs the Show'
Everyone knows Tom Brady is considered to be the NFL's GOAT, but he hasn't earned that honor without putting in a ton of work. Like many quarterbacks, Brady has been a guy who has hosted workouts with some of his pass-catchers during the offseason. Many QBs do this to get a rhythm with their teammates, especially since their success throughout the season is predicated on having a solid connection.
However, what is a Brady workout like? His Tampa Bay Buccaneers teammate, wide receiver Scotty Miller, recently gave some insight into what it's like to train with TB12.
Tom Brady has held workouts with his Tampa Bay Buccaneers teammates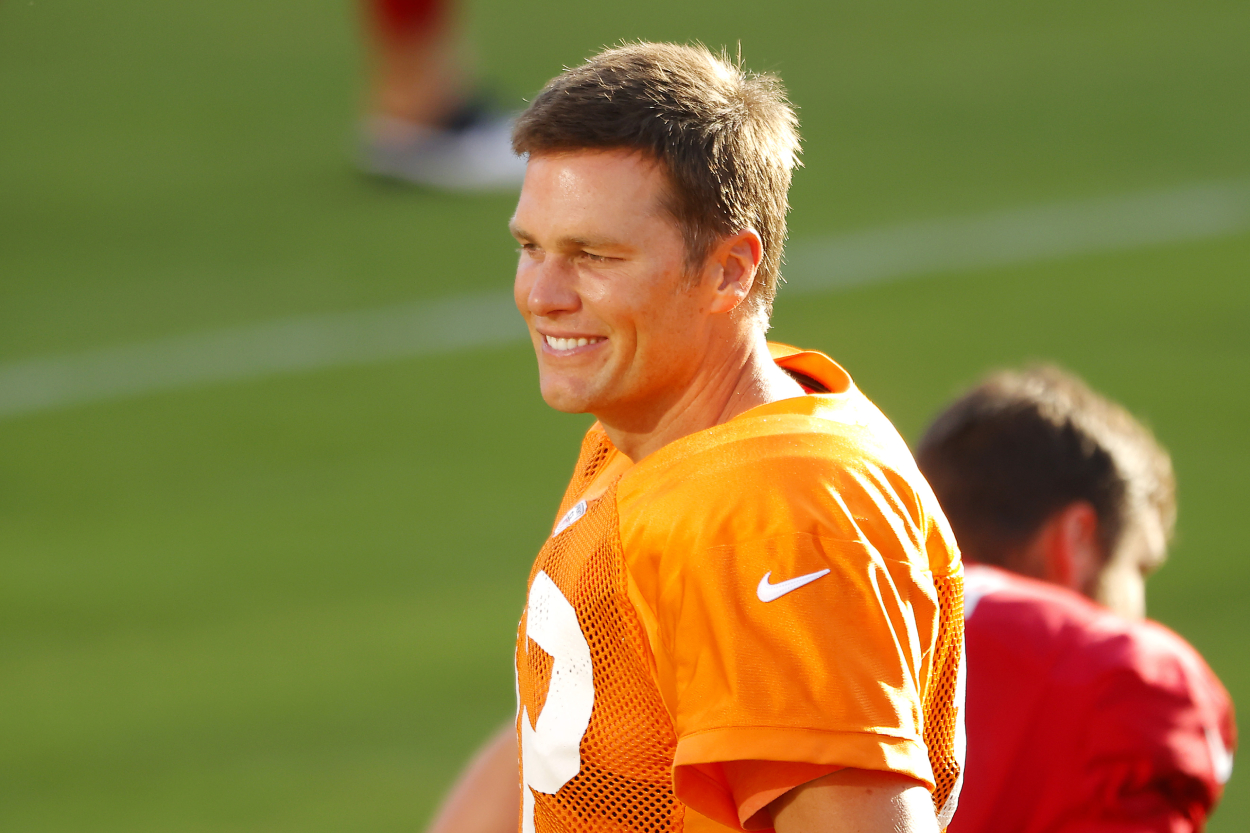 This offseason wasn't the first time Brady held workouts with his teammates.
In 2020, just a couple of months after he signed with the Buccaneers, Brady and a handful of his teammates — including Mike Evans — met up at a prep school to work out and throw some passes, per Sports Illustrated.
This offseason, he has since posted photos of some workouts on his Instagram, with guys like Chris Godwin and Rob Gronkowski in attendance, per Yahoo Sports.
Brady's workouts may not be mandatory, but they are an excellent way for him and his teammates to gain a rhythm ahead of the season.
So, what's one like?
Scotty Miller revealed what it's like to work out with the GOAT
Miller recently appeared on The Pat McAfee Show, and he received a question about Brady's workouts.
Although he couldn't attend Brady's sessions this offseason (he was rehabbing a groin injury) Miller attended them last year.
"I remember the first time, Chris Godwin texted me and was like, 'Yo, we're about to throw with Tom tomorrow morning,' and I'm like 'Woah, Tom Brady. Better get to sleep early tonight,'" Miller said on the June 24 episode. "[It was] crazy to meet him for the first time; it was wild."
So, what's a typical workout like? Miller said it's essentially like a practice.
"Really organized," Miller said. "Alex Guerrero, Tom's right-hand guy … he's there with Tom, getting Tom warmed up. We all warm up on our own. And then Tom just runs the show. It's like a practice, basically. It's routes on air, but he's calling out the play, 'Go, lineup,' calls out the defense, that type of thing."
He continued: "And even last year, we had a bunch of DBs come out, too. We're almost running like half line drills, so we were getting after it pretty good. I think that's just a testament to Tom. He's going to get that work in at all costs."
That sounds pretty intense. Brady knows what he's doing, though, and he knows what it takes to be the best.
Tom Brady's workouts paid off for the Buccaneers
Miller said that although he wasn't at this year's workouts, Brady and the skill players "wanted to build on something that" they formed last year.
"We just loved that foundation we built," Miller said. "So, I think Tom wanted to just keep going on that; it worked last year, so why not do it again?"
It worked, indeed.
Brady's connections with each of his receivers resulted in him having one of the best seasons of his career in 2020. He threw for the second-most touchdowns of his career with 40, to go with his most passing yards since 2015 with 4,663. Brady then threw for 1,061 yards in four postseason games, to go with 10 touchdowns and only three interceptions, which helped lead the Buccaneers to a Super Bowl win.
Brady clearly knows what it takes to be the best, as he has been atop the NFL for over 20 years. These workouts are just a part of the GOAT's process.
Stats courtesy of Pro Football Reference
RELATED: Tom Brady Admits to Admiring Marshawn Lynch's Infamous Media Move: 'I'll Do It Before I Retire'