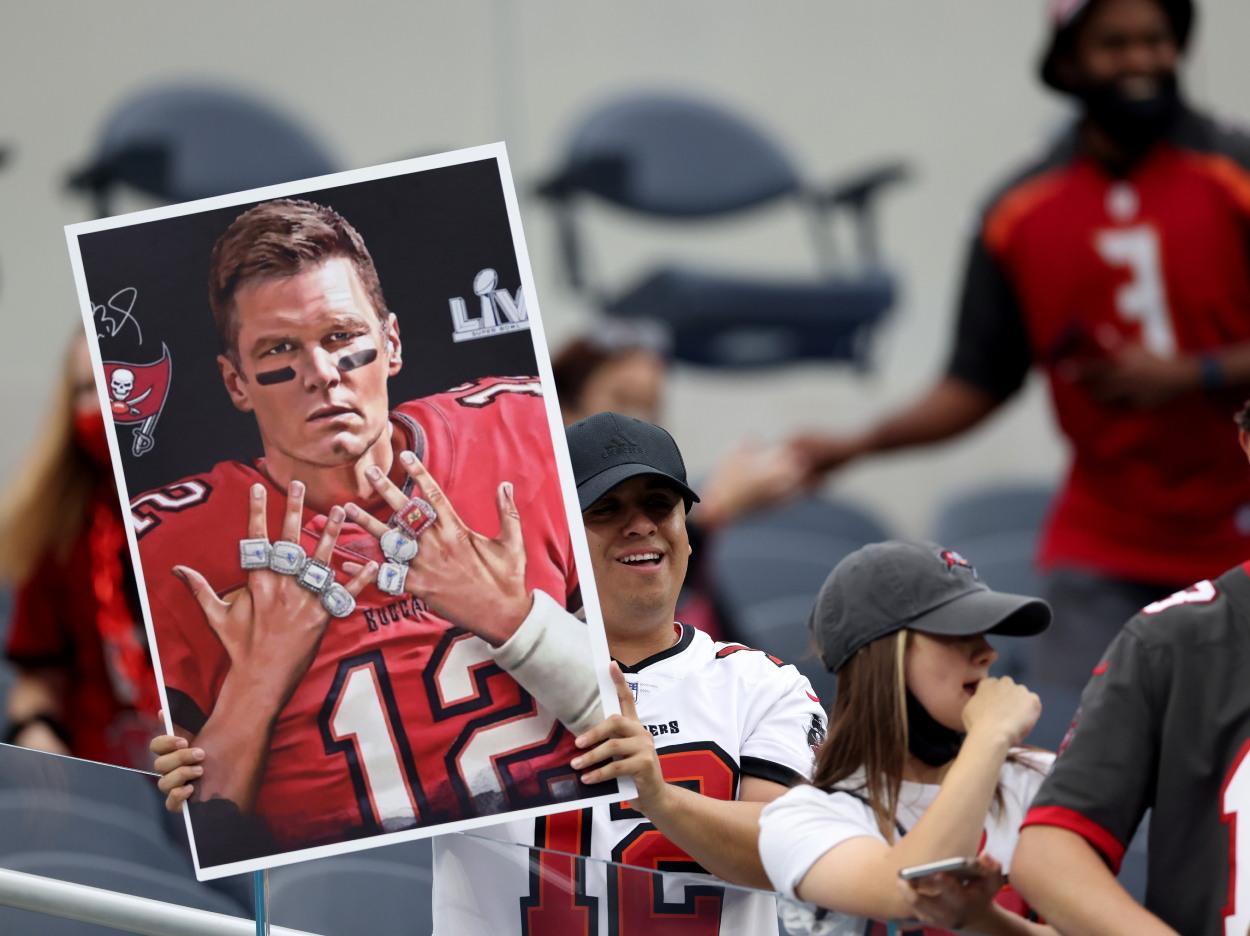 Tom Brady's Former Teammate Said Going 'Soft' Contributed to the QB's Departure From the Patriots
Jermaine Wiggins said Tom Brady going "soft" contributed to the QB's departure from the New England Patriots.
With Tom Brady returning to Foxborough for the first time as an opponent, most NFL eyes are on Sunday night's Tampa Bay Buccaneers at New England Patriots matchup. The hype surrounding the game has been immense, and recently there have been some wild takes regarding the relationship between Brady and Patriots head coach Bill Belichick. Brady's former teammate, Jermaine Wiggins, had one of those takes, saying Brady left town because he had gone "soft."
Tom Brady returning to face the Patriots has finally arrived
It may go down as the most anticipated regular-season game in NFL history. Ticket prices have been through the roof as Patriots fans look for an up-close view of their former quarterback facing their team. Will Brady make it personal? Does he want to stick it to Belichick? It depends on who you ask.
Brady's father spoke as if his son wasn't too happy with the way things ended in New England. He believed the Patriots didn't want Brady back. He also said he felt some vindication after watching his son win his seven Super Bowl as a member of the Bucs in his first season with the team.
"Damn right," the elder Brady said on the Patriots Talk Podcast with Tom E. Curran nearly two weeks ago. "Damn right. Belichick wanted him out the door. Last year, he threw 56 touchdowns. I think that's a pretty good year."
Curran then asked Brady Sr. if he thought his son felt the same way.
"Damn right," he said. "Damn right."
Brady Sr. also said his son is "more than happy" he moved on from the Patriots.
"My feeling is Tommy is extraordinarily appreciative of everything that happened during his New England career," he said. "He's more than happy that he's moved on because it was pretty obvious that the Patriots regime felt that it was time for him to move on."
Jermaine Wiggins said he believes Tom Brady went 'soft'
One take on Brady's departure from Belichick and the Patriots came from former NFL tight end Jermaine Wiggins. Wiggins is a regular on The Greg Hill Show on Boston radio station WEEI. He also played with Brady in 2001, which was Brady's first year as a starter in the league. Earlier in the week, Wiggins said he believed Brady got "soft" and no longer wanted to play for a hard-nosed coach like Belichick. Wiggins tried to explain himself Friday.
"If (Brady) is saying it was about the way he was coached, being rode hard and the way Belichick's coaching style is, if that was another athlete, we'd be like, oh so you don't want to be coached hard all of a sudden?" Wiggins said. "What are you soft?
"If you're telling me that's one of the reasons why he left, because he couldn't deal with the way Bill coached him anymore. What does that tell you? After 19 years of dealing with it, now all of a sudden you don't like being called out in a meeting?"
When a fan called in to confront Wiggins on his "soft" comment, the former tight end explained Brady wasn't soft on the field.
"He got soft in the sense that he didn't want to be coached hard, and he didn't want to be called out in meetings," Wiggins responded to the caller.
Brady isn't expecting a 'homecoming'
Sunday night will be a mixed bag of emotions for Brady and the Patriots fans. Those fans have rooted for No. 12 for 20 years. Will they still be pulling for him? Will they stay loyal to the Patriots? Brady isn't expecting to be welcomed with open arms.
"I wouldn't expect that — a homecoming," said Brady, per ESPN. "I mean, I think they're there to root for their team, and their team is the Patriots. They're gonna cheer for their team as I would expect them to, and I think if they know anything about me, they're gonna know that I'm going out there to try to win the football game, so I think they'll respect that about me."
Brady did mention Belichick. He did so in true Brady fashion, with a generic compliment.
"Well, I have 20 years — I have 20 years of being there, and obviously, he's a great mentor for me," Brady said of his former coach. "And yes I think there's definitely great lessons I've learned from him. He's a great football coach, and he does a great job for his team."