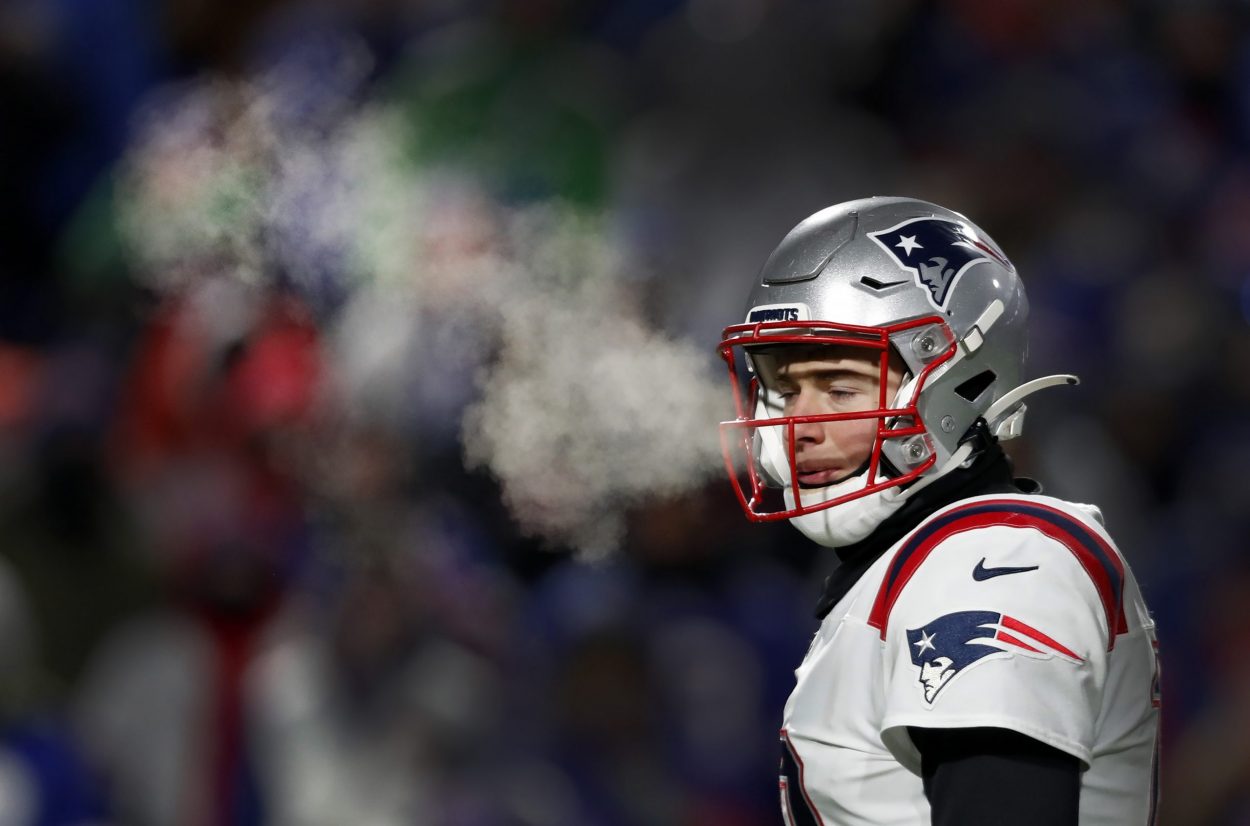 Tom Brady's Patriots Era is Now Bookended, Leaving New England in a Scary Place
The era of playoff success and Super Bowl titles with Tom Brady is really over for the New England Patriots.
The 30-point loss the Buffalo Bills hung on the New England Patriots on Saturday night technically wasn't the worst loss of Bill Belichick's two decades with the team. It wasn't even the worst loss to the Bills under Bill.
That distinction, by one point, goes to the season opener in 2003, when Patriots cast-offs Drew Bledsoe and Lawyer Milloy got a little slice of revenge with a 31-0 blowout.
But that was a different time in Patriots history. By the time that season ended, the Pats would have their second Super Bowl title in three seasons. A year later, they made it 3-of-4 with a championship under the combination of Belichick and quarterback Tom Brady.
The final championship for the duo came in the 2018 season. Brady played one more year in New England, they lost their only playoff game, then Brady moved South to sunnier skies and another Super Bowl title in Tampa.
And so now the Patriots are two seasons fully removed from Brady and three years removed from a Duck Boat Parade in Boston. And the distance between where the Patriots were then and where they are now after Saturday's 47-17 loss could not possibly seem greater.
Was the Patriots' success Brady or Belichick? We might be starting to get our answer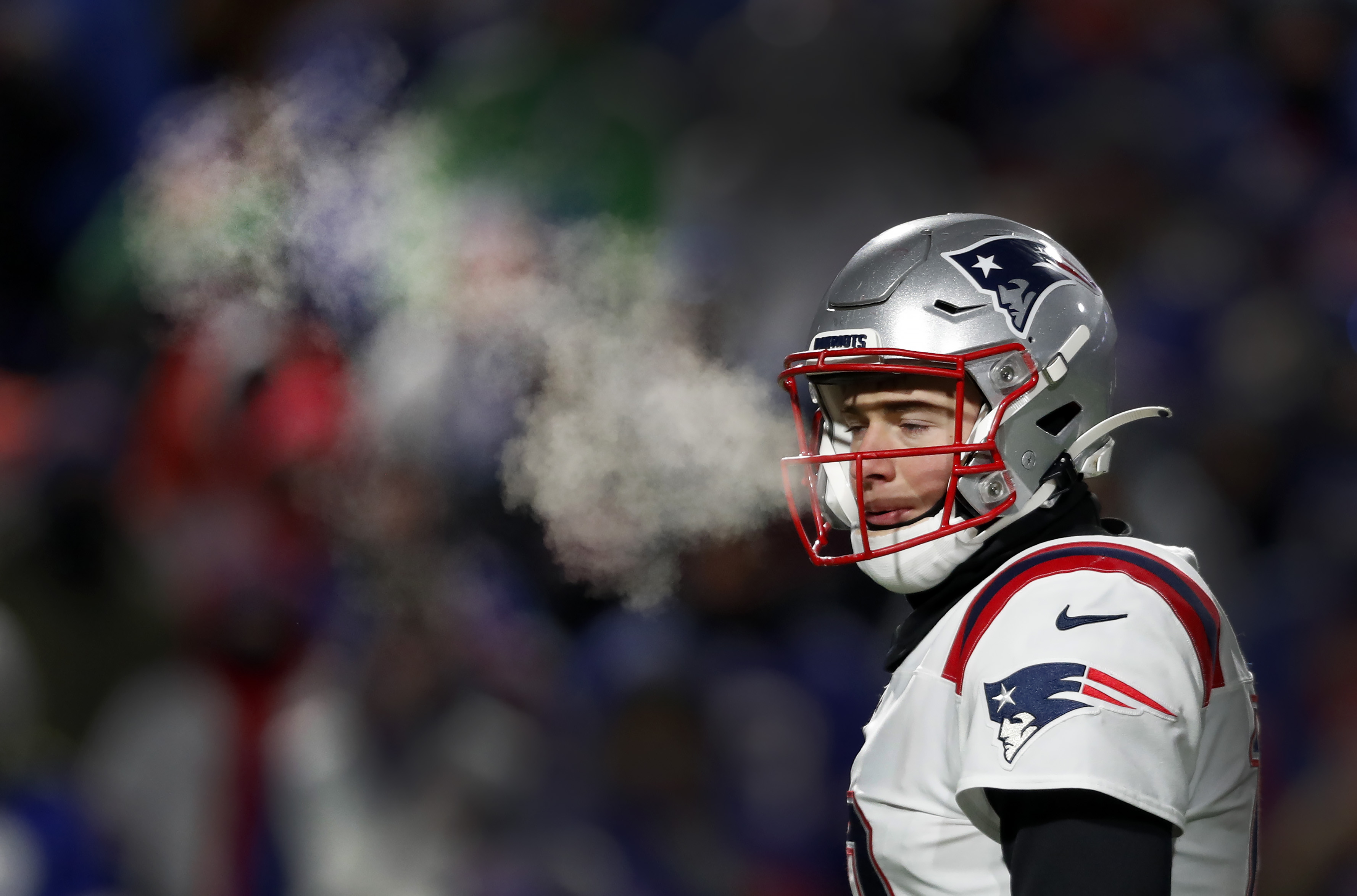 The three seasons before Brady won his first Super Bowl in 2001, when he wrested the starting job from Bledsoe and he and the franchise never looked back, might be worth a look back, as the bookends of Brady's tenure now have real definition.
In 1998, under Bledsoe and coach Pete Carroll, the Patriots lost 25-10 to the Jacksonville Jaguars in the Divisional Round, then failed to make the playoffs the next two seasons, including Belichick's first in New England.
Then Mo Lewis crashed into Bledsoe in Week 2 of the 2001 season, and the rest is Super Bowl history.
Now, the Patriots are experiencing an almost palindromic scenario on the other side, with a missed playoffs in the first year without Brady and a one-and-done playoff shellacking at the hands of the Bills in Year 2.
The success the Patriots achieved in those 19 seasons in between, with Brady running the show, has now backslid to that time when just making the playoffs seemed a Herculean task and winning in January an almost impossible one. It puts pressure on Belichick — perhaps the most pressure of his Patriots career — to keep the team on an upward trajectory.
Even Belichick seemed a bit taken aback by how badly his division rival manhandled his team on Saturday night, and how dramatic a sea change may be occurring in the AFC East.
"We all need to step back, catch our breath and take a longer view of things. At some point we'll talk about certain situations," Belichick said. "Players who aren't under contract, players who whatever their future is with the team or what their individual situations are, those will all be dealt with at a later point in time, certainly not today, tomorrow or the next day."
Like a young Brady two decades ago, it's up to Mac Jones to grow up in a hurry
Much was made this season about how The Education of Rookie Mac Jones mirrored that of the young unknown sixth-round pick thrust into the starting role in 2001, game-managing the Patriots to the Super Bowl.
But Jones is not Brady — no one is, of course — and the defense Jones and the Patriots used as a crutch to get to 9-4 after 13 games disappeared down the stretch, unlike the 2001 unit that continued its dominance all the way to and through Super Bowl 36.
So, the pressure on Jones to take his game to another level in 2022 just increased significantly.
"Losing is terrible and none of us wanted to do that tonight," Jones said after the game. "There's nothing we can do about it. There's a lot to look forward to and be positive about and learn from. There's nothing to hang our heads on. I'm super proud of the people that have helped me grow as a person: coaches, players, support staff and all that. There's a lot to look back on and just learn and there's nothing to feel sorry about. It's just a learning experience to get better for next year."
If there is one final comparison between Brady then and Jones now, it's the confidence his teammates have in the rookie from Alabama.
"I think the future is bright for this organization with that young man," said Patriots special teams standout Matthew Slater, whose own career may have reached the crossroads. "Not just his play on the field, but I think the man that he is, the character that he possesses. He's the type of man that you hope to build around.
"I know my kids and I will be watching him for a long time to come. I'm excited about where this organization is going to be with him. It's certainly been an honor for me to play alongside him and see him grow over the course of the year. Patriots Nation, they should be excited about having No. 10 as their quarterback."
Adversity all around them, the Patriots are on to their future
Tom Brady is not walking through that door, Patriots fans. But neither is Pete Carroll.
The 2021 season may have marked an indelible line from what Slater described as an era of unreality, when anything less than a Super Bowl title was seen as a failure. The season may have ended in humiliating fashion with one of the worst playoff defeats in franchise history.
But there were also a lot of positives for the team to build on. Jones was the best rookie quarterback in the league, in a draft class full of marquee names. The running back tandem of Damien Harris and rookie Rhamondre Stevenson proved formidable, if not entirely durable. The defense did dominate for 13 weeks before running out of gas down the stretch.
After a 2-4 start, a seven-game winning streak gave Patriots fans and haters alike the sense that maybe the glory days weren't entirely behind them yet.
"I think for this group, starting the season 2-4 and climbing back and building … I think we made strides this year coming off last year; did some things well during the season, just didn't finish the way we needed to finish," veteran defensive back Devin McCourty said. "That's how the NFL is: teams that are playing good ball at the end, find ways to win and that usually keeps it going. We just didn't do that."
Stats courtesy of Pro Football Reference