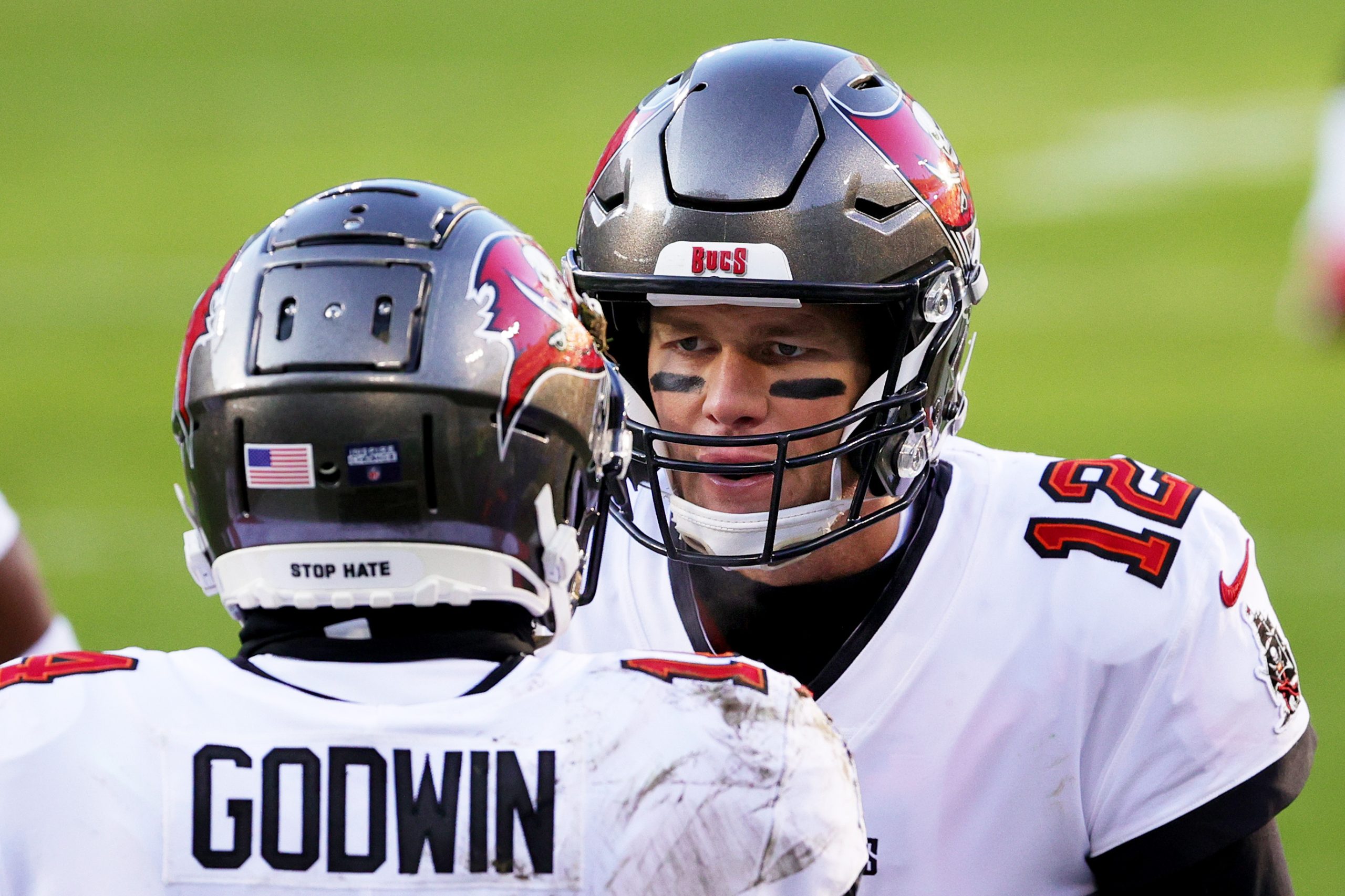 Tom Brady's 'Shocking' DM Made a Believer Out of Chris Godwin
Chris Godwin did not believe it was the real Tom Brady who sent him a DM after signing with the Buccaneers.
Chris Godwin believed there was no shot Tom Brady would wind up in a Tampa Bay Buccaneers uniform. When he heard it was down to the Buccaneers and the Los Angeles Chargers, he believed the quarterback was headed back home to California. Then he got a direct message on Instagram and didn't think it was real.
Adding Tom Brady to the Buccaneers was the cherry on top for Chris Godwin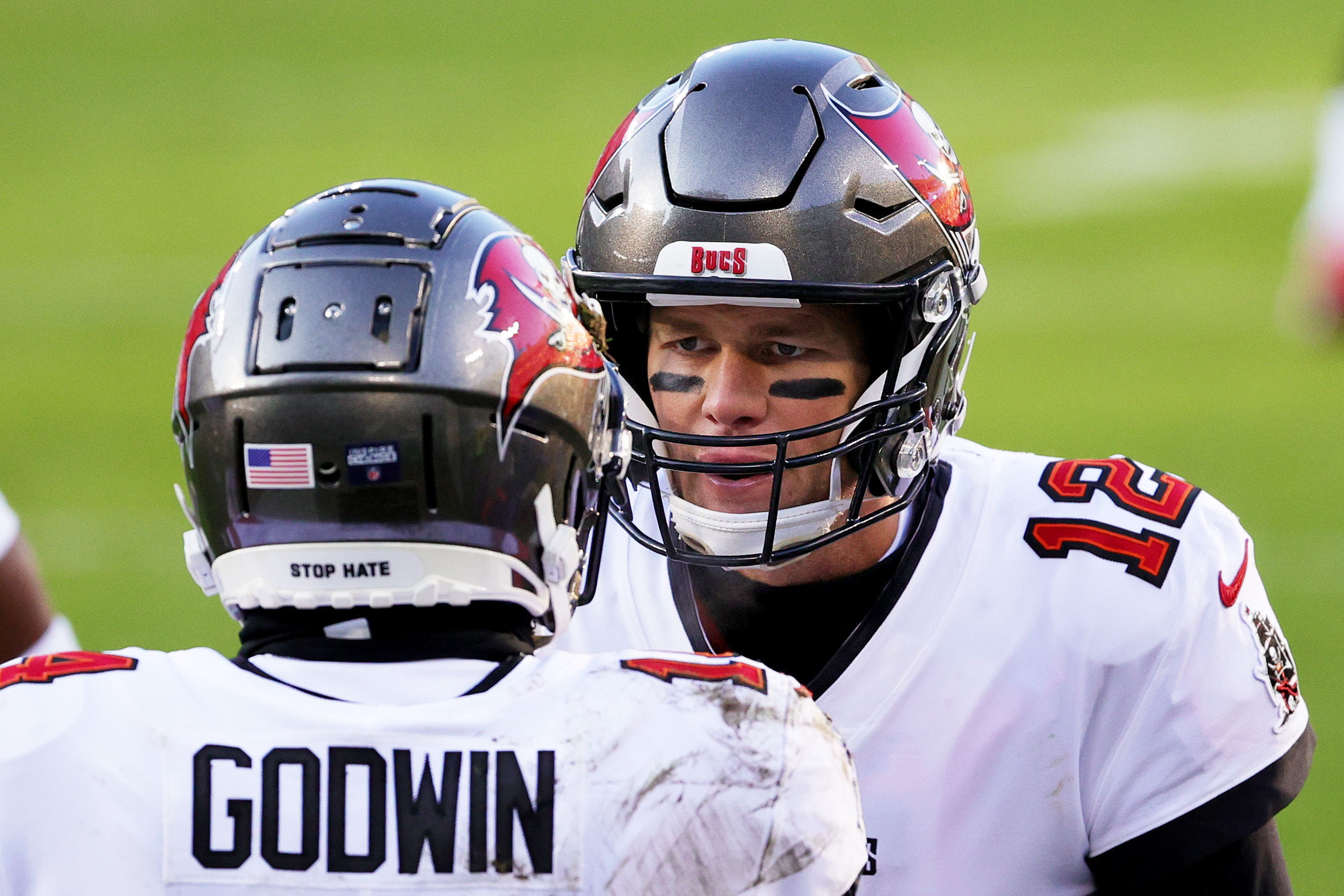 Like the rest of the NFL, the Buccaneers had a lot to deal with in 2020. The coronavirus (COVID-19) was wreaking havoc throughout the league. Not only did the Bucs have to deal with the pandemic, but they also had to deal with significant roster movement. With very few in-person workouts, building chemistry was tough for everyone, especially with a whole new roster.
Godwin was heading into his fourth year with the team. He and Mike Evans were one of the NFL's best wide-receiver tandems. Godwin just had his first 1,000-yard season, collecting career-highs in yards (1,333), catches (86), and touchdowns (9). On the field, things were great.
Off the field, things were just as good. He was about to get paid as a reward for his big season. He got engaged to his best friend. Things were good all over. Could things be any better for Godwin? Yes, the Bucs lured Brady away from the New England Patriots with a two-year deal.
Chris Godwin shocked to receive a DM from Tom Brady
This week, Godwin took over as a guest columnist for Peter King's Football Morning in America. He relived that moment when he found out the Bucs signed Brady. "Then I saw we're agreeing to terms with Tom," Godwin wrote. "I got a notification on my phone. Still I didn't believe it. I went on Instagram to see if there was any other news on it. I saw a direct message notification. It said it was from "Tom Brady."
He didn't think it was real.
"I was like, 'no, no, no, no, nah, nah.' This can't be the real Tom," he wrote.
Brady joked about Godwin playing for Penn State and he congratulated him on his engagement.
"I had just gotten engaged," Godwin said. "And the greatest player of all time is DM-ing me wishing me good luck with my engagement and saying he's excited to play with me! That was just shocking to me. I get drafted by Tampa, never thinking I'd ever have a chance to play with Tom Brady, and now, in the prime of my career, he's gonna be my quarterback."
Brady 'super-receptive' when Godwin met him in person
Godwin didn't know what to expect when meeting Brady in person. The man with the greatest NFL resume was now quarterbacking the Buccaneers, but how would he mesh with his new teammates? Godwin met him and some other receivers at 7:15 a.m one day, not knowing what to expect.
"I walk up and he's the friendliest guy," Godwin recalled. "For someone who's so accomplished and as highly regarded as he is, he was humble and receptive to the thoughts and opinions of his new teammates. We helped teach him the playbook, and he was super-receptive.
"I remember thinking, 'He's out here to earn our respect, to show that he was here to work. No one's gonna be given anything.' That message was received loud and clear. He never said anything like, 'Do what I say!' Very cool for me to see someone so accomplished to be working as hard as he was, but also like just a normal person who wanted to be one of the guys."
Brady showed Godwin what it was like to be the new guy, even after 20-plus years in the NFL. The two developed a strong relationship that wound up with another Super Bowl. And it all started with a DM.