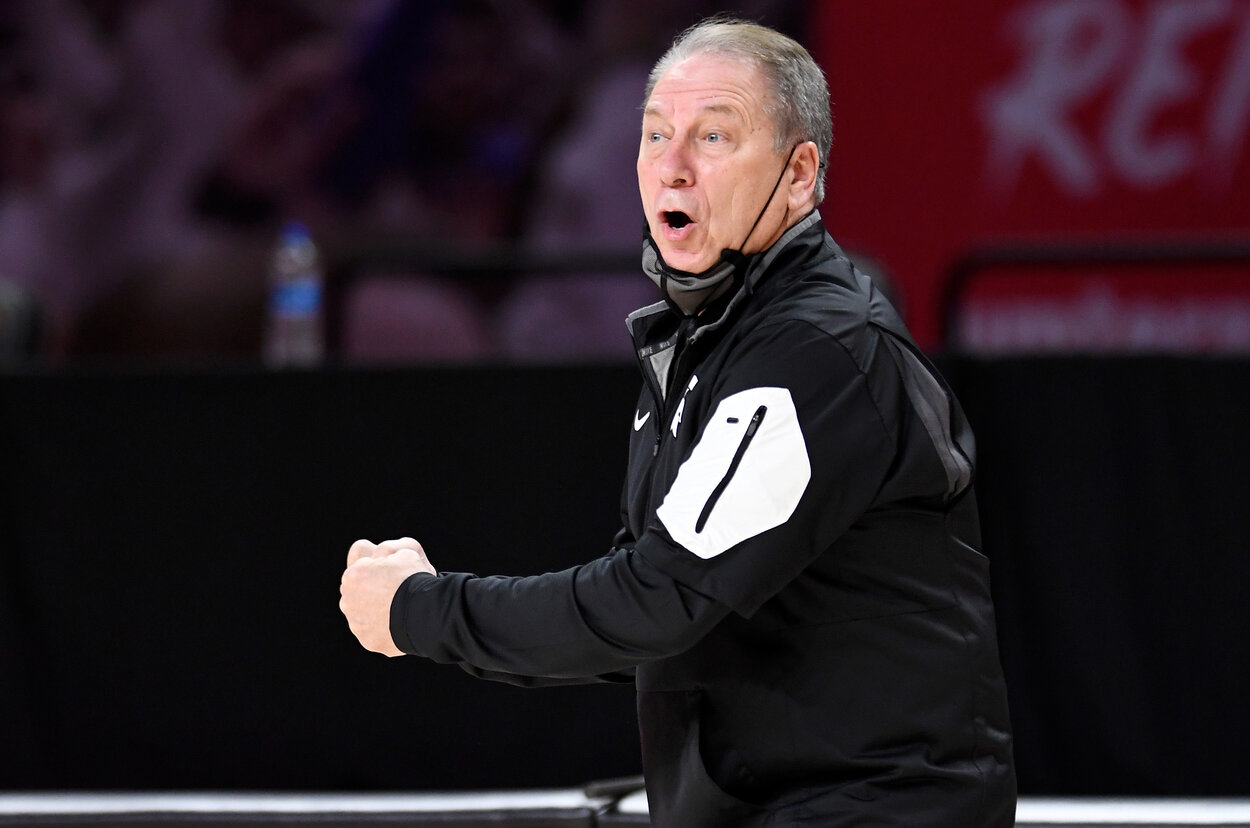 How Much Money Does Tom Izzo Make at Michigan State?
Tom Izzo has led the Michigan State Spartans to the NCAA Tournament once again. How much money is Izzo making in total pay this season?
The return of March Madness means another chance for Tom Izzo and the Michigan State Spartans to shine on college basketball's biggest stage.
As is seemingly tradition, the Spartans are playing in the NCAA Tournament once again. For nearly 25 years, Izzo and his team have been March Madness mainstays, and nothing has changed in one of the strangest college sports seasons in history.
This is Izzo's 26th season at the helm, and he remains one of the sport's top coaches. How much money is Michigan State paying Izzo to keep the Spartans in contention for a national title? It's probably more than you might think.
Tom Izzo is a college basketball legend
Tom Izzo turned 65 in January, but he has shown no desire to hang up his suit — or, with coaches now wearing team gear instead of a jacket and pants during games, his official Michigan State apparael.
Although the Spartans struggled at times this season en route to a 15-12 finish (and a 9-11 record in Big 10 play), they'll nonetheless begin the 2021 NCAA Tournament with a play-in game. Michigan State needs to defeat UCLA, another 11 seed, to officially make the tournament.
Much like Syracuse's Jim Boeheim, Izzo is used to making magic happen in March regardless of the Spartans' seeding. Through the end of the 2020-21 regular season, Izzo has appeared in eight Final Fours.
Michigan State won the national championship in 2000. Despite making the NCAA Tournament every year that it's been played since then, the Spartans haven't been back to the Big Game since April 2009.
Michigan State has been a model of consistency under Izzo
Coaches who talk about wanting to install a winning culture have nothing on what Tom Izzo has done at Michigan State.
Izzo took over at MSU before the 1995-96 season. After going 16-16 that year, the Spartans have posted a winning record in every season since then.
Izzo's career record entering the 2021 NCAA Tournament is a sterling 643-253. Michigan State has won nearly 72% of the games they've played under Izzo, and this year was the Spartans' first season with double-digit losses since going 20-15 during the 2016-17 campaign.
Michigan State has not missed the NCAA Tournament since the 1996-97 campaign when they reached the second round of the NIT.
How much money does Tom Izzo make?
Tom Izzo is still bringing in the big bucks after all of these years at Michigan State.
According to USA Today's coaching database, Izzo ranks near the top among Division I head coaches in his total pay this year. Although his base salary is $3.92 million, Izzo took a pay cut amid the ongoing coronavirus pandemic.
After forfeiting $362,500, Izzo is making roughly $3.6 million this season. Nebraska's Fred Hoiberg leads all Big 10 coaches with a $4 million salary, although Hoiberg took a $100,000 reduction because of the pandemic. 
Kentucky head coach John Calipari leads all coaches with an $8 million salary. Duke's Mike Krzyzewski is receiving just over $7 million in total pay.
Like Sportscasting on Facebook. Follow us on Twitter @sportscasting19.