Tom Landry Led the Cowboys to an Incredible 20 Straight Winning Seasons
The Dallas Cowboys have the strongest brand in the NFL even though the team's on-field results haven't lived up to it in recent years. This brand is built on an impressive legacy of five Super Bowl championships. Every legacy has to start somewhere. While the franchise won three titles in the '90s, their success predates that era. It started with legendary coach Tom Landry. 
Let's look back at Landry's career with the team, where he was before Dallas, and how he revolutionized the game of football. 
Tom Landry's legendary career with the Dallas Cowboys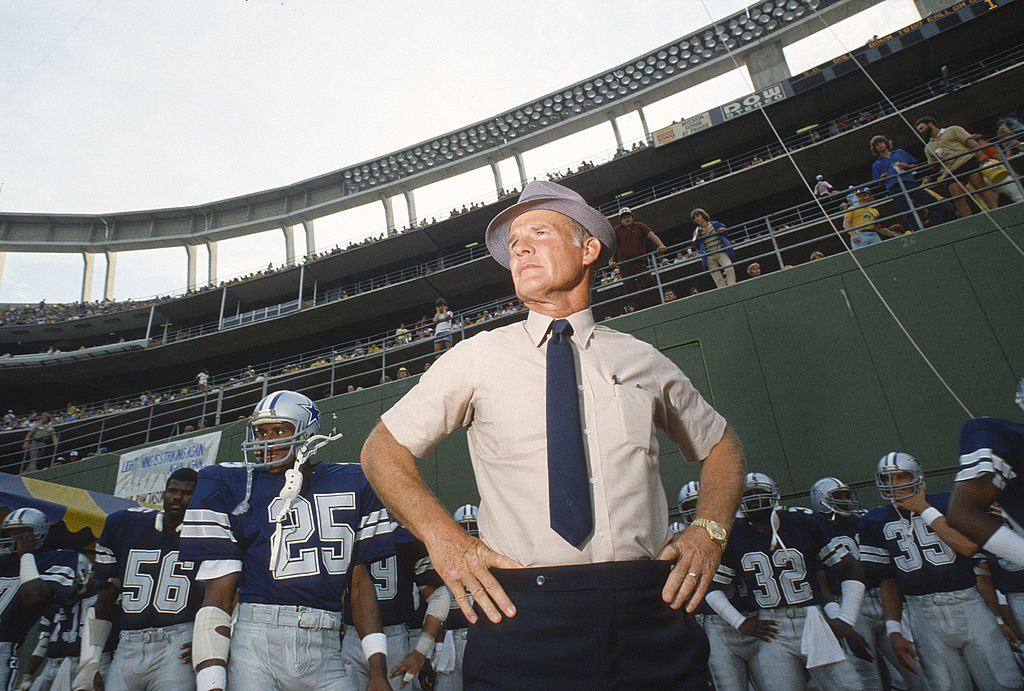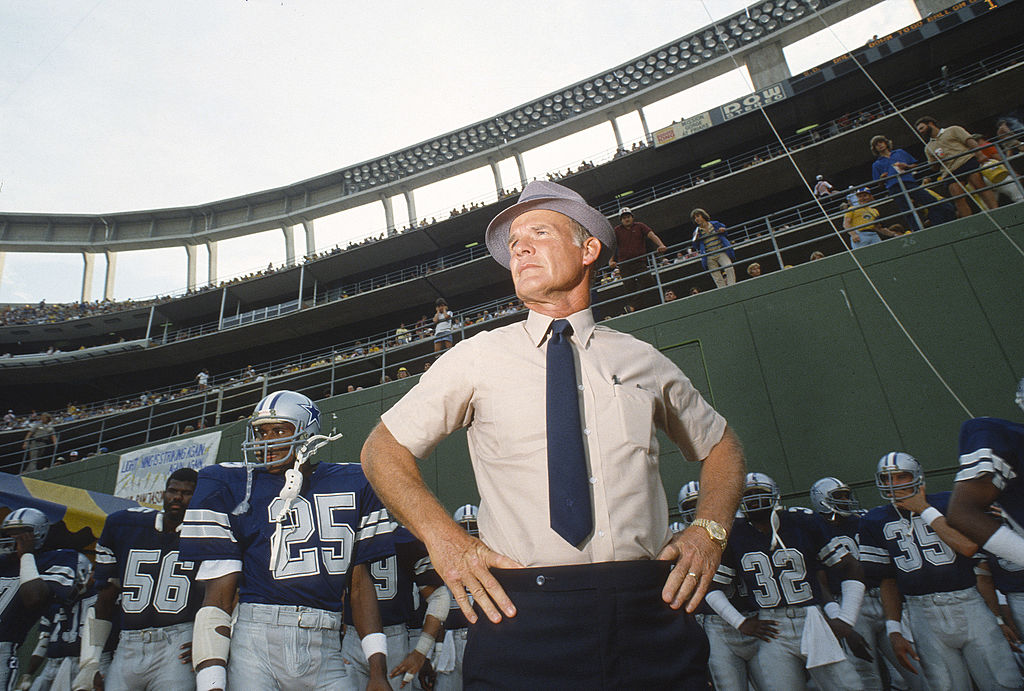 For context on how Landry's run in Dallas began, it helps to look at his successor. In 1989 in his first year as head coach of the Cowboys, Jimmy Johnson led the team to a 1-15 record. This hardly reminded anyone of Landry, though it probably should have.
Landry also began his career with a terrible season, going 0-11-1 in his first year as a head coach of the Cowboys. Landry didn't lead the Cowboys to a record greater than .500 until 1965 when the team went 10-3. 
From there it was a historic run of dominance for Landry. Like Johnson, he rebounded from the team's early struggles to lead them to the top of the proverbial mountain. According to Landry's entry on Pro-Football-Reference, he coached the team for 29 years, leading them to 20 straight winning seasons. Landry led the Cowboys to five Super Bowls, winning two of them. The Pro Football Hall of Fame inducted him in 1990. 
Landry's pre-Cowboys career and philosophy
Landy had a stoic presence on the football sideline. With his trademark fedora and an expression that seemed to be set in stone, he rarely showed any kind of emotion. According to a quote from Landry on his Pro Football Hall of Fame page, this was very much by design: 
"There's no other way for me to work than the way I do, because our whole system demands tremendous concentration. Therefore if you're really concentrating, you show very little emotion at all. I think as soon as a person breaks his concentration as an athlete, he loses his effectiveness." 
If Landry had embarked on a second career as a poker player, no one could blame him. That was how hard it was to read him on the sideline. Prior to joining the Cowboys, Landry had initially played for both the New York Yankees of the All-America Football Conference and the NFL's New York Giants. He had 32 career interceptions. From 1956-1959 he served as a defensive coach for the G-Men. 
How Tom Landry revolutionized pro football
Landry may have seemed like a stern, old school type, and perhaps he was in demeanor. But Landry's quiet, traditional appearance belied an innovative, versatile football mind who was on the cutting edge. An ESPN profile on Landry revealed some concepts Landry innovated that at the time were outlandish but have become commonplace: 
When Landry took over the Giants' defense, he moved them from a 5-2 front to the more commonly accepted 4-3 used today. He essentially created the position of middle linebacker. 
Landry also perfected the shotgun offense and flex defense. Landry often switched up his offensive and defensive alignments during the game, experimenting with different formations. 
After three consecutive losing seasons in the '80s, new owner Jerry Jones let Landry go after buying the team. But even with his unceremonious exit, Landry's mark on the team was undeniable. His unflappable presence on the sideline combined with his fresh approach to the game made for one of the truly great coaching minds in NFL history.