Tom Landry Was So Stubborn He Refused To Join the Cowboys' 'Ring of Honor' for Years
Getting fired is rarely an enjoyable experience, but some take it harder than others. Tom Landry was a successful coach for the Dallas Cowboys, but he was fired under controversial circumstances. Afterward, it took him years to accept a franchise honor he deserved. A chance meeting at a charity golf tournament finally changed his mind. 
Tom Landry was an original legend in Cowboys history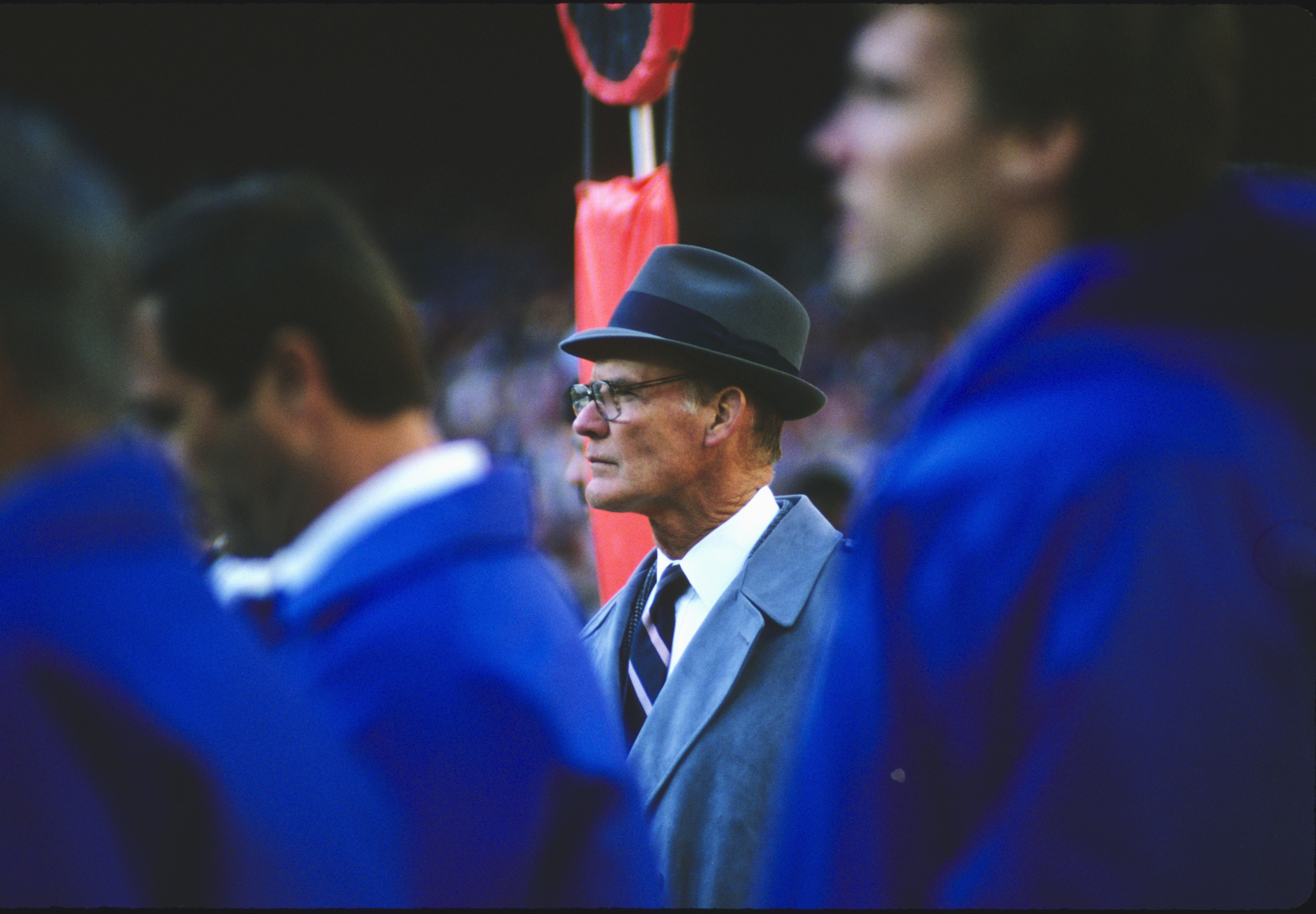 Football is a transient sport. Most players and coaches change teams every few years. This reality is what makes Tom Landry's legacy with the Dallas Cowboys so unique. Few careers are as tied to one franchise as Landry's. He spent the first 10 years of his pro career working with the Giants, both as a player and defensive coordinator for five years each.
But the reason Landry is remembered today is due to his 28-year tenure in Dallas. The accolades speak for themselves: the most wins in franchise history (250), 23 winning seasons, two Super Bowl titles, five NFC championships, and two Coach of the Year awards. But his impact on the game was bigger than numbers. 
Landry invented the 4-3 defense, which was revolutionary and is still used today. His coaching tree also bore fruit. Several NFL head coaches — Mike Ditka, Dan Reeves, John Mackovic, Gene Stallings, and Raymond Berry — had stints as Landry's assistants. His record has little parallel in the sport, but even these accomplishments couldn't save him once the losses piled up. 
A change of ownership ended Landry's career abruptly
RELATED: Here's Why NFL Coaches Wear Sweats, Not Suits, on the Sideline
It is a sad, but true, fact of life: everyone, even the geniuses, eventually become washed. The '80s began well for the Cowboys, making it to the NFC Championship Game three times to start the decade. But Dallas never made it past that hurdle, and they would never get so close to the Super Bowl with Landry in charge ever again. 
They never even won another playoff game with him as the coach. By the end of the 1988 season, which the Cowboys finished 3-13, they had missed the playoffs in four of the last five years, and the number of people criticizing Landry's methods was only getting larger. 
Still, when the sword of Damocles finally fell on him, no one saw it coming. In 1989, the terrifically named Bum Bright decided to sell the team to a businessman by the name of Jerry Jones. One day after Jones bought the team, Landry was fired and replaced by Jimmy Johnson. 
Johnson's time in Dallas was fractious but highly successful. But Landry took the firing hard. He wouldn't attend another Cowboys game in person for four years. 
Why did Landry change his mind and join the 'Ring of Honor'?
Landry refused to accept his place in the Ring of Honor for four years. Understandably, pride got in the way. Landry identified strongly with the franchise — he never coached again after losing that job — and the sight of Johnson winning two championships in a row must've hurt.
The offer never went away, and former players begged him to change his mind. But the events that convinced Landry to accept the honor were charity golf tournaments where coincidentally met Johnson multiple times during the summer of '93. 
So, during the halftime of a November game between the Cowboys and Giants, Landry returned to Texas Stadium and finally got the acclaim he was always meant to receive.  "He represents a higher cause", Jones told the crowd, according to the Dallas News. "He's done it all. This man built this franchise and had it called America's Team."
Landry was already a Hall of Famer by that point, but the cheers of a home crowd always hit different. "This is a much more personal thing," he said after the ceremony. "I got a feeling today in my stomach that I normally don't have. But it felt good to feel that way."