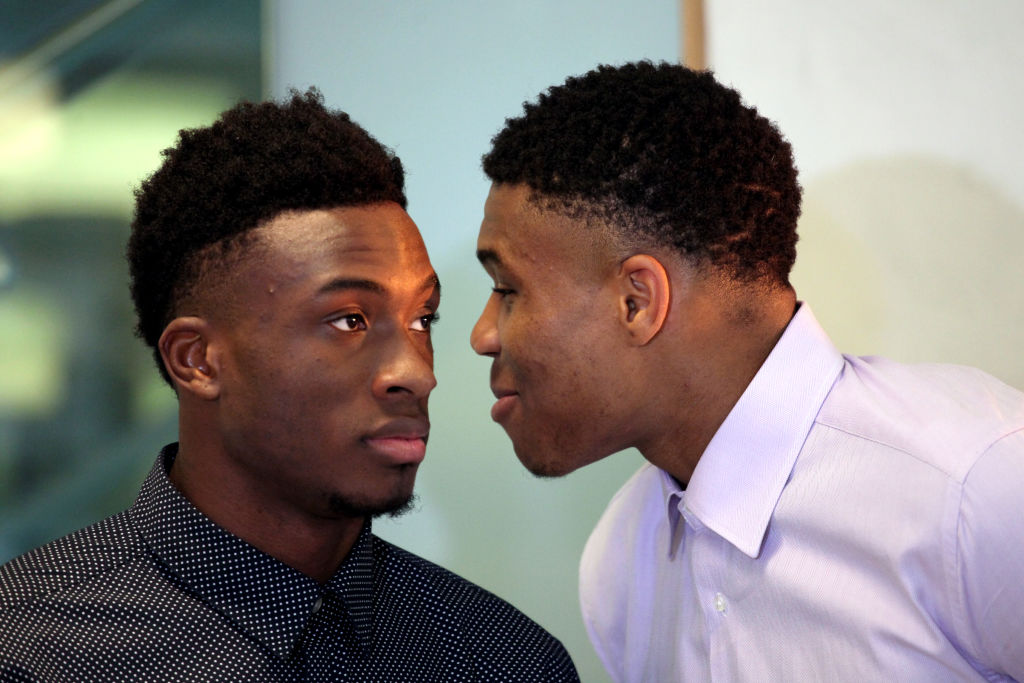 Tonight's Bucks-Lakers Game Will Be an All-Antetokounmpo Brother Affair
When the Los Angeles Lakers and Milwaukee Bucks meet, all three Antetokounmpo brother will be in the building. Who will come out on top?
In the current NBA landscape, there are few names bigger—and longer—than Giannis Antetokounmpo. The young forward can do just about anything every time he steps on the court, but, tonight he won't be the only Greek Freak in the building. While Giannis always plays alongside his brother, Thanasis, the Los Angeles Lakers recently called Kostas Antetokounmpo up from their G-League affiliate.
While all three brothers always want to win, tonight will be a little different. It's not every day that three of the five Antetokounmpo brothers are under the same roof.
Giannis Antetokounmpo's NBA growth
While Giannis Antetokounmpo is one of five brothers, he is easily the biggest name of the bunch. The Greek Freak wasn't always a star, however.
When Antetokounmpo arrived in Wisconsin as the 15th overall pick of the 2013 NBA draft. While the young forward had played a season of professional ball in Greece, there was still an adjustment period. Giannis was clearly talented, but he was still a lanky teenager; during his first year with the Bucks, he only averaged under seven points a game. With each passing season, however, Giannis evolved.
Before long, Antetokounmpo matured, both physically and as a basketball player, before our very eyes. As he grew, his overall game grew, too. During his sophomore NBA season, Giannis' scoring increased to 12 points per game; after another year of experience, his output jumped to nearly 17 points each night. Antetokounmpo claimed his first NBA MVP award last year; his 2019-20 stats are already looking even more dominant. The rest of the league has taken notice; if he hits free agency in the summer of 2021, teams will be lining up for his services.
Who are Thanasis and Kostas Antetokounmpo?
While Giannis is the most famous Antetokounmpo brother, the entire family has plenty of talent. Thanasis and Kostas might not reach the same athletic heights as their more famous sibling, but they're still NBA players.
Thanasis began his basketball career in Greece but came to North America in 2013. He spent a season with the Philadelphia 76ers' G-League affiliate, averaging 12 points per game; that potential was enough to make him the 51st overall pick in the 2014 NBA draft. His career didn't take off, however. Thanasis spent three seasons with the Knicks organization, mostly playing in the G-League, before heading back to Europe. In July, however, he returned to the Association and signed a deal with the Bucks; this season, he's appeared in five games and averages five minutes and 2.8 points per night.
Kostas is younger than Giannis and Thanasis and, consequently, has less professional experience. He played one season of college ball at the University of Dayton, only averaging 5.2 points per game, and then entered the NBA draft. The 76ers selected him with the last pick and promptly traded him to Dallas, where he split time between the Mavs and the G-League. He joined the Lakers organization in July and has been posting decent numbers with the South Bay Lakers; he was recently called up to the big club and should be on the bench for Thursday's game.
Which Antetokounmpo brother will come out on top?
Based purely on star power, the Bucks and Lakers will be a compelling matchup. The former club obviously has Giannis, while the visitors from Los Angeles boast LeBron James and Anthony Davis. What they won't have, however, is any inside information.
Kostas explained that, despite his family ties, he isn't really prepared to provide a scouting report. "I wouldn't really know [how to defend against Giannis]," he said. "I know the way [Giannis] works, but I wouldn't even know what he does with the team."
When the teams hit the floor, Giannis—and technically Thanasis, too—should come out on top. No matter who wins, however, Antetokounmpo brother bragging rights will be on the line.