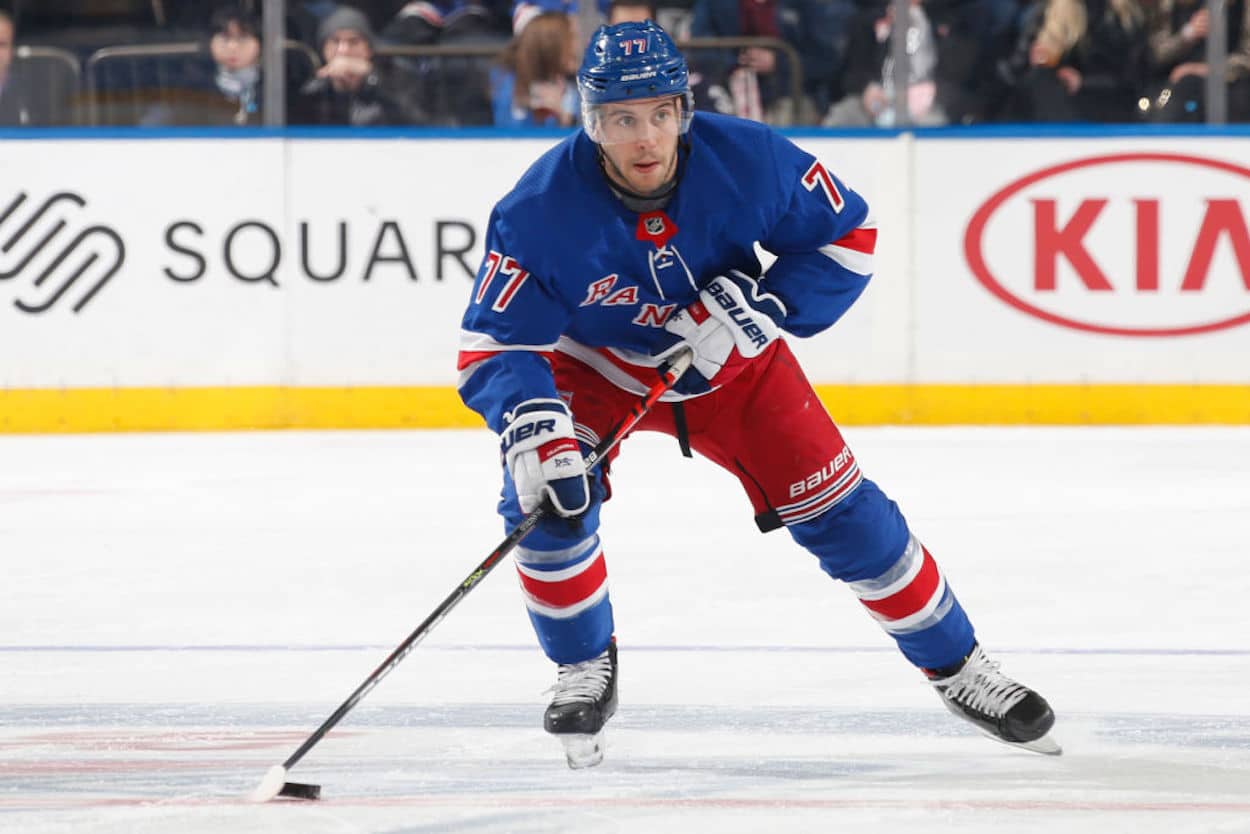 Tony DeAngelo Sounds Like He's Still Playing the Victim by Ripping the New York Rangers
While it's been roughly a year since Tony DeAngelo left the Rangers, the controversial defenseman recently addressed his time in New York.
In the world of pro sports, teams are usually willing to overlook plenty of personal/behavioral issues to accommodate a talented player. Through that lens, there must have been a real problem during Tony DeAngelo's time with the New York Rangers. Despite being one of hockey's more productive defensemen and recently signing an extension, he and the Blueshirts fell out during the 2020-21 NHL campaign. He was eventually waived and found a new home in Carolina.
It appears that time has not healed all wounds.
During a recent interview, DeAngelo addressed his time in the Big Apple and took some shots at the Rangers organization. Those comments, however, are inaccurate to the point that it makes it seem like the new Philadelphia Flyer is actively trying to play the victim and avoid responsibility for whatever went wrong.
Tony DeAngelo takes aim at the New York Rangers during a recent interview
While NHL players are usually pretty unwilling to rock the boat, Tony DeAngelo is an exception to the rule. During a recent appearance on the Cam and Strick Podcast, the defenseman seemed to candidly address the end of his time in New York.
"It is what it is," DeAngelo explained. "I got bought out. I took the brunt of what happened in New York. So I'm not gonna sit here and finger-point at people or whatever, but I would say that's not the way that it shoulda went down. I think that I shoulda just been traded. And then, some of these stories came out in the media that were very inaccurate. You know, for example, the one story came out that I bullied K'Andre Miller, which would allude to racism, right? And knowing that I got suspended in junior.
"It was a completely false story, and I would never ask, I would never ask another player to come out and protect me because I don't need it. I don't want anybody to put themselves in the spotlight, right? But, you know, K'Andre Miller, who's a fantastic young player, and we got along real good. I only knew him for a month and a half, two months. And then you get this reputation painted of you again, and they go back, 'Well, he got suspended in junior,' why wouldn't they believe it? And I didn't like that there was, there was no backup for me from the team. … There was no protection of me, as well."
After that pointed shot at the Rangers, DeAngelo went on to address another piece of the story.
"Last year at the deadline, I offered to terminate my own contract to play again," the defenseman continued. "And then, you know, a story comes out after the deadline when it didn't pan out, 'Oh, the Rangers offered for me to terminate, and then I declined,' which was very inaccurate. I offered it because I wanted to play."
D'Angelo's claims about organizational backup are simply wrong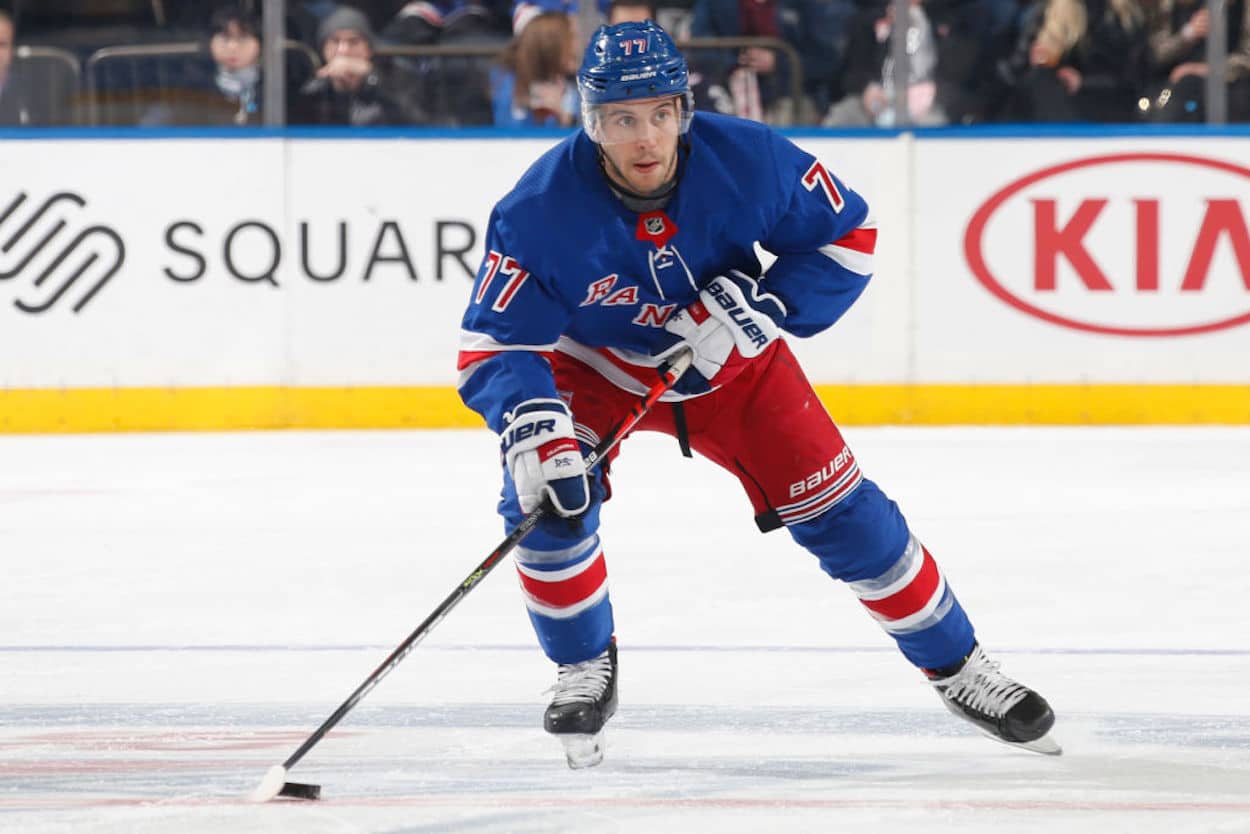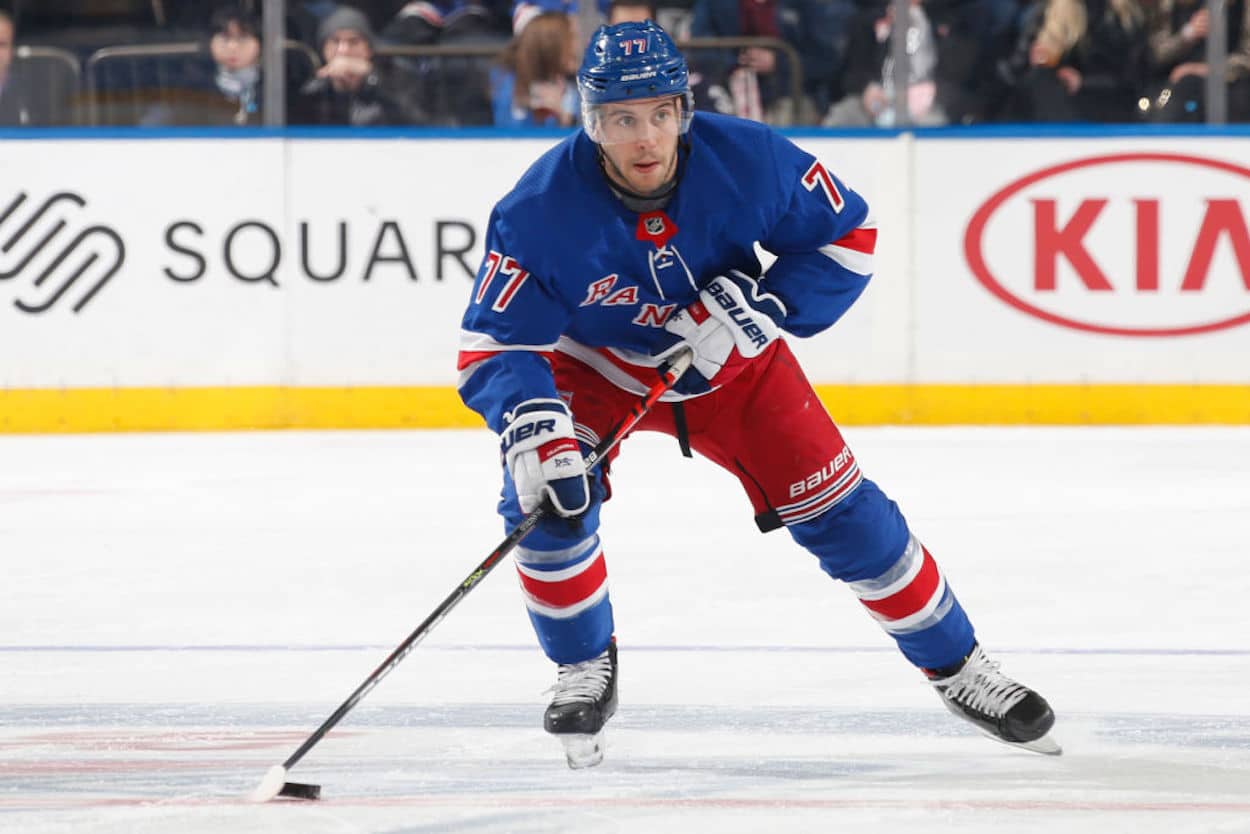 Before we go any further, let's summarize what happened during DeAngelo's time in New York. The defenseman posted a strong 2019-20 campaign and, ahead of the next season, inked a contract extension. Then the problems began.
The defenseman landed in the doghouse after an undisciplined penalty early in the season. That, combined with his track record — DeAngelo, as he alluded to, was suspended in 2014 for using a racial slur (h/t Yahoo Sports), received a three-game ban in 2016 for physical abuse of an official (as seen on Scouting the Refs), and earned some scrutiny for his social media behavior (h/t Mollie Walker) — apparently placed him on thin ice.
As reported by Vince Z. Mercogliano, general manager Jeff Gorton told DeAngelo that one more incident would be the end of the road.
That final straw came in January 2021, when the defenseman and goalie Alex Georgiev reportedly had a physical altercation after a defeat. Some suggested that conflict stemmed from DeAngelo bullying K'Andre Miller — there was a rumor that he took the puck from the rookie's first NHL goal — which was alluded to in the recent interview.
Still with us? Good, because now is where the information starts to clash.
During the podcast appearance, DeAngelo said the Rangers didn't back him up or otherwise protect him. Checking the receipts, however, will show that isn't the case.
As ESPN's Greg Wyshynski tweeted on Tuesday, the Rangers and Miller's agent confirmed that there wasn't an issue between the two players. Rangers president John Davidson also made an official statement (shared at the time by Wyshynski) in which he literally called the rumor "misinformation" and said that there was "no truth to it whatsoever."
If that isn't backup from an organization, especially by NHL standards, I'm not sure what else it could be.
Also, on the contract termination front, Darren Dreger fired off a tweet in April 2021 reporting that DeAngelo was unwilling to terminate his contract to join the Canadiens. While there's no way to prove that statement right or wrong, the TSN insider is generally regarded as one of the most reliable sources around, especially on the contractual side of things.
The entire soundbite makes it feel like DeAngelo still doesn't get it
At this point, the Tony DeAngelo saga has more or less resolved.
After spending the remainder of that campaign in the press box, he hit waivers and joined the Carolina Hurricanes. Following a productive season, he was traded to Philadelphia and promptly inked an extension. While that move was met with some social media criticism, the defenseman is still making millions of dollars to play in the NHL. He hasn't been "canceled" in any way.
So why circle back to things in New York? Without being inside DeAngelo's head, it feels like a play to shift the narrative and paint himself as the victim. In his telling of events, he was thrown under the bus by the Rangers and loves playing hockey so much that he was willing to buy out his own contract to get on the ice.
We've already addressed his claims about the Rangers, and while the contract termination part is certainly possible, it feels like a morality play — Look, this is how much I love hockey! — especially when it's shared after the fact.
Let's get one thing clear, though: Regardless of what did or did not happen in New York, the Rangers clearly took issue with DeAngelo's behavior. No NHL team is going to throw away a 53-point defenseman just for the fun of it. Even if there were some inaccurate rumors flying around, the defenseman made his own bed and simply had to lie in it.
During the podcast interview, DeAngelo was sure to insist that the entire Rangers situation "is what it is." The content of his statement, however, makes it sound like he doesn't genuinely believe that.
Like Sportscasting on Facebook. Follow us on Twitter @sportscasting19 and subscribe to our YouTube channel.