Tony Dungy Is Disappointed With the NFL's Newest and Dangerous Trend: 'My Objection Is Just Personal'
Longtime NFL head coach Tony Dungy is already in his 13th season with NBC Sports, and his job on Football Night in America during that time has been relatively simple. He, along with the likes of Mike Tirico and Rodney Harrison, break down the earlier games and talk about what's to come that night.
Although most of the standard formula remains the same, FNIA and other pregame shows have made a significant format change in recent years. Consider Dungy, who won a Super Bowl coaching the Indianapolis Colts, among those who are extremely unhappy with a current trend.
Tony Dungy isn't pleased about the NFL embracing gambling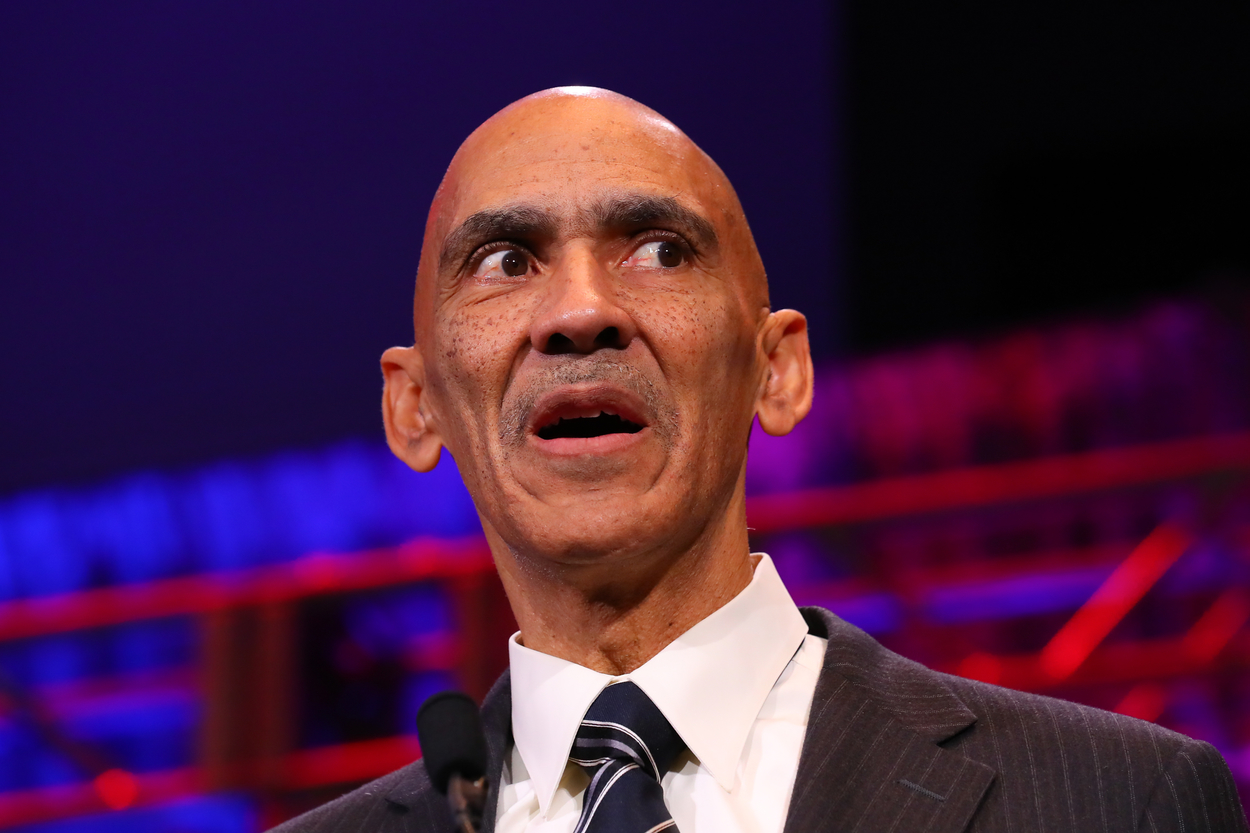 Even if you've been living under a rock, you know that the NFL and other professional sports leagues have embraced legalized sports gambling in recent years. There's some type of promo code out there advising fans to bet on when you'll come out from the boulder and rejoin civilization.
NFL pregame shows openly discuss odds and prop bets, categories considered extremely taboo as recently as the late 2010s. Teams have partnered with gaming companies and casinos to the point where Caesars Entertainment now sponsors the Superdome, the longtime home of the New Orleans Saints.
Legalized gambling isn't for everyone, and that includes Dungy. In a recent interview with The Athletic, the veteran NBC analyst acknowledged he's not pleased with the NFL's changed attitude on gaming. The Super Bowl-winning head coach reflected on being told to stay far away from bookies and betting during his playing days.
"I don't know why the NFL changed its stance, and my objection is just personal. I don't think we should encourage people who are watching the NFL to gamble, especially young people. I've got boys, and I want them to enjoy the game for what it is, the headiness of it and those kind of things. … I know it's legal. I just don't want to see the NFL promoting it."

Tony Dungy
One could, and just might, call the Pro Football Hall of Fame coach out of touch. However, he's not the only NBC Sports employee expressing concern about what the league's gambling connections could cause in the coming years.
Al Michaels, his NBC Sports colleague, also advised caution
For decades, Al Michaels made thinly veiled gambling references during a broadcast. If a team scored a garbage-time touchdown that impacted the spread or the over/under, the legendary play-by-play voice alluded to it without getting too specific.
Depending on the network, broadcasters will have more freedom in acknowledging prop bets and closing lines over the next few years. For his part, the 76-year-old Michaels told The Athletic he doesn't think it'll be "as much fun" speaking so brazenly about gambling.
Like Dungy, Michaels also brought up the possibility of increased gambling discussions and promotions creating issues for fans at home.
"It's fun when you go bet $25 on a game, and you have a little bit more interest in it, that's fine. I think where some could run into trouble, you start betting on every play, and look out; the next thing you know, they'll foreclose on your mortgage. Hopefully, we don't get to that point."

Al Michaels
According to The Recovery Village, as many as 10 million Americans lived with a gambling addiction as of November 2020.
Professional sports leagues will need to be extremely cautious about gambling going forward
In the mid-2010s, daily fantasy games found themselves rising in popularity. DraftKings and FanDuel began advertising during NFL games and eventually landed sponsorships with various leagues and regional sports networks.
As long as legalized sports gambling exists and allows for teams and leagues to make money, it's not going away. ESPN has experimented with gambling-centric alternate broadcasts, while the NFL Network — a league-owned entity — recently added spreads to its bottom ticker.
Leagues and networks will need to exercise extreme caution, much like how they already do with alcohol products. Every commercial read about Bud Light sponsoring a pitching change or a postgame show being "delivered" by Heineken contains a loud and clear reminder that customers should drink responsibly.
The same needs to happen with regards to gambling. A segment on an NFL pregame show about that day's spreads should always involve a reminder about responsible gambling and even refer viewers to a helpline. It's a safe gesture which could save lives.
Unfortunately for Dungy, the new gaming-friendly era of the NFL is here to stay. But if the leagues can also promote responsible gambling, the controversial and challenging transition might become slightly more bearable.
How to get help: In the U.S., contact the National Council on Problem Gambling helpline at 1-800-522-4700.
RELATED: Jimmy Johnson and Tony Dungy Are Playing a Major Role in the Future of the Houston Texans