Tony Dungy Reveals He Enjoys Watching Peyton Manning Show Off His Skills on the Manning Cast: 'It Plays to Fans Like Me'
Tony Dungy spent seven seasons coaching one of the greatest quarterbacks in NFL history. Now, he's a fan of him. Peyton Manning has done well for himself post-playing career. His latest endeavor, the "Manning Cast," has drawn mixed reviews. However, Manning's former coach believes the one-of-a-kind broadcast is great for the game.
Tony Dungy believes the Manning Cast is a hit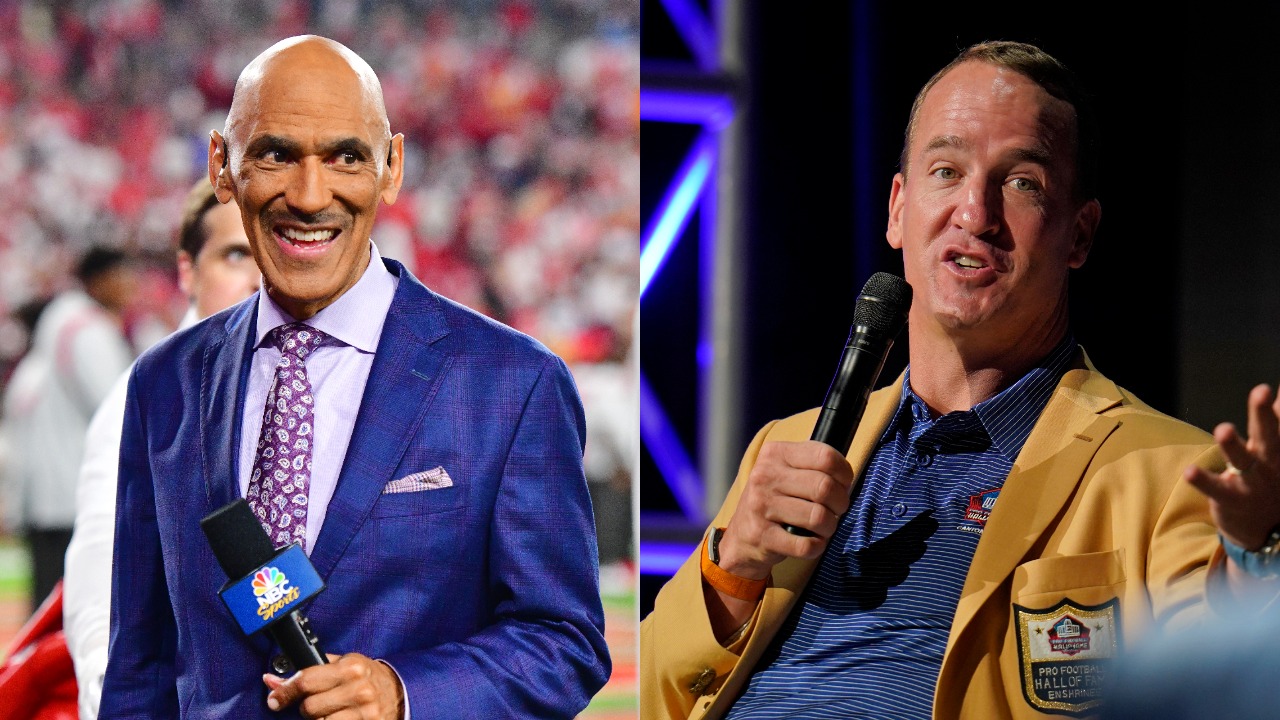 When ESPN brought in Peyton Manning and Eli Manning to host the Manning Cast, it was unclear what to expect. However, the early returns have been impressive.
In a recent interview on The Rich Eisen Show, the Hall of Fame head coach weighed in on the success of the new Monday Night Football broadcast option.
The former Tampa Bay Buccaneers and Indianapolis Colts coach started by admitting that his wife prefers to watch the traditional ESPN broadcast over the Manning Cast.
"She wants to know what down and distance it is and how much time is left in the game," said Dungy. "Sometimes you don't get that on the Manning Cast. She's a traditionalist."
On the other hand, Dungy actually enjoys watching the Manning brothers chop it up during games.
"It's definitely a different style that people gravitate to," said the NBC Sports analyst. "This really plays to a lot of people. Fans like me who can watch the game and see what's happening in the background and listen to him and the guests. Get entertained and get information, and still watch the game."
No matter what side of the spectrum you fall on, the Mannings are an undeniably huge draw.
Peyton Manning's personality is shining through
Peyton Manning is most famous for carving up NFL defenses. He enjoyed a 17-year career doing just that. However, football isn't the only thing he's good at, apparently.
Since he retired from the league in 2015, the Hall of Fame quarterback has found ways to keep himself busy. Manning has become one of the most marketable figures in all of football.
In his time, Manning has hosted Saturday Night Live and the ESPYs. He currently hosts Peyton's Places, an ESPN documentary through which he interviews players, coaches, and celebrities.
The Manning Cast is the 5-time MVP's latest successful venture.
Manning's unique personality has helped open doors for him even though his playing days are over.
"Peyton could be an exceptional color commentator on just a regular broadcast," said Tony Dungy. "He can certainly do this. He can do it kind of any way you want."
Manning's personality really comes out when he's behind the camera. Whether he's harshly critiquing a poor play or snacking, he and Eli Manning have made for quality television.
In the Manning Cast, ESPN has found a unique way to provide fans with an alternative to simply X's and O's.
ESPN seems to be finding a niche with non-traditional coverage
Tony Dungy believes the Manning Cast is a brilliant idea and great for the NFL. He also believes that Peyton Manning is the perfect person to lead the charge. That's high praise coming from a former coach who's also enjoyed a successful sports media career since he retired.
"It plays to a niche of people, but I think he's really good at it," he said.
ESPN is tapping into a market that many other networks haven't thought of catering to. The numbers have shown there's a hearty appetite for this type of content, too.
The Manning Cast reached 800,000 viewers in its opening broadcast, per CNN. The Manning brothers have since averaged over 1 million viewers weekly.
With the broadcast airing on ESPN2, there's seemingly some competition for views. However, Monday Night Football's ratings are up from 2019 and 2020.
Peyton Manning and Eli Manning are larger-than-life former athletes who the casual football fan would recognize. They need to be, or else the alternate broadcast likely wouldn't be such a big hit.
ESPN is doing things the right way, and the NFL has benefited tremendously from the Manning Cast on Monday nights.
All stats courtesy of Pro Football Reference