Tony Gonzalez Calls Out Critics Who Slam His Lack of a Super Bowl Ring: 'Screw You. You Don't Understand the Game'
Throughout 17 NFL seasons, Tony Gonzalez established himself as arguably the greatest tight end to ever play the game. He possessed the perfect blend of athleticism and durability, with an uncanny knack for hauling in virtually any pass coming his way. In 2019, Gonzalez's career achievements even landed made him a first-ballot Hall of Famer.
Yet as impressive as Gonzalez's resume is, it lacks a distinguishing feature of a top-tier player: a Super Bowl win. To this day, critics still highlight it as the only missing piece in Gonzalez's career. Let's look at the tight end's greatest accomplishments, his postseason record, and what he has to say about his lack of a Super Bowl ring.
A tight end for the ages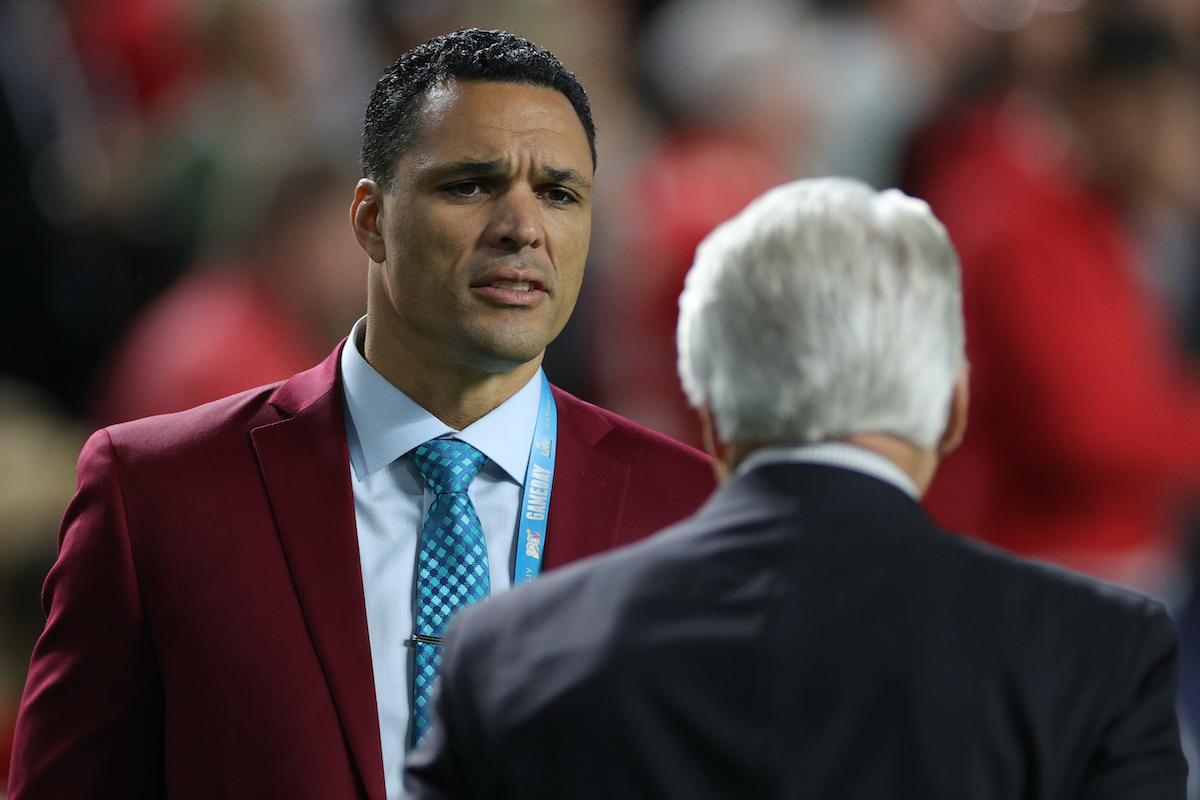 RELATED: Tony Gonzalez Recalls the Bully He Never Confronted
The Kansas City Chiefs drafted Gonzalez with the 13th pick of the 1997 NFL Draft. He steadily improved in his first two seasons in the league, before notching his first Pro Bowl and First-team All-Pro selections in 1999. He repeated that feat in each of the two following seasons. In 2000, he racked up a then career-best 1,203 yards on 93 receptions.
By his final year in 2013, Gonzalez had secured a total of 14 Pro Bowl appearances, six First-team All-Pro, and four Second-team All-Pro selections. Statistically, he had his best season in 2004, catching 102 receptions for 1,258 yards — both career highs. After twelve seasons, the Chiefs traded Gonzalez to the Atlanta Falcons, where he continued to put up productive numbers until retiring in 2013.
Gonzalez redefined what was possible for a tight end in the NFL. He set countless franchise records with the Chiefs, and also dominates the NFL record books at his position, leading all tight ends in career receptions, receiving yards, and 100-yard games. Even more impressive, he ranks third all-time in career receptions among all players, trailing only Jerry Rice and Larry Fitzgerald.
Tony Gonzalez's postseason career
RELATED: Tony Gonzalez's Brother Saved His Life and Made Him Play Football
Gonzalez was dogged by a lack of playoff success. To be fair, he didn't get that many chances. In his 12 seasons in Kansas City, Gonzalez's Chiefs teams made it to the playoffs just three times. In his rookie year, the Chiefs faced off against John Elway's Denver Broncos in the Divisional Round, losing 10-14. Gonzalez caught three of seven pass attempts for 26 yards, including one touchdown.
The Chiefs didn't make the playoffs again until 2003, losing the Divisional Round to the Indianapolis Colts, 31-38. Gonzalez caught all four of his passes for 55 total yards. In 2007, the Chiefs faced the Colts again, this time in a Wild Card game which Indianapolis won, 23-8. Gonzalez caught four of eight passes for 25 yards, with one touchdown.
Gonzalez also made it to the playoffs three times with the Falcons. Atlanta lost the Divisional Round in 2010, and then the Wild Card in 2011. Then, in 2012, the Falcons secured a 30-28 Divisional Round win over the Seattle Seahawks, reports CBS Sports. In that game, he caught six of seven pass attempts, for 51 yards and one touchdown. In the next round, the Falcons then lost the NFL Championship against the San Francisco 49ers.
Tony Gonzalez's response to critics
The Falcons' Divisional Round victory over the Seahawks was Gonzalez's only playoff win. His total postseason record stands at 1-6. While he did manage to dodge a bullet by coming away with at least one win, he never managed to make a Super Bowl appearance, let alone win one.
Gonzalez was apparently thinking a lot about that failure during his final season in 2013. In an interview that year with Sports Illustrated, Gonzalez opened up about his lack of a championship ring, saying:
"There is no way that should define me as a player, and nobody can ever tell me differently. If, down the road, someone says about me, Well, he never won the big one — he never won the Super Bowl, I will say to them, Screw you. Just screw you. You don't understand the game. You don't understand me. I will absolutely not allow anyone to let my career be denigrated because of that."