Tony Gonzalez's Brother Saved His Life and Made Him Play Football
Tony Gonzalez is easily one of the top five Latino players to ever play in the NFL. He also has a great case for being one of the best tight ends to ever play the game. This clearly takes a huge amount of dedication and effort. Yet for much of his youth, Gonzalez didn't want to play football at all.
He was often exhausted by the struggles of his young life. Depression and anxiety dragged him down. In the NFL, Gonzalez was often self-motivated, putting in more than what the Kansas City Chiefs and Atlanta Falcons expected. But to get there, he borrowed determination from someone else: his brother Chris Gonzalez.
A strict upbringing challenged brothers Chris and Tony Gonzalez
The Atlanta Journal-Constitution reports that the Gonzalez boys grew up under tough circumstances. They were often alone while their mother Judy worked multiple jobs to provide for them. Chris loved football — he was obsessed with it by Tony's account — but he faced a problem. He couldn't play it himself.
A car accident left Chris unable to join his school's team. An oncoming car nearly hit 5-year-old Tony, and 7-year-old Chris shoved him out of the way, taking the hit himself. Knocked unconscious, Chris had a broken leg that never healed quite right. Football would remain a spectator experience for Chris.
But Tony, at a glance, was perfect for actually playing the sport. That led Chris to his second problem: Tony wasn't actually all that interested in football. In fact, he was often downright annoyed by it.
Chris helped Tony with his depression
RELATED: What Is the NFL's 'National Tight Ends Day?'
An Arrowhead Pride profile on Chris and Tony illustrates the often fraught relationship between the two deeply dedicated brothers. Tony, initially, was just apathetic toward the idea of becoming a professional athlete. Despite his obvious natural gifts, it took immense pressure and coaching from Chris to play at all.
As Tony entered his teenage years, he found himself dogged by depression. His energy for the game was sapped, leading to anxiety on most days when he drove to practice. It was Chris who pushed Tony through, variously encouraging him as well as intentionally trying to anger him. He wanted his brother to feel the game the way he did, to find his buried emotions and put them on display on the gridiron.
The seeds Chris planted bloomed into something fierce. During Tony's college years, he fumbled on a crucial play. The ball was turned over, leading directly to a scoring play. His University of California, Berkeley team lost that game, and he was the easy person to blame. Instead of the apathy of his high school days, the loss burned in him. He resolved — with Chris' encouragement — to never let his teammates down like that again.
Chris and Tony's difficult post-NFL relationship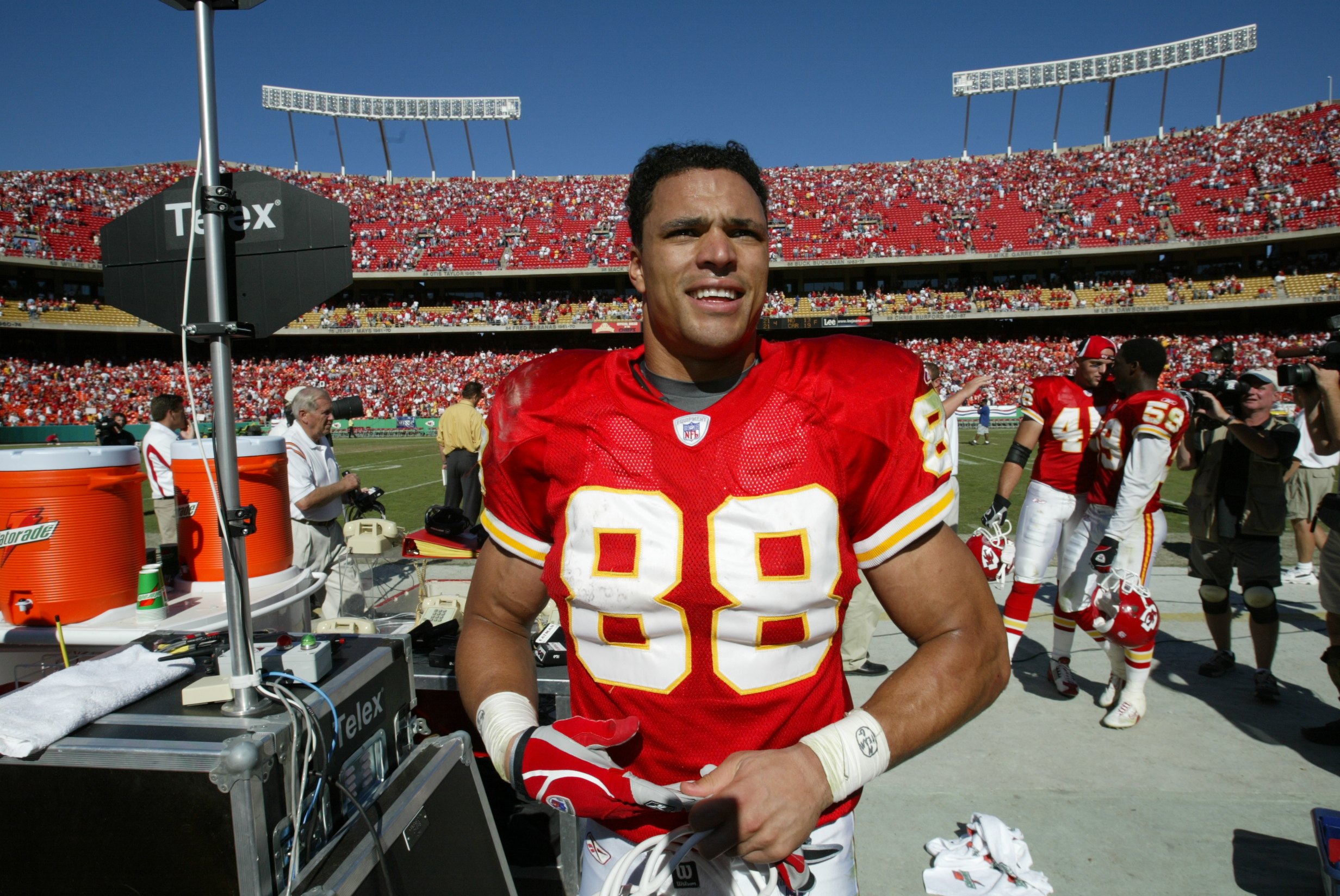 RELATED: Tony Gonzalez Recalls the Bully He Never Confronted
Pro Football Reference spells out just how potent Tony was in the NFL, as a 14-time Pro Bowler. For someone not fully committed to his craft until well into college, he made a massive mark on the tight end position in the NFL. Chris continued to serve as Tony's mentor, cheerleader, and confidant throughout.
That changed after Tony's NFL career wound down in 2013. After a lifetime of Chris living out his NFL dreams via Tony, the two suddenly lost their main way to communicate. Entertainment Weekly reported on their falling out, which they don't discuss in detail in public. A Showtime documentary, Play It Forward, covers this fraught period and ends with the two making amends.
The Pro Football Hall of Fame enshrined Tony in 2019. Now, he works regularly as a sports commentator. Chris, now reconciled with Tony, is seeking purpose outside of football. After putting his life on hold to guarantee Tony's success, the two are now figuring out what comes next for their family.