Tony Hawk's Greatest Achievement Was Just Outdone by an 11-Year-Old
If you've ever heard of skateboarding, you've likely heard of Tony Hawk. He's the person most people associate with skateboarding. But there's a reason so many people link him to the sport: he has more accomplishments than any other skater in history along with being a success as a pitchman and video game developer.
There's one accomplishment that Hawk took years to achieve that he recently saw bested by an 11-year-old boy. This is the story of how that happened.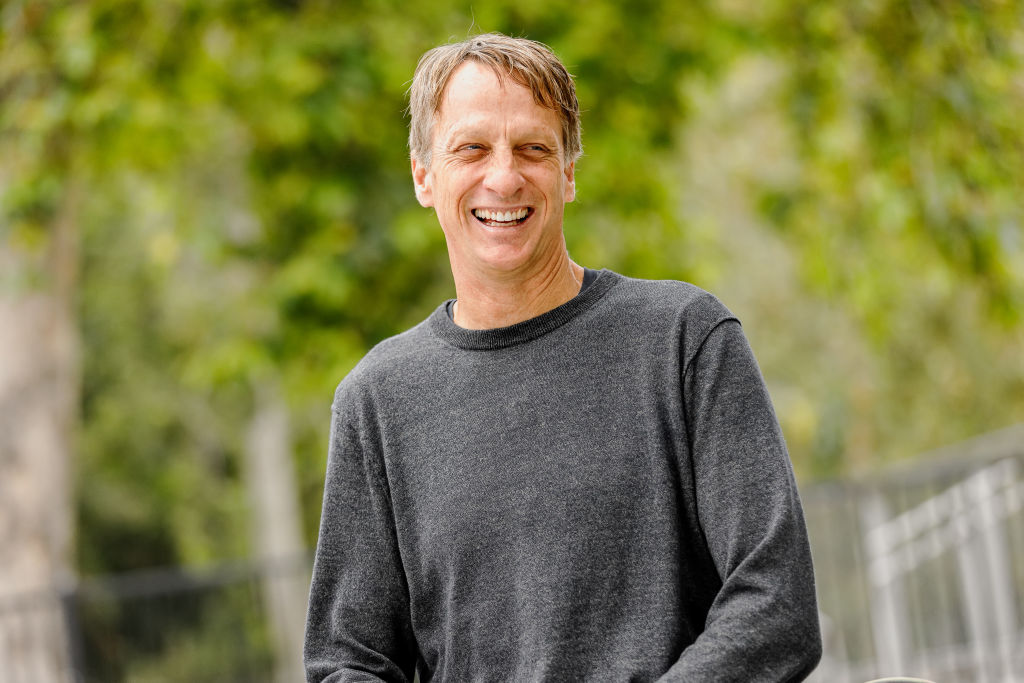 Who is Tony Hawk?
According to Biography.com, Hawk is one of the world's top skateboarders. He achieved early success at the young age of 16 and never looked back. Over the course of his career, he's won more than 70 skateboarding competitions.
Along with being a successful skater, he's also a cunning entrepreneur. Hawk operates his own skateboarding company known as Birdhouse. On top of that, he's developed skateboarding videos as well as video games.
Additionally, he has a charitable side: with his Tony Hawk Foundation, he helps connect low-income areas with the funds they need to build new parks.
The history behind Tony Hawk's 900
RELATED: Michael Phelps' Rumored Ex Said He Was 'Worse Than Charlie Sheen'
The 900 is considered one of the hardest maneuvers to pull off in skateboarding. The move consists of pulling off a halfpipe in the air, rotating 900 degrees, then landing with his feet still on his skateboard. According to the New York Times, the move had never been completed before 1999.
That was true until June 27, 1999, when that year's X Games were held in San Francisco.
Hawk, 31 years old at the time, had been attempting the move for almost 10 years prior. For all his accomplishments in skating — and none were more accomplished, especially at the time — this was his "white whale" to put it into literary terms. During his chase, he'd suffered a number of injuries including:
Missing teeth
A broken rib
Back injuries
Multiple concussions
Think about the punishment Hawk absorbed over a decade trying to achieve this. After all the cuts, injuries, and bruises, Hawk finally did it.
Recently, he watched someone else complete an even more impressive feat — an 11-year-old, in fact. Hawk wasn't just alright with that, he actually supported the young skateboarder.
His greatest achievement was outdone by an 11-year-old
RELATED: Bam Margera Talks About His 'Mental Breakdown' With Dr. Phil
The boy's name is Gui Khury. The boy's father realized his son had incredible talent and encouraged him to skateboard from an early age. First growing up in southern California, they'd later move to Brazil.
The family knew he had skills when he landed a 540-degree turn at the age of 7. Khury took advantage of the pandemic closures to practice non-stop, full time to practice.
He attempted a 1080 and was able to do it after 10 attempts. No one who knows him was shocked to hear about this — in fact, he's been able to complete another 1080 (or three full turns before landing) since the quarantine began.
Hawk has skated with the boy in the past and encouraged him on his pursuit. According to his interview with the New York Times, the greatest honor was being able to receive approval from Hawk, one of his skating role models:
"It's all a dream…One of the best things about skateboarding is hearing your heroes say: 'Hey, what a nice trick. Congratulations.' "
As for Hawk? He considered himself fortunate to even know the kid.
"I feel very lucky to bear witness to this new generation and participate at the same time…I'm way older, they could pass me as a washed up skater."
Hawk may not be as young as he used to be (though the same could be said for anyone), but few skaters would think of him as washed up. They'd likely refer to him as one of the greatest innovators in modern skateboarding.