Tony Parker Proved He Was the Worst Teammate Ever With Backstabbing Cheating Scandal
Tony Parker is a Spurs legend. The point guard had such an indelible role in San Antonio's biggest era of success that his number was retired in 2019. Parker's role in four of the organization's five championships means he'll forever live in the hearts of Spurs fans.
However, there was a period where things didn't look so rosy for the athlete. In fact, the Spurs almost traded Parker. None of it had anything to do with his play or behavior on the court; he'd had a big role in pushing the team to a division title the year before. It was entirely about his cheating and how it impacted one teammate in particular.
Setting the stage for Parker's place on the 2010 Spurs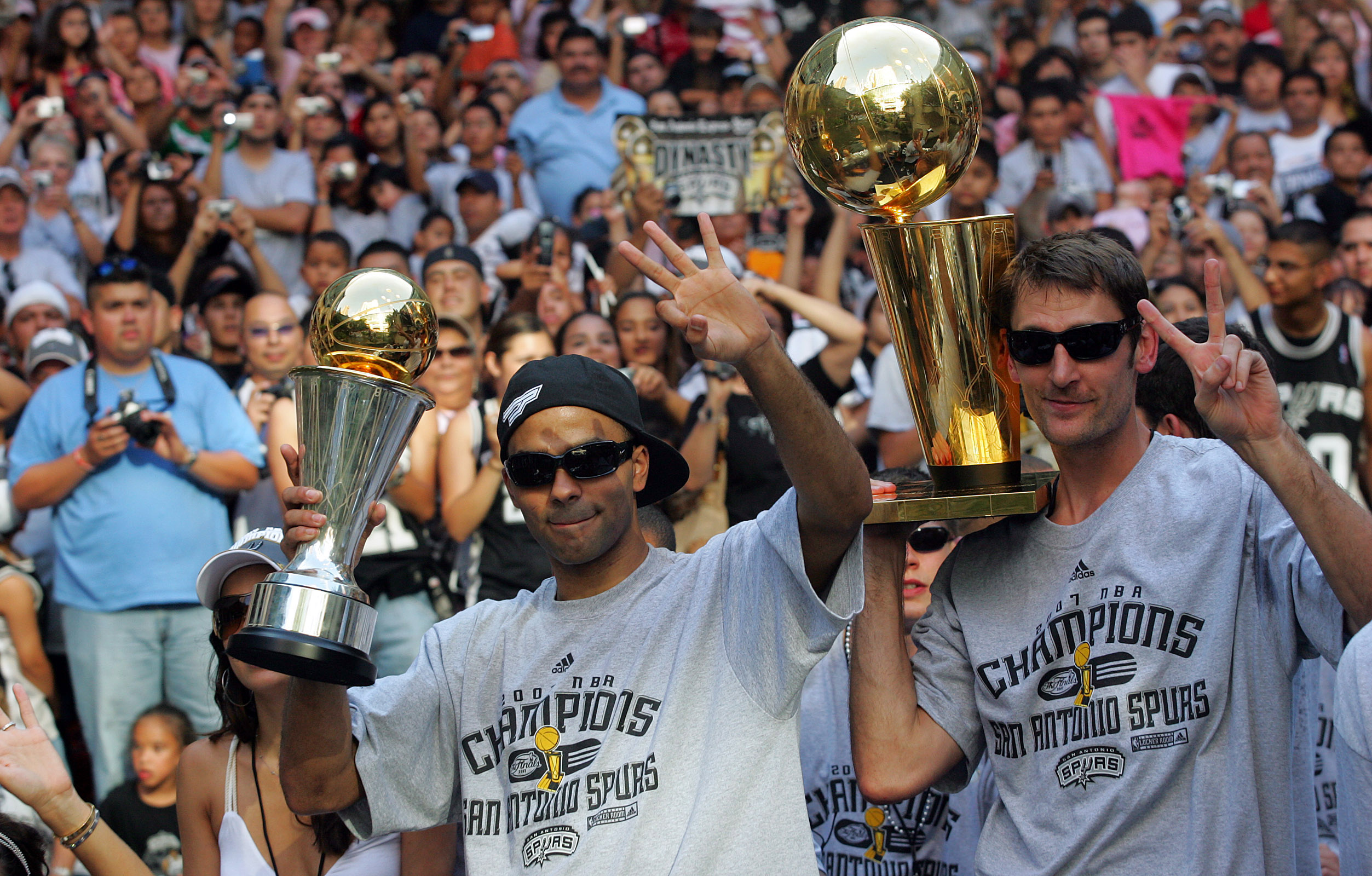 The Spurs organization had its eyes on Parker before formally drafting him in 2001. According to JockBio, he was invited to the team's summer camp to show off his skills. Gregg Popovich didn't like what he saw. The 6-foot-2 kid from France fell apart against then-Spurs scout and former player Lance Banks. 
So Popovich watched Parker's game tape that originally interested the organization. It prompted him to invite the young point guard back to camp. Pop liked what he saw and pushed to pick Parker. By 2003, the team had a Finals-winning roster.
Parker's shooting improved rapidly after his initially shaky years, according to Grantland. His jump shot improved from 34.5% to 45.5% between 2005 and 2009. Every hole in his game as a young player seemed to resolve as he matured, making him a crucial piece alongside quiet superstar Tim Duncan.
Tony Parker's cheating scandal threatens the Spurs
RELATED: Gregg Popovich Once Wined and Dined His Way Into Drafting Manu Ginobli
For Parker, 2007 was a banner year. In peak form, he helped the Spurs push past LeBron James' Cavaliers in the NBA Finals. A few months later, he and actress Eva Longoria married, People reports. That instantly pushed Parker to a level of celebrity outside the game, a focus that intensified as Duncan avoided the spotlight.
Parker was close with many of his teammates but spent a lot of time with shooting guard Brent Barry in particular, according to the New York Daily News. Longoria, a Texas native, enjoyed showing other Spurs couples around the region. The actress became close friends with Barry's wife Erin Barry. At this point, Brent was no longer playing with the team but still spent time with Parker and Longoria.
Erin was Brent's high school sweetheart. Apparently, the time between the four led to something more between Erin and Parker. The Huffington Post reported that the two began sending sexually-charged texts to one another, although they never got physical. Longoria discovered the texts and publicly announced her reasons for divorcing Parker.
How Parker recovered from his public mistakes
RELATED: San Antonio Spurs Announcer Witnessed Dozens of Executions in Previous Job
Brent and Parker immediately went from close friends to tense rivals as both experienced divorces. According to Clutch Points, Brent was still very close to many people in high places in the Spurs organization. This included players, staff, and even Popovich himself.
The personal affront to so many of the people Parker had to work with meant a trade would've been a serious consideration — except for one wrinkle. Parker had just signed a four-year, $50 million extension to stay in San Antonio, as Fox Sports reports. It was a lucky break for the beleaguered point guard.
Brent's end to his 12-year marriage disturbed the Spurs organization. But ejecting Parker from the squad was nearly impossible. Once tensions cooled, they likely felt better about working past the drama, however. The Spurs won another title with Parker on board in 2014.