Tony Romo Is Blown Away by Justin Herbert, Sends Strong Message About the Rookie QB
There have been some pretty impressive rookies so far during the 2020 NFL season, but one of the most impressive has been Justin Herbert, the quarterback for the LA Chargers. Herbert has already proven that he is the real deal and that he has an incredible amount of potential. He recently received some big-time praise, too, and it came from a quarterback legend. That legend was former Dallas Cowboys star Tony Romo.
Justin Herbert had an incredible college career
RELATED: Justin Herbert's New $67,200 Running Back Is Breaking Out After a Horrific 2019 Season
Prior to entering the NFL, Justin Herbert was an excellent quarterback in college at Oregon.
In 2016, Oregon was not a good team, but Herbert proved his potential, as he threw for 1,936 yards, 19 touchdowns, and only four interceptions. Herbert then continued to play well in 2017, as he threw for 1,983 yards, 15 touchdowns, and five interceptions, but he became a star in 2018.
During the 2018 season, Herbert threw for 3,151 yards, 29 touchdowns, and only eight interceptions. Oregon was also much better that year than they were in previous seasons, too, as the Ducks went 9-4 and won a bowl game over Michigan State.
Herbert then had an even better year during his final season at Oregon, as he helped his draft stock in a big way. He threw for 3,471 yards, 32 touchdowns, and six interceptions. Oregon had an excellent season, too, as Herbert led them to a 12-2 record and a win in the Rose Bowl over Wisconsin.
For his career, Herbert threw for 10,541 yards, 95 touchdowns, and 23 interceptions. He also became Oregon's all-time leader in completions with 827 and pass attempts with 1,293, according to his Oregon bio.
He has had an excellent start to his NFL career
RELATED: As Justin Herbert Shines, Tyrod Taylor Keeps a Positive Attitude
Herbert's play in college led to the LA Chargers selecting him with the No. 6 overall pick in the 2020 NFL draft.
He has since had an excellent start to his career with the Chargers. In his first career start, Herbert threw for 311 yards. He then threw for 330 yards in his second start. Herbert has since thrown for 2,699 yards, 22 touchdowns, and six interceptions for the Chargers in nine starts. He has done it all on 238-of-350 passing, too.
According to CBS Sports, Herbert is on track to set rookie records for attempts, completions, completion percentage, passing touchdowns, and passing yards.
He has gotten high praise from his teammates, too.
"We knew he was probably the future," Chargers tight end Hunter Henry said, according to Sports Illustrated. "Then he just kind of exploded on the scene just the way he handled the huddle. The leadership, in a quiet way is awesome. It's exciting to see him kind of blossom into what he's going to be."
Tony Romo is blown away by Justin Herbert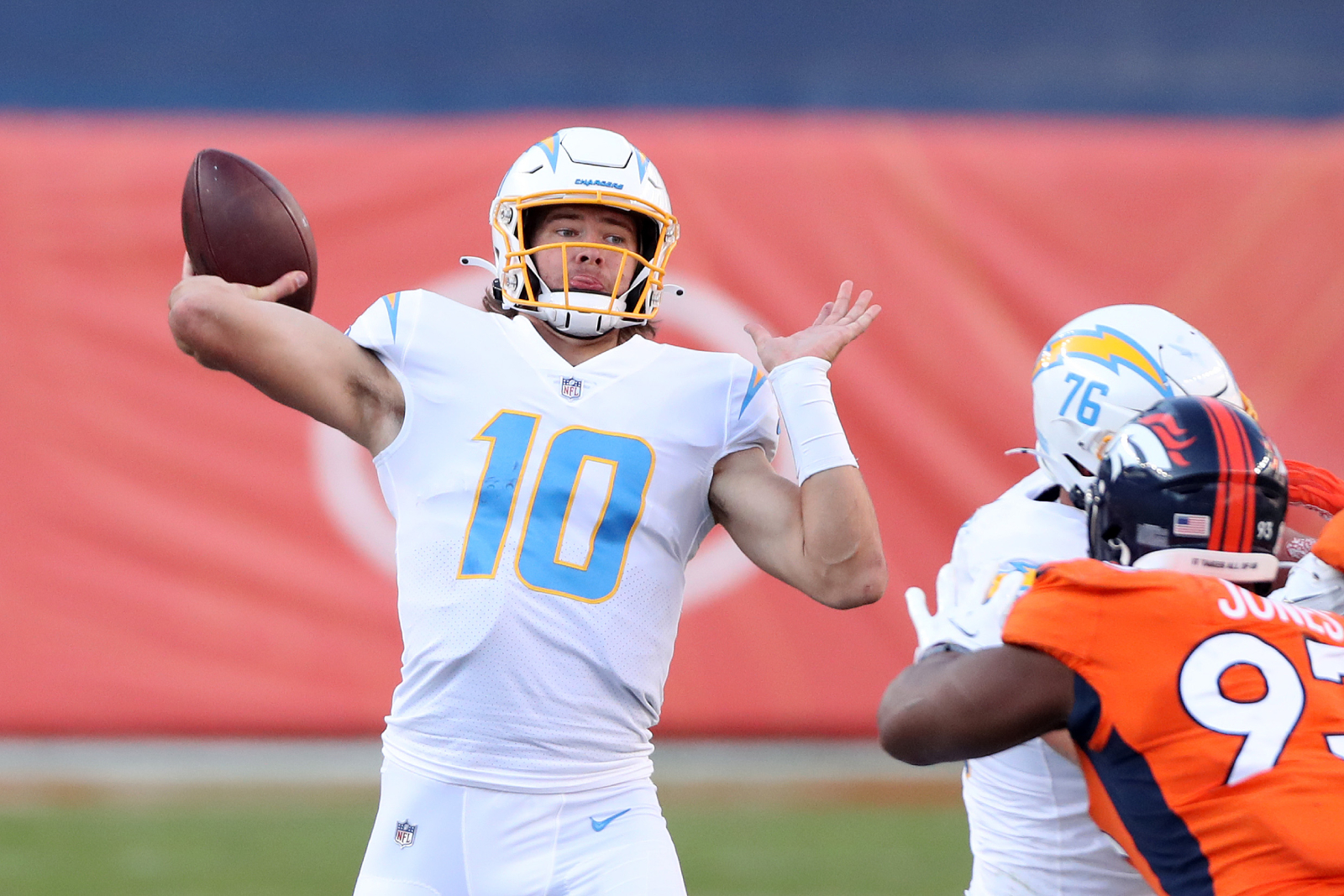 RELATED: The Tennessee Titans' Playoff Chances Just Increased Because of COVID-19
Former Dallas Cowboys quarterback Tony Romo recently appeared on The Bill Simmons Podcast, and he had some high praise for the rookie Chargers quarterback.
"I watched his first drive, and I said, 'I'm going to tell you right now, this kid, he's not pretty good, he's really good,'" Romo said on the Nov. 27 episode. "I can see some of those small little things sometimes where you're like, 'He shouldn't have been able to do that. That was rare.' Then I'm like, 'OK, maybe that was lucky.' Then I'm like, 'He shouldn't have been able to do that either.' There was two of them on the first drive, and I said, I told Jim [Nantz], 'I'm telling you, this kid's not pretty good, he's really good, and he's special. They hit a home run right here.'"
That's some pretty high praise from a quarterback that had a lot of success in the league.
Anyone who has seen Herbert play at least a little bit can tell that he is special. Romo's praise just proves that he has a chance to be a great quarterback in the NFL.
Stats courtesy of Sports Reference and Pro Football Reference