Tony Stewart Racing Sluggish During Opening 2 NHRA Events, Owner's New Wife 'Wanting' Team's 1st Win 'More Than I Ever Have'
NASCAR icon Tony Stewart has a few festering problems developing.
Along with the March 3 release of the documentary, "The Hit," which investigates the circumstances surrounding Stewart's role in the on-track death of 19-year-old local racer Kevin Ward Jr. in 2014, Stewart has other issues.
Specifically, his new NHRA family business is off to a sputtering start.
Tony Stewart's new wife, Leah Pruett, is off to a sputtering NHRA Top Fuel start
While it's only been two NHRA Camping World Drag Racing Series events, the two Tony Stewart Racing teams haven't been competitive.
So far, Tony Stewart Racing is 0-for-2.
Here are a few reasons why:
Pruett, is having problems getting off the line.
Funny Car pilot Matt Hagan is coming up short in a developing rivalry.
If needed, Pruett promised to put her old cheerleading uniform back on.
"I have learned over the years to become a really good cheerleader," she said, reported by Autoweek. "You put your pom-poms on and get everybody back up."
The newlywed and nine-time event winner admitted the new team's slow start is wearing a bit on her. She wants to give her husband his first NHRA trophy.
"I think I'm wanting it more than I ever have," Pruett said.
Leah Pruett: 'I just want to go out there and kill it'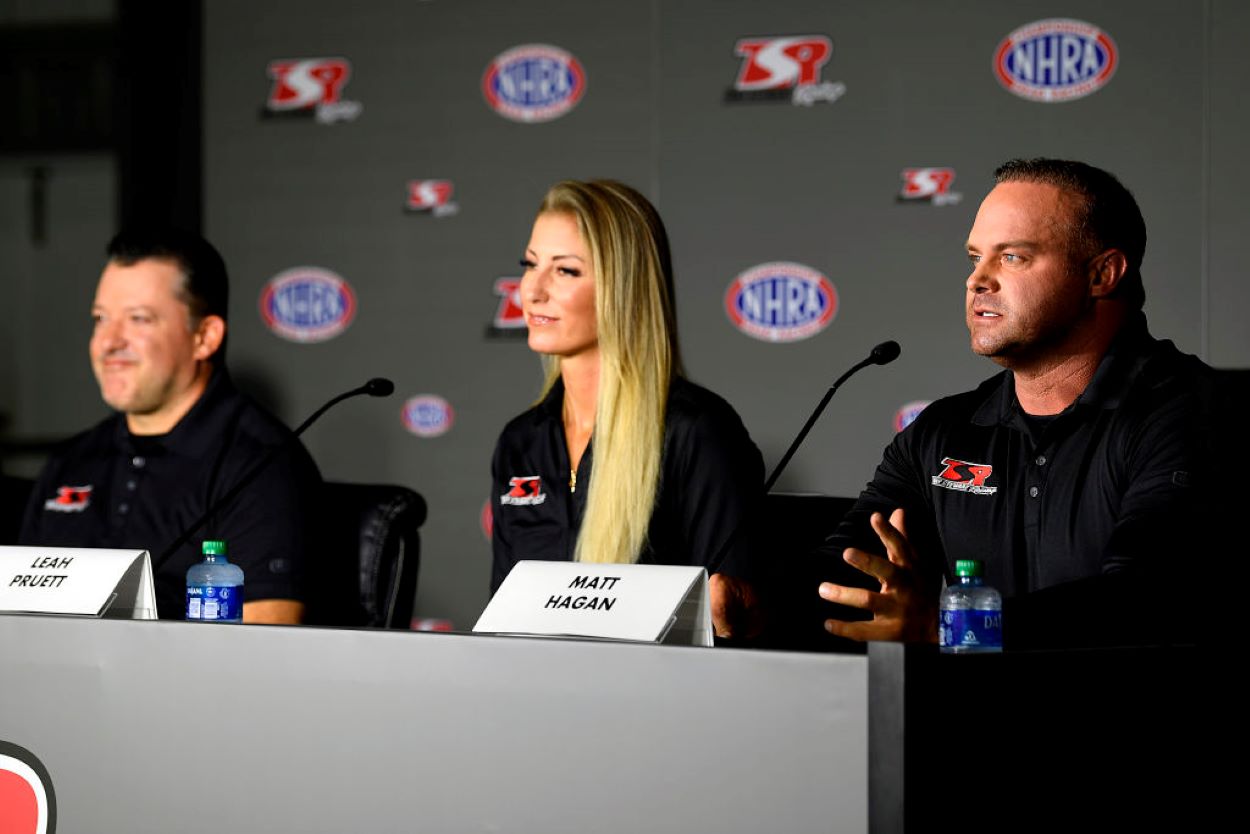 Pruett's moves are not yet in sync.
The 33-year-old pilot said she's dancing around her problems. Pruett has "mini two-stepped" her launches, causing a "sequence of negative events that are happening for me on my side of the office."
Big problems.
Pruett has dropped both of her first-round matchups this season and ranks 12th in the early Top Fuel drivers' standings.
"We've all put so much effort into making this operation happen, and I just want to go out there and kill it," she said. "As a result, I'm just a little early (two-stepping it), which results in being too late on the tree."
Hagan's issues are different. Rival Robert Hight is simply outracing the 39-time event champ. The John Force Racing pilot topped Hagan in the semifinals at Ponoma, California, and Phoenix's final on Feb. 27.
Hagan recorded a record qualifying run at Wild Horse Pass Motorsports Park, but during the final, the machine suffered engine problems "trying to run really hard," he said.
Pruett to take some time away to figure things out before Gatornationals
Following her second first-round defeat, Pruett said: "You probably won't hear from me for the next two weeks as I focus on getting ready for the Gatornationals."
The event at Gainesville (Fla.) Raceway will be staged March 10-13 and features a competitive twist. Pruett will start P6 for the NHRA Top Fuel All-Star Callout. The inaugural qualifying event allows higher-ranked drivers to select their competitors. Generally, pairings were decided on qualifying performances.
Pruett is eager to see if the new format increases the event's entertainment value.
"I'm now looking forward to (the Callout) and really do not give one tiny atom of an iota of whoever calls me out or if I get to call somebody out," she said. "I'm focused on going out and getting to race somebody and fixing my problems. That's what's exciting to me."
If Stewart's wife rebounds in Gainesville, it likely will be a welcome distraction from the release of 'The Hit," which details the fatal on-track collision and explores why authorities never charged Stewart.
Like Sportscasting on Facebook. Follow us on Twitter @sportscasting19.
RELATED: Why Kyle Larson Has Wanderlust and Is 'Jealous' of Mario Andretti and Tony Stewart