Tony Stewart Has a Strong Message About Jimmie Johnson's New Racing Venture
Jimmie Johnson proved everything he could during his legendary NASCAR Cup Series career. However, while he has competed in his last race as a full-time Cup Series driver, Johnson has taken on a new motorsport and racing venture. Later this year, Jimmie Johnson will debut in the IndyCar Series, as he tries to master something other than the Cup Series. His fellow racing legend, Tony Stewart, recently sent out a strong message about his new challenge, too.
Jimmie Johnson will compete in the IndyCar series in 2021
Jimmie Johnson officially called it quits in the NASCAR Cup Series after the 2020 season and is now racing part-time in the IndyCar Series. Johnson is partnering up with Chip Ganassi Racing, and he will race on road and street courses.
"It's crazy to be 45 years old and going through this, again, and looking at next year and realizing that I'm a 45-year-old rookie in the IndyCar Series is also an interesting one," Johnson said in 2020, according to the Tampa Bay Times. "I feel like it's Day 1 and my excitement to compete and my desire to be competitive is as strong as it's ever been."
Tony Kanaan will also race in Johnson's No. 48 car, as he will do oval races. Johnson's 2021 IndyCar schedule ultimately includes 13 races.
Tony Stewart sent a strong message about Jimmie Johnson's new racing venture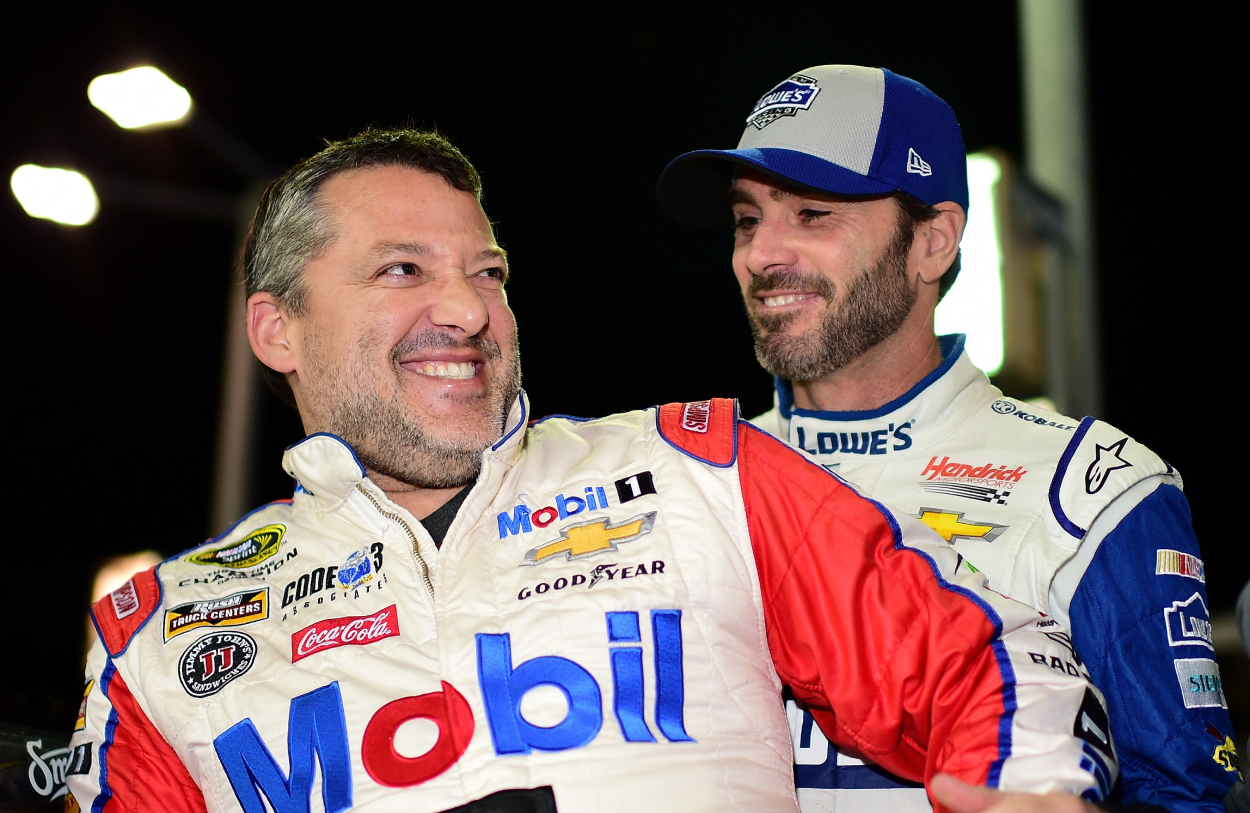 Tony Stewart knows a thing or two about having success racing in NASCAR and IndyCar. He is the only driver to ever win a NASCAR Cup Series championship and an IndyCar title, according to NASCAR.com.
He recently discussed Jimmie Johnson's chances of succeeding in the IndyCar Series, too.
"One thing I can promise you that I know: Jimmie Johnson doesn't do anything (halfway). He's 100% all-in. He'll do everything it takes to be successful in it," Stewart recently said to the IndyStar. "… I've always told everybody, and I've said this for years, and I maintain it. When I grow up, I want to be Jimmie Johnson. That's the guy I want to be, and I'm super proud he's doing this. I love that he's got the drive to keep going, to do something different. Not to necessarily reinvent himself, but to just have a different chapter in his motorsports career."
Stewart did, however, reveal the challenges that Johnson could face.
"The hard part is just getting acclimated to a different type of car and all the downforce those cars create," he said, according to the IndyStar. "It's just a learning process. Think about how he came to NASCAR from off-road trucks? It doesn't get any more different than that."
If Stewart thinks that Johnson can do it, he can probably do it. They both are racing legends, after all.
The two drivers are NASCAR legends
Jimmie Johnson and Tony Stewart are two of the best drivers to ever race in NASCAR. 
Johnson won five consecutive Cup Series championships from 2006 through 2010, per NASCAR.com, before winning two more in 2013 and 2016. His seven titles are tied with Richard Petty and Dale Earnhardt for most titles ever.
Stewart, on the other hand, won three NASCAR Cup Championships in 2002, 2005, and 2011. The 2011 title also came as a team owner, and Stewart then won another title as a team owner in 2014 when Kevin Harvick won the Cup Series. He also, of course, won an IndyCar title in 1997.
His accomplishments in the Cup Series ultimately led to Stewart joining the NASCAR Hall of Fame.
It's hard to find two drivers who have had more success in the NASCAR Cup Series, and racing in general, than Tony Stewart and Jimmie Johnson. Now, Johnson has a chance to join Stewart as a successful IndyCar driver.
Like Sportscasting on Facebook. Follow us on Twitter @sportscasting19.