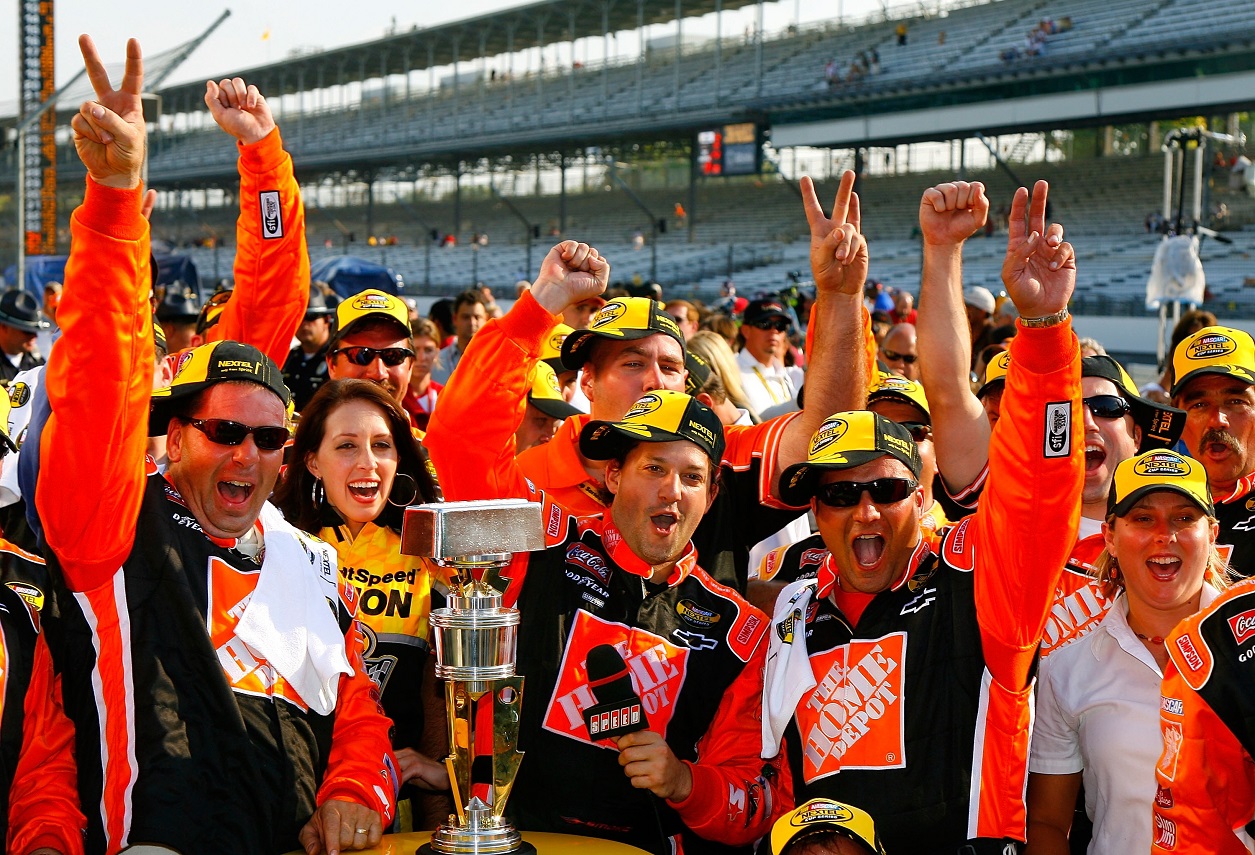 Tony Stewart's Foul Mouth Cost Him $25,000 After One of His Greatest Wins
Tony Stewart has never been afraid to tell you exactly what was on his mind. After he won the 2007 Brickyard 400, this cost him $25,000.
Throughout his career, and long after retirement, Tony Stewart has never been afraid to tell you exactly what is on his mind. His silver tongue has gotten him into trouble with the NASCAR authorities on more than one occasion. In fact, during the 2007 season, his foul mouth actually cast a pall over one of his proudest-ever victories.
2007 starts off on the wrong foot
2007 was supposed to be a season of redemption for Tony Stewart. The previous year, despite winning five races, he missed the Chase for the Nextel Cup. He ended the 2006 season with his lowest points finish ever: 11th place.
The 2007 season didn't start off all that well for Stewart, either. He won the non-points Budweiser Shootout at Daytona, as well as his 125-mile qualifying race. This marked him as a clear favorite to win the Daytona 500. But with less than 50 laps to go in that race, he got caught up in a mix-up with Kurt Busch which knocked them both out of the running. Stewart finished in 43rd — dead-last.
Still, he rebounded in the coming weeks, getting himself into position to make the 12-driver field for the Chase for the Nextel Cup. In July, he took his first win of the season at Chicagoland Speedway, boosting him to 6th in the standings.
He could have had at least one more win were it not for a stroke of bad luck at Phoenix in April. Stewart led a race-high 132 laps, but during a late-race round of green-flag pit stops, a caution came out at the worst possible moment. Jeff Gordon came away with the lead and held on to take the win.
Tony Stewart wins, then loses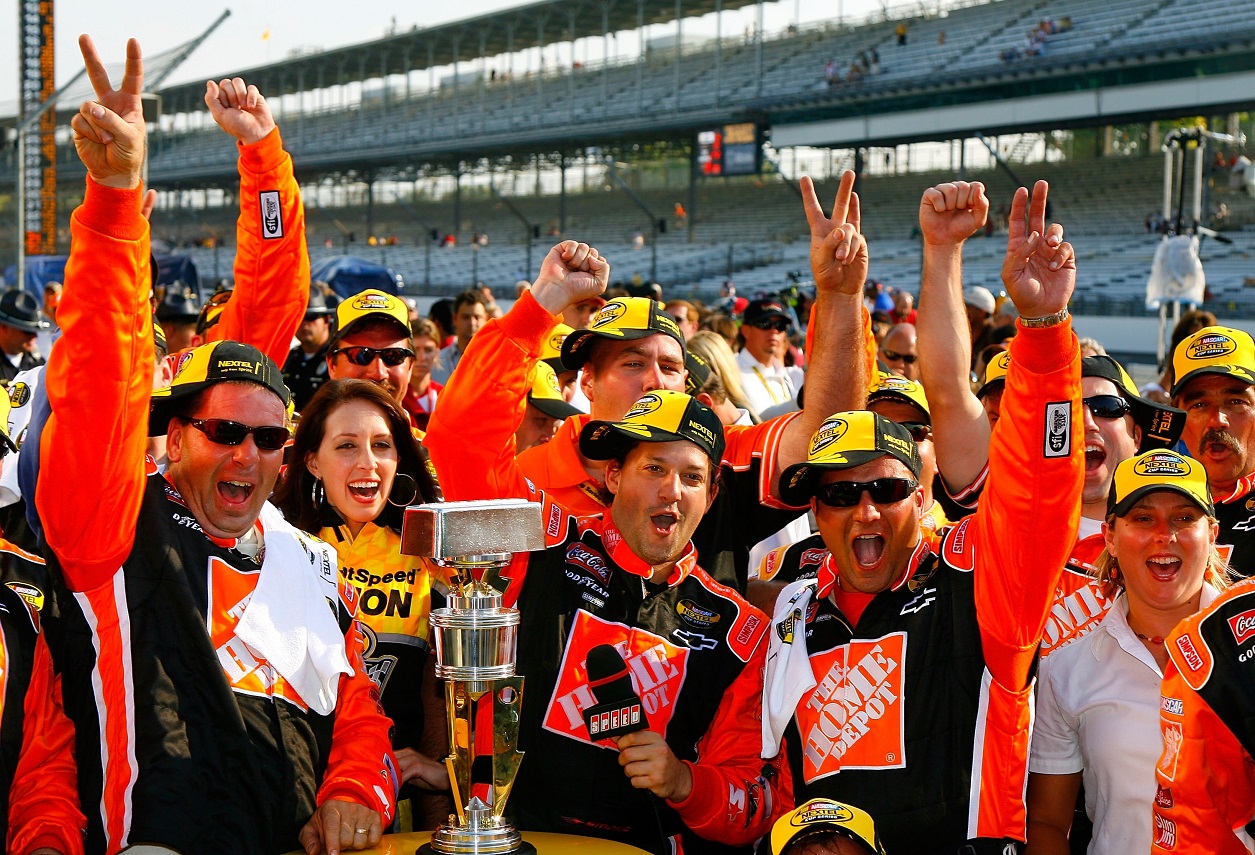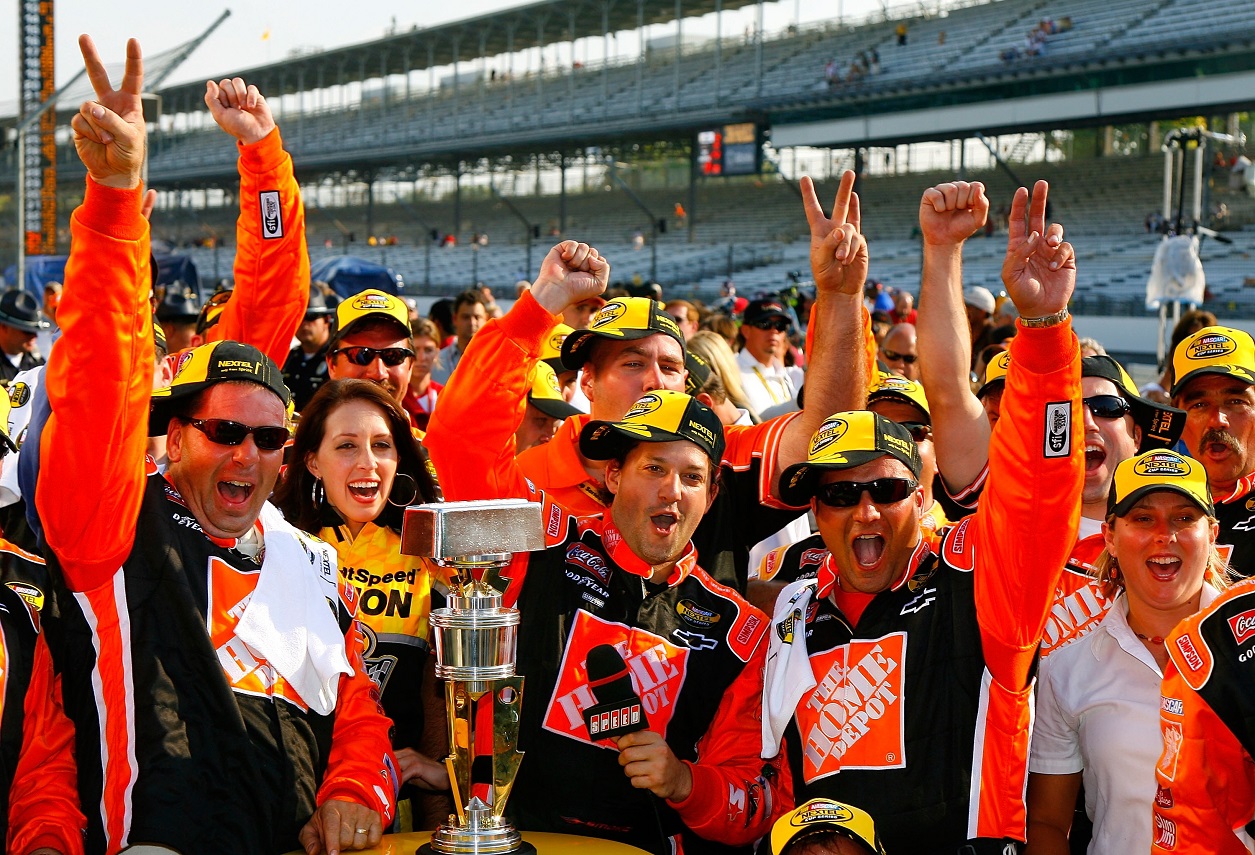 The following week was the Brickyard 400 at Indianapolis Motor Speedway, another one of NASCAR's most prestigious races. This one held special meaning for Stewart, who was born and raised less than an hour away from the track in Columbus, Ind.
Stewart dominated the race, leading 65 of the 160 laps to take his second consecutive win. It was his second career victory at his home track. The first came two years earlier during his 2005 championship season. The victory at the Brickyard 400 meant that he got to partake in the Indianapolis traditions, including the kissing of the bricks.
In the hoopla, Stewart may have gotten a bit carried away. This is a scrubbed version of what he said during the victory lane interview with ESPN's Dave Burns.
This one's for every one of those fans in the stands who pull for me every week and take all the bull(expletive) from everybody else.

Tony Stewart to Dave Burns
His Brickyard victory came with a price — a $25,000 fine and 25 lost championship points for uttering an obscenity.
In hindsight
It wasn't the first time a NASCAR driver had the book thrown at them for saying a bad word. Three years earlier, its most popular driver, Dale Earnhardt Jr., took a similar punishment after winning a race at Talladega and dropping an F-bomb in Victory Lane.
Today, NASCAR and its media partners have taken a much more carefree attitude toward letting the drivers swear publicly. Shows such as FS1's NASCAR Race Hub and its segment, Radioactive, delve into what drivers actually say to their crews over the radio during races. Obviously, this includes plenty of profanity.