It's Too Late for LeBron James the Player to Fix LeBron James the GM's Most Baffling Mistake
LeBron James has never played for anything but championships. That's more true now than ever before, as The King is 37 years old and in his 19th NBA season. But LBJ and the Los Angeles Lakers decided to add Russell Westbrook to the roster this past offseason — that move isn't going according to plan (understatement), and it's too late to back out now.
James and the Lakers have reportedly tried to cut bait already, attempting to find suitors for Westbrook via trade. But no one is biting, and the team is stuck with its current Big Three.
And that's not enough to win LeBron James another championship.
The Los Angeles Lakers continue to struggle in 2021-22
Through nearly half the season, LA is one game over .500 at 20-19. That puts them sixth in the Western Conference standings and 5.5 games back of the Memphis Grizzlies for the last home-court advantage spot.
The Lakers struggle to shoot from deep as a team (34.9%) and are even worse from the free-throw line (73.2% — 28th in the NBA). They've struggled to rebound all season, turn the ball over the third-most often (15.5 per game), and are 15th in defensive rating.
LeBron and Anthony Davis have only played in 27 out of 39 games. Davis has been underwhelming, to say the least. The Brow couldn't carry LA in James' absence, something expected of a supposed NBA superstar.
More than anything, though, it's been Westbrook's disappointing season and his inability to mesh with the rest of his team that's put the Lakers in this predicament.
LeBron James can't fix the Russell Westbrook mistake and it will cost him a championship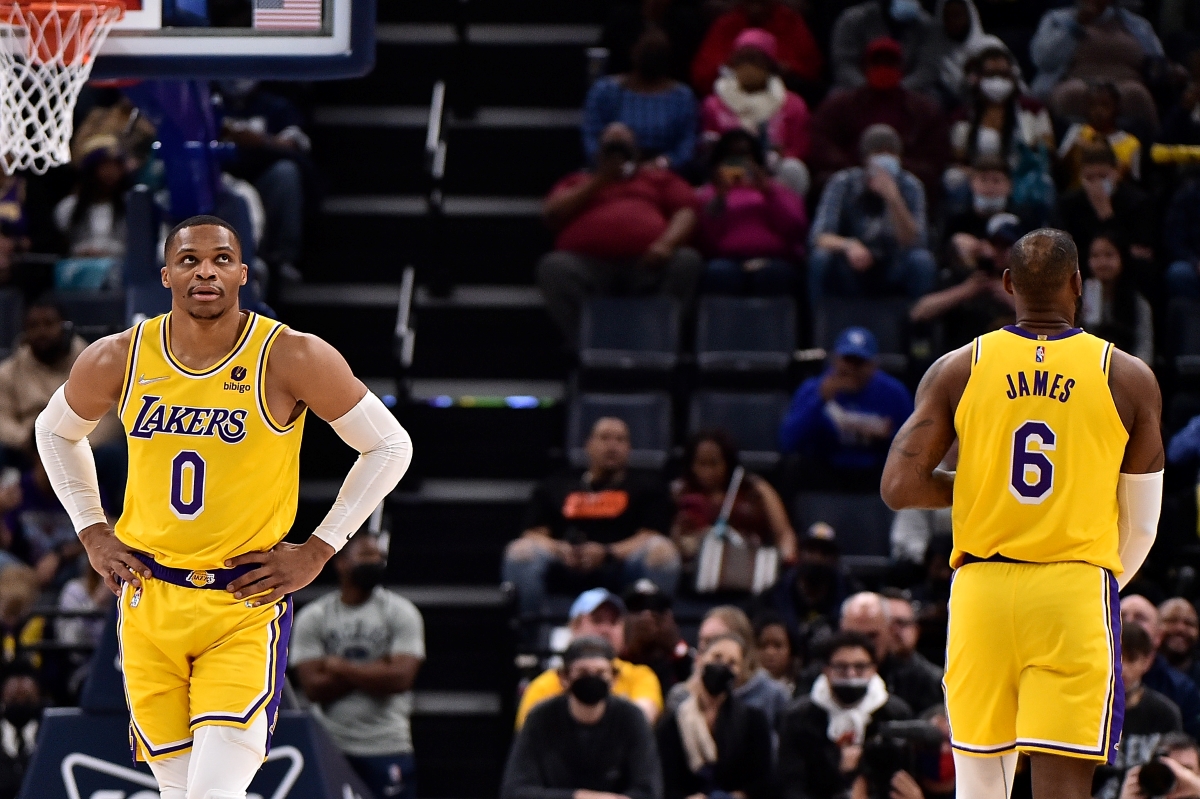 It might sound like an exaggeration to call LeBron the Lakers general manager. Technically, that title goes to Rob Pelinka. But there's evidence proving James has just as much control over the roster as Pelinka.
According to Silver Screen and Roll, Carmelo Anthony, who signed with LA this offseason, said of Lebron, "The GM ain't hit me. You the GM, n****."
Even Pelinka has said in the past, via another Silver Screen and Roll story, that James has been involved in roster decisions from the get-go.
"LeBron was incredibly locked into the whole process and has been great to work with. … And when LeBron put his trust in this organization and chose to come here as a free agent, we had to reciprocate the trust back and build a team that puts great players in a position to be the last team standing."
LBJ is clearly involved in roster decisions as a de facto GM. So he was undoubtedly a part of the move to trade for Westbrook. And that's proven to be a disaster.
Russ is third in the NBA in turnovers at 4.6 per night. He's scoring 19.5 points per game, his lowest total since the 2009-10 season. He's shooting just 45.2% from the floor and 30% from three for a team that desperately needs shooting.
The UCLA product has always used his athleticism and effort to attack the rim — but this year's he's only attempting 5.6 free throws a game (the third-lowest of his career) and is shooting only 65.4% when he gets there.
So LeBron and Pelinka put feelers out for any team that may want to acquire Westbrook. But his exorbitant contract, age, and poor play have made that impossible, according to a recent Sam Amick story in The Athletic:
Sources say the Lakers showed some covert interest in discussing a possible Westbrook trade with rival executives earlier this season.

Inside the Lakers, it seems, there is some recognition that this hasn't gone as (James and Davis had) planned.

Sam Amick of The Athletic on the Lakers-Russell Westbrook situation
James had significant input on acquiring the former Thunder and Rockets star. It's been a failure. And even though he's averaging 34.9 points, 9.8 rebounds, and 5.9 assists in LA's last nine games, Bron-Bron has only been able to carry the Lakers to a 3-6 record.
LeBron the player cannot fix the massive mistake LeBron the GM made.
LeBron and LA will have to figure another way out of their current debacle
It's time to let go of the idea that the Big Three of James, Davis, and Westbrook can win a championship. And the surrounding veteran pieces the team added to support them haven't been able to do enough.
The only thing left now is to try and trade around the margins. Rajon Rondo was sent to Cleveland in a move that did nothing but open a roster spot for LA. Rumors surround Kent Bazemore and Malik Monk, who have been playing well as of late.
Talen Horton-Tucker is another candidate to possibly be moved.
However, none of these names are going to bring in a player that will change the Lakers' fortunes. This season, LeBron made a critical error in bringing an aging, inefficient point guard into the fold.
And it's too late to turn back now.
All statistics courtesy of NBA.com.