NFL: The 10 Greatest Cornerbacks of All Time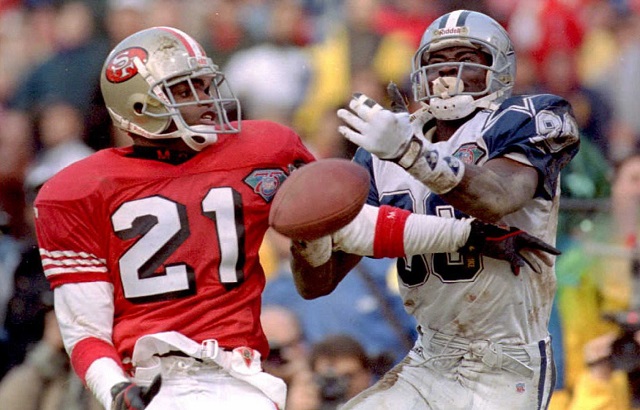 Cornerbacks live life on the edge, where one mistake can result in a perfectly executed deep bomb and six points for the opposition. After giving up the big play, a tough corner suffers from amnesia, because he must erase the latest setback from memory and stay aggressive, and any cornerback who shows fear and cowers behind the protection of a soft zone will get torched repeatedly in pass coverage. A corner, however, can even up the score with a well-timed interception and touchdown run-back of his very own.
In run support, a cornerback is often the last line of defense on the outside. When locking up against the toss sweep, a defensive back can either rise to the occasion and make a form tackle at the line of scrimmage, or get trampled by a big back who may then turn the corner and rumble for 50 yards into daylight.
Due to the high-risk and high-reward nature of this position, a good cornerback is similar to a riverboat gambler who knows how to take calculated risks. The greatest NFL cornerbacks of all time each held serve at the point of attack, never got beat deep, and were rarely even challenged. For opposing quarterbacks, betting the house against these ten shutdown corners was almost always a losing bet.
10. Dick LeBeau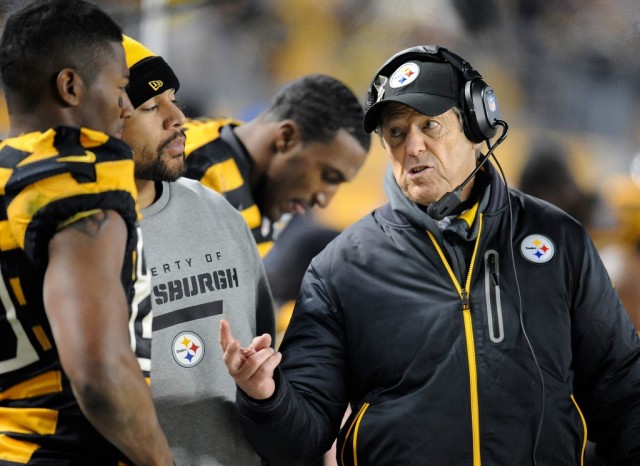 Fittingly, Dick LeBeau starred as one of the all time great ballhawks before he went on to settle into his role of a madman defensive coordinator. As a coordinator, LeBeau has gleefully dialed up the 3-4 zone blitz throughout his career to pressure opposing quarterbacks, wreak havoc, and force turnovers while he called the shots in both Cincinnati and Pittsburgh. As a player, Dick LeBeau teamed up to form one of the greatest secondary units of all time in Detroit — with fellow Hall of Famers "Night Train" Lane, Yale Lary, and Lem Barney manning the defensive backfield.
LeBeau, a one-time cut off the Cleveland Browns, intercepted 62 passes for 762 yards and 3 touchdowns over his 14-year career. As of 2014, LeBeau's 62 interceptions were still good for ninth of all time. An Iron Man, LeBeau appeared in 171 consecutive games between 1959 and 1971.
9. Lester Hayes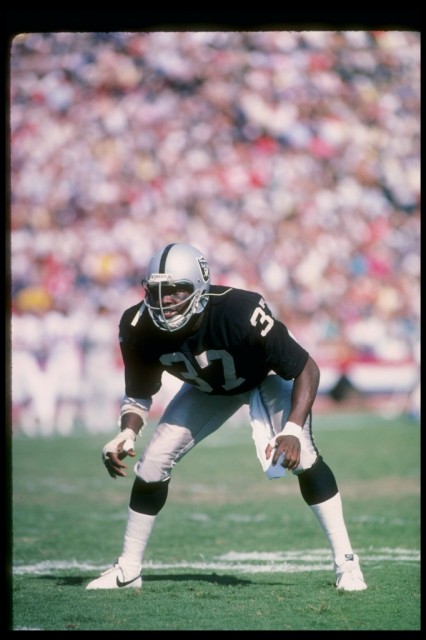 Lester Hayes has been historically underrated, in fact he still remains shut out of the Hall of Fame. Why? To many, Hayes was a "Bad Boy" Raiders cheater who would cover himself in a sloppy mess of stickum from head to toe on game day. With stickum, Hayes was better able to make plays on the football and snag interceptions in coverage. Throughout his playing days, Hayes also suffered from a stuttering condition, which masked his all-around intelligence to reporters and fans alike.
Beneath the hate for the Oakland Raiders shield, legions of football scholars may admit that Lester Hayes was one of the greatest shutdown corners of all time. In man-to-man coverage, Hayes was a master of the bump-and-run, where he would hand fight with a receiver at the line of scrimmage before blanketing him throughout the field. In a Super Bowl XVIII victory over the Washington Redskins, Hayes held Art Monk to only one catch and completely lorded over the left side of the playing field in a textbook demonstration of proper technique.
With 13 interceptions, Lester Hayes took home the 1980 AP Defensive Player of the Year Award. In 1981, the NFL installed the Lester Hayes rule, which banned stickum from the game. Despite the rule change, Hayes still added four consecutive Pro Bowl appearances to his resume between 1981 and 1984.
8. Mike Haynes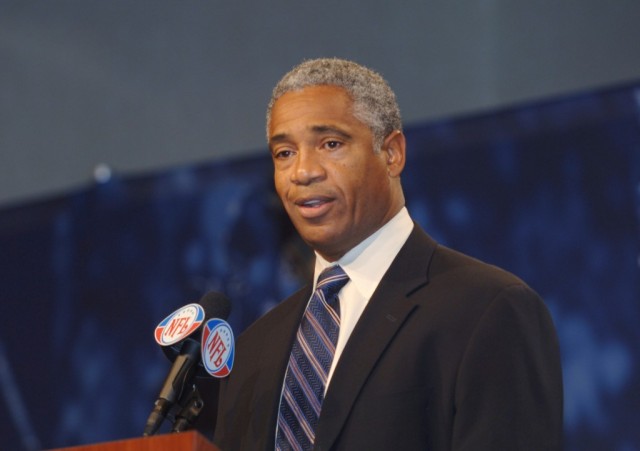 Mike Haynes and Lester Hayes were a package deal at cornerback. Haynes and Hayes joined forces after a 1983 settlement awarded Mike Haynes to the Los Angeles Raiders from the New England Patriots. For many, the Mike Haynes acquisition proved to be the missing link between the Raiders and another victory parade following Super Bowl XVIII. As a Raider, Haynes earned a trip to the Pro Bowl each year from 1984 to 1986.
Prior to his move to L.A., Mike Haynes was even more dynamic as a Patriot. Haynes set the stage for his Hall of Fame career, when he was named as the 1976 Defensive Rookie of the Year. In 1976, Haynes picked off 8 passes to go alongside his 608 total yards and 2 touchdowns in the punt return game. By his 1989 retirement, Mike Haynes had put in 14 years of service and made 9 appearances in the Pro Bowl.
7. Ronnie Lott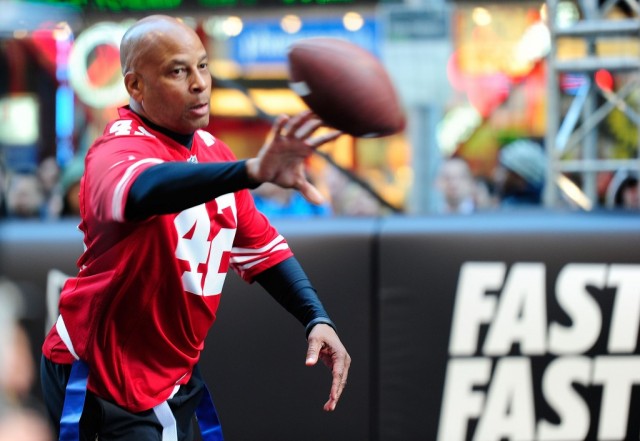 Ronnie Lott, of course, may be best recognized for his toughness and bone-jarring hits from the safety position. In San Francisco, Lott actually lined up at left cornerback during his first five NFL seasons before moving over to safety. As a safety, Lott was an enforcer who took pleasure in de-cleating wide receivers and actually ordered his own pinky cut off to stay in the game. At corner, Lott was still a standout performer who was selected to four consecutive Pro Bowls between 1981 and 1984.
Ronnie Lott was the complete football player. It's because of No. 42 that the 49ers could prove on the field that they were more than just a finesse team. From the cornerback position, Lott would lock up in man-to-man coverage, intercept the football, make tackles at the line of scrimmage, and tee off against quarterbacks in blitz packages. In 1983, Ronnie Lott wreaked havoc with 108 tackles, four interceptions, and one sack as a cornerback.
6. Willie Brown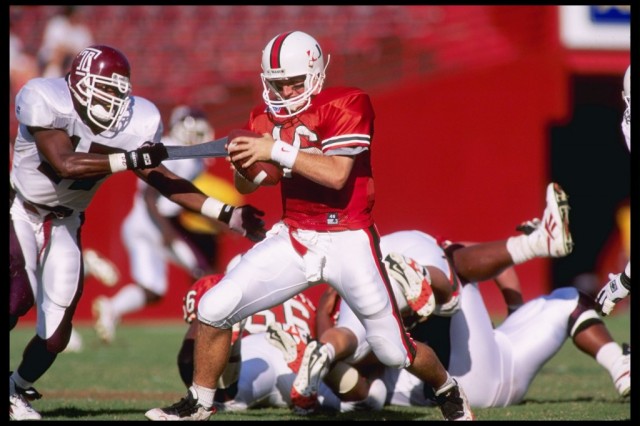 Willie Brown has been hailed as the father of bump-and-run coverage. In bump-and-run, Brown would get physical to jam a receiver at the line of scrimmage and disrupt the timing of a pass pattern. From there, he would swivel his hips and stay in the receiver's back pocket across the field. As a master of the technique, Will Brown picked off 54 passes for two touchdowns during his 16-year career with the AFL-NFL Denver Broncos and Oakland Raiders. With the exception of 1966, Willie Brown made his league's Pro Bowl team every year between 1964 and 1973.
Willie Brown's signature moment arrived during Super Bowl XI. In Pasadena, he intercepted a Fran Tarkenton pass and raced 75 yards into the end zone for a score. Willie Brown's interception helped seal the 32-14 Super Bowl win for his Oakland Raiders.
5. Darrell Green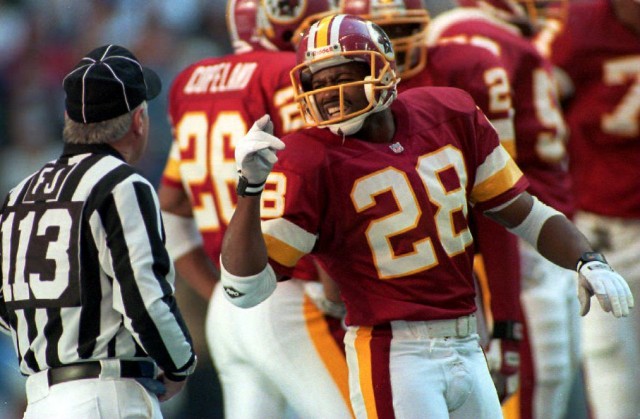 Darrell Green was all about speed and longevity. As a rookie, he made a name for himself when he chased down Tony Dorsett from behind to make a tackle. The legend of Darrell Green grew even stronger throughout the course of his 20-year career. Despite his small 5'-foot-9 stature, Darrell Green's body of work was the stuff of tall tales.
Apparently, Green was still being clocked at sub 4.5/40 speed at the age of 50. During his prime, he starred as the undisputed League's Fastest Man, with four annual titles in the competition. In 1987, Green broke his ribs on a punt return, but still outran the Chicago Bears for six in the NFC Divisional playoff at Soldier Field.
4. Deion Sanders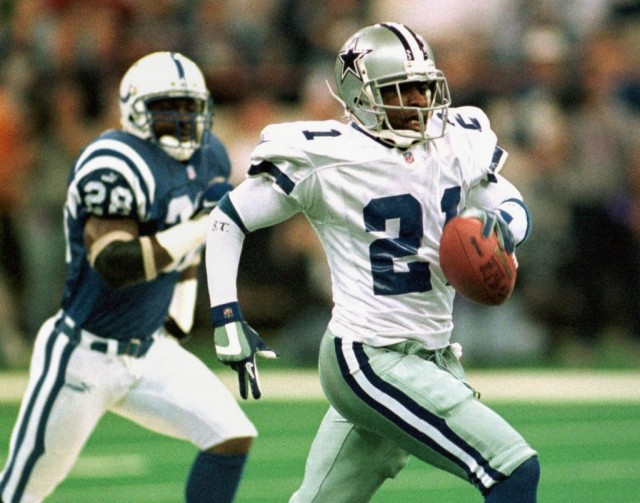 Deion Sanders was one of the all-time great athletes in sports history. As a schoolboy legend, Deion performed at an all-state level in football, baseball, basketball, and track and field for North Fort Myers High School. At Florida State, Sanders shattered records in baseball, football, and track before going pro with the Atlanta Falcons and Braves. In all walks of life, Deion Sanders was pure "Prime Time" entertainment.
In Atlanta, Deion turned the sporting world on its head, with his Neon Deion persona, bandanna doo-rag, high-stepping, and pitter-patter end zone dance. The Atlanta Falcons were transformed from a running joke into a "Too Legit Too Quit" event, with Deion Sanders literally headlining his own personal rap video at cornerback, kick returner, and wide receiver.
After owning Atlanta, the Prime Time sweepstakes transformed into a full-fledged bidding war. In 1994, Sanders signed with the San Francisco 49ers, and snatched up six interceptions, one Defensive Player of the Year award, and one blowout Super Bowl win against the San Diego Chargers. That next season, Deion was off to Big D where he helped the Cowboys lay claim to another Lombardi Trophy as a hired gun to shut down former teammate Jerry Rice.
With 4.2-40 speed, Deion Sanders could simply toss the textbook on form tackling and pass coverage technique into the garbage. On the edge, Deion Sanders was a reluctant tackler who would often feign an attempt at a stop before diving out of bounds. In team meetings, Prime Time was above the intricacies of defensive formations and audibles. In response to a Jimmy Johnson overhead projector tongue lashing, Deion Sanders proposed his own simple strategy: "I got that guy."
3. Mel Blount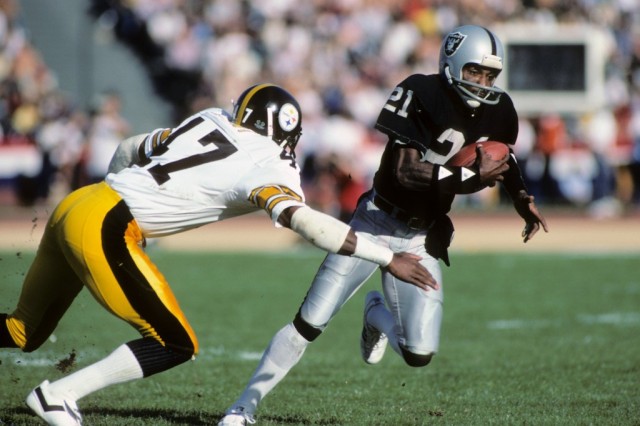 Ironically, cornerback Mel Blount may have been mostly responsible for today's five-wide sets and video game-like numbers in the passing game. The "Mel Blount" rule prohibited defensive backs from making contact and harassing a wide receiver who ran five yards past the line of scrimmage upon his release. Prior to the 1978 rule changes, Mel Blount had made a career out of mauling receivers out of their breaks and physically imposing his will in pass coverage for the Steel Curtain.
At a wiry 6'3? and 205 pounds, Blount loved to get physical, mix things up in the secondary, and stick his nose into the action to make tackles. According to the Pro Football Hall of Fame, Blount never gave up a touchdown as a rookie. After his stellar rookie campaign, Blount took home 1975 NFL Defensive Player of the Year honors with 11 interceptions in 14 games. Mel Blount ultimately went on to retire as a four-time Super Bowl champion as a member of the 1970s Pittsburgh Steelers' dynasty.
2. Dick "Night Train" Lane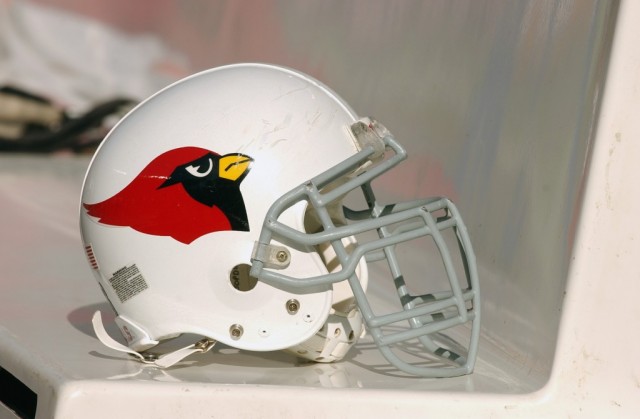 Dick "Night Train" Lane was the classic Horatio Alger rags-to-riches bootstrap story. Ella Lane raised Dick Lane as his mother after finding him abandoned as an infant. As a young adult, Lane dropped out of junior college before serving four years in the United States Army. Upon return to civilian life, Lane took up employment as a factory worker in Los Angeles. Dissatisfied with his job, he wandered into the Los Angeles Rams training camp for a tryout at end or wide receiver. By the start of the season, Lane switched over to cornerback and was installed into the starting lineup.
Before his retirement, Night Train was to emerge as one of the greatest defenders of all time, whose celebrity status was further solidified through his marriage to Dinah Washington. Over the span of 14 years in Los Angeles, Chicago, and Detroit, Lane snagged 68 interceptions for 1,207 return yards. As of 2014, his interception and return yard totals are still a respective fourth and sixth of all time.
As a 1952 rookie, Night Train snagged 14 interceptions in a 12-game season. In 2010, Lane's single-season interception record still stood as an untouchable mark. Beyond the interceptions, he was aptly named for his head hunting, which was legal at the time. As a tackler, Lane's trademark move was to grab an opponent by the neck and violently slam his head into the ground. Dick Lane often stunned his opponents as if they were just hit by a speeding train.
1. Rod Woodson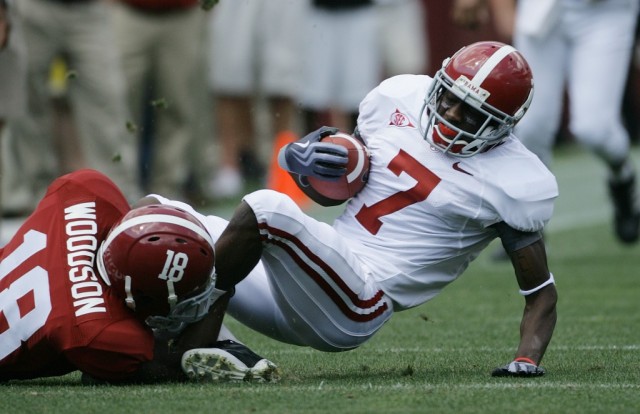 Rod Woodson was everywhere. In the passing game, he could shut down a top receiver in man-to-man coverage, lurk within the soft zone to break up passes, and molly wop backs who released into the flat. In the running game, Woodson loved to get physical and execute textbook form tackles out on the edge. With Dick LeBeau dialing up the blitz in Pittsburgh, No. 26 was called out often to harass the quarterback into mistakes. Immediately after forcing yet another three and out, Woodson would then report for special teams duty as a punt returner.
After a typical day at the office, Woodson would have led his team in tackles, forced two fumbles, sacked the quarterback, snapped off one interception, and taken a punt back to the house. A true stat sheet-stuffer, Rod Woodson retired with 71 picks, 1,483 interception return yards, 32 fumble recoveries, 1,050 tackles, and 17 total touchdowns. Over his 17-year career with the Steelers, 49ers, Ravens, and Raiders, Woodson claimed the 1993 NFL Defensive Player of the Year award, 11 trips to the Pro Bowl, and one Super Bowl ring. Rod Woodson got it done.